KLUTE YOUR ENTHUSIASM (13)
By: David Levine
August 13, 2017
One of 25 installments in a series of enthusiastic posts analyzing and celebrating a few of our favorite neo-noir movies from the Sixties (1964–1973).
*
THE FRENCH CONNECTION | d. WILLIAM FRIEDKIN | 1971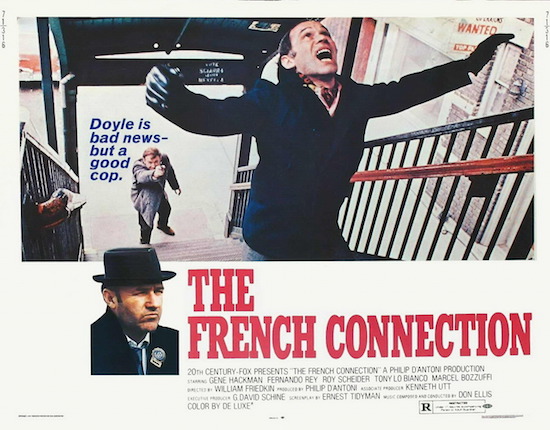 Because my parents were reticent, deluded, secretive (eventually, dead) — at any rate, unreliable witnesses to their own experience — everything I learned about their relationship I learned from period film: their courtship was Love Story, their marriage Rosemary's Baby, their divorce Kramer vs. Kramer, and my (dead) father's post-divorce life some derelict super-8 I found in an yellowing Zabar's bag in the attic: Central Park (then), the Guggenheim (then), the Bowery (then): at points you can actually cross-cut between Marathon Man and my Dad's coverage and, but for grain and color discrepancies, no-one would know. It's like GPS for a missing Dad, pinpointing him at various spots around Mayor Lindsey's New York.
Popeye Doyle, stumbling out of a bar at dawn. Popeye Doyle, shaking down negroes in Bed-Stuy, Popeye Doyle, waiting outside the Westbury, Popeye Doyle, stripping a car in Dumbo. That's not my Dad. My Dad was more like Harry Caul, Gene Hackman's obsessive snoop in The Conversation, recording everything while remaining fundamentally inscrutable. Popeye Doyle is all scrutable: ecstatically surface, ecstatically macho. Hackman, a Method actor, here turned the Method on its head; rather than creating an illusion of interiority, in Popeye he created a character with no interior at all: rage, libido, America-first-ness. Not my Dad.
But it's my Dad's city, at the moment they separated, and perhaps that counts for more. The weirdest of my super-8 reels is shot on the East River one morning, just under the Manhattan Bridge. Cars are parked along the riverbank, a cherry-red Beetle up front, and you can see men standing there in the sunlight. Are they fishing? Cruising? What's my Dad doing there? The camera cuts eastward, to the blue piers of the bridge itself, the East River lapping at their granite caps, and then westward, under an elevated stretch of the FDR, across South Street. Between some boarded-up warehouses and a rubble-strewn lot is a tiny, disreputable-looking brick shed, with a filthy, grated window and door and the word Dee's painted over the lintel in Yankees-style cursive. It's clearly a dive bar, clearly not long for this world, and when it first flickered by I imagined Popeye Doyle behind that façade, passed out at the bar.
Imagine my horror when I learned that that bar is located only half-a-block south. Horror at the aptness of my conjecture. Horror that the game I'm playing isn't quite a game. Popeye's not my Dad; my Dad's the one holding the camera. But for all the footage he shot through his windshield, driving up 3rd Avenue and down Columbus, my Dad's not Friedkin either: the film's not sped up; he obeys traffic lights; avoids Brooklyn and elevated subways. In one reel, stopped at a red light on 86th and 3rd, Dad swings the camera west towards a movie marquee. They're playing Loving and The Adventurers, which means it must be March, 1970. I'll be born in five months. He must be driving home. They must still be together. There's a lot to look forward to. Both movies are terrible.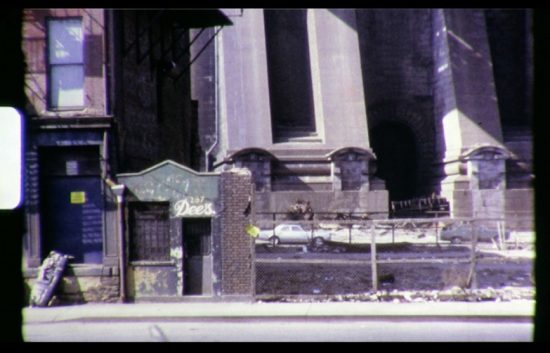 ***
KLUTE YOUR ENTHUSIASM: Series Introduction | Kio Stark on THE KILLERS | Alix Lambert on BANDE À PART (BAND OF OUTSIDERS) | Judith Zissman on ALPHAVILLE | Mark Kingwell on HARPER | Lynn Peril on BLOW-UP | Devin McKinney on SECONDS | Drew Daniel on BRANDED TO KILL | Luc Sante on POINT BLANK | Gordon Dahlquist on LE SAMOURAÏ | Alice Boone on LE CERCLE ROUGE | Brian Berger on COTTON COMES TO HARLEM | Adrienne Crewe on PERFORMANCE | David Levine on THE FRENCH CONNECTION | Dan Fox on GET CARTER | Melissa Gira Grant on KLUTE | Brandi Brown on SHAFT | Kaleb Horton on FAT CITY | Peter Doyle on THE GETAWAY | Sarah Weinman on HICKEY & BOGGS | Annie Nocenti on BADLANDS | Josh Glenn on CHARLEY VARRICK | Gary Groth on THE FRIENDS OF EDDIE COYLE | Lisa Jane Persky on THE LONG GOODBYE | Mimi Lipson on MEAN STREETS | Sherri Wasserman on SOYLENT GREEN.
MORE MOVIES at HILOBROW: KLUTE YOUR ENTHUSIASM: 25 neo-noirs of the Sixties (1964–1973) | James Parker's BOURNE VARIATIONS series | Alix Lambert's SÉRIE NOIRE series | Jacob Mikanowski's SCREEN TIME series | Josh Glenn's SHOCKING BLOCKING series | Joanne McNeil's ALL MY STARS series | MORE: including dozens of HILO HERO items on movie directors and actors.
MORE ENTHUSIASM at HILOBROW
NERD YOUR ENTHUSIASM (4Q2021): NERDING | ARDUIN | KLINGON CONFIDENTIAL | MAP INSERTS | TIME | & 20 other nerdy passions. SWERVE YOUR ENTHUSIASM (3Q2021): WARHOL'S WALT WHITMAN | 70, GIRLS, 70 | TYRAEL'S MIGHT | SHIRATO SANPEI | THE LEON SUITES | & 20 other never-realized cultural productions. FIVE-O YOUR ENTHUSIASM (2Q2021): DARK SHADOWS | MANNIX | GET SMART | THE ADDAMS FAMILY | I DREAM OF JEANNIE | & 20 other Sixties (1964–1973) TV shows. FERB YOUR ENTHUSIASM (1Q2021): STEVEN UNIVERSE | TOP CAT | REN & STIMPY | SHE-RA AND THE PRINCESSES OF POWER | DRAGON BALL Z | & 20 other animated series. CARBONA YOUR ENTHUSIASM (2020): "Sex Bomb" | "Going Underground" | "Soft South Africans" | "Typical Girls" | "Human Fly" | & 20 other Seventies (1974–1983) punk singles. KLAATU YOU (2020 weekly): ZARDOZ | METROPOLIS | DARK STAR | SINS OF THE FLESHAPOIDS | SOLARIS | & dozens of other pre-STAR WARS sci-fi movies. CONVOY YOUR ENTHUSIASM (2019): THE TAKING OF PELHAM ONE TWO THREE | ROLLERBALL | BLACK SUNDAY | SORCERER | STRAIGHT TIME | & 20 other Seventies (1974–1983) action movies. SERIOCOMIC (2019 weekly): LITTLE LULU | VIZ | MARSUPILAMI | ERNIE POOK'S COMEEK | HELLBOY | & dozens of other comics. TUBE YOUR ENTHUSIASM (2018): LOONEY TUNES | THREE STOOGES | THE AVENGERS | ROCKY & BULLWINKLE | THE TWILIGHT ZONE | & 20 other Fifties (1954–1963) TV shows. WOWEE ZOWEE (2018 weekly): UNISEX | UNDER THE PINK | DUMMY | AMOR PROHIBIDO | HIPS AND MAKERS | & dozens of other Nineties (1994–2003) albums. KLUTE YOUR ENTHUSIASM (2017): THE KILLERS | BANDE À PART (BAND OF OUTSIDERS) | ALPHAVILLE | HARPER | BLOW-UP | & 20 other Sixties (1964–1973) neo-noir movies. #SQUADGOALS (2017 weekly): THE WILD BUNCH | BOWIE'S BAND | THE BLOOMSBURY GROUP | THE HONG KONG CAVALIERS | VI ÄR BÄST! & dozens of other squads. GROK MY ENTHUSIASM (2016 weekly): THE THEORY AND PRACTICE OF LUNCH | WEEKEND | MILLION YEAR PICNIC | LA BARONNE EMILE D'ERLANGER | THE SURVIVAL SAMPLER | & dozens more one-off enthusiasms. QUIRK YOUR ENTHUSIASM (2016): "Tainted Love" | "Metal" | "Frankie Teardrop" | "Savoir Faire" | "Broken English" | & 20 other Seventies (1974–1983) new wave singles. CROM YOUR ENTHUSIASM (2015): DARKER THAN YOU THINK | THE SWORD IN THE STONE | OUT OF THE SILENT PLANET | THIEVES' HOUSE | QUEEN OF THE BLACK COAST | & 20 other Thirties (1934–1943) fantasy novels. KERN YOUR ENTHUSIASM (2014): ALDINE ITALIC | DATA 70 | TORONTO SUBWAY | JOHNSTON'S "HAMLET" | TODD KLONE | & 20 other typefaces. HERC YOUR ENTHUSIASM (2013): "Spoonin' Rap" | "Rapper's Delight" | "Rappin' Blow" | "The Incredible Fulk" | "The Adventures of Super Rhyme" | & 20 other Seventies (1974–1983) hip-hop songs. KIRK YOUR ENTHUSIASM (2012): Justice or vengeance? | Kirk teaches his drill thrall to kiss | "KHAAAAAN!" | "No kill I" | Kirk browbeats NOMAD | & 20 other Captain Kirk scenes. KIRB YOUR ENTHUSIASM (2011): THE ETERNALS | BLACK MAGIC | DEMON | OMAC | CAPTAIN AMERICA | & 20 other Jack Kirby panels.