KLUTE YOUR ENTHUSIASM (18)
By: Peter Doyle
August 18, 2017
One of 25 installments in a series of enthusiastic posts analyzing and celebrating a few of our favorite neo-noir movies from the Sixties (1964–1973).
*
THE GETAWAY | d. SAM PECKINPAH | 1972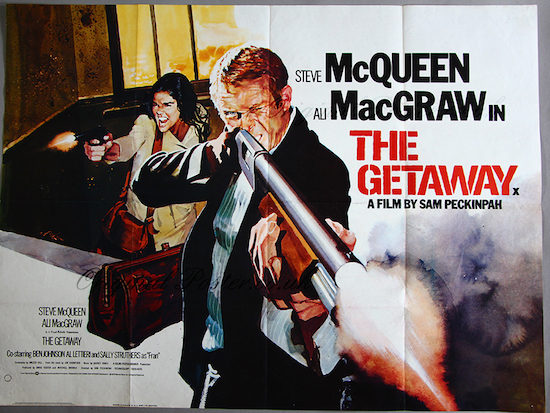 "You don't reckon you're gonna shoot me, are you?" says Slim Pickens at the wheel of his battered pickup, commandeered just seconds before by bankrobbers Doc and Carol McCoy (Steve McQueen and Ali Macgraw). Carol, sitting in the middle, glances curiously to Doc on her right, her look asking, well, how about it, are you?
There's been major firepower, a high body count, and much perversity, and now with the dragnet underway, Pickins and his beat-up truck are the last hope for the couple to make the eponymous getaway across the border into Mexico. They're still holding the loot.
In heist stories the rip itself is the easy part. Holding on to the loot is hard. And the hardest part of that is dealing with the double-crosses — even though every fink betrayer seems to have quite clearly signalled their intentions from the outset.
Even by Jim Thompson's deep noir standards, the novel of The Getaway is extreme: mythic, realist and unfathomably perverse. Thompson writes his protagonist Doc as a charismatic psychopath, but McQueen saw in the part a chance to play a Bogart-like basically decent tough guy.
A young Walter Hill wrote the script, and looking back you can see plenty of him in the film. That scene with Slim Pickens (and the effusion of redemptive goodwill in the subsequent scene, when Doc tries to buy the pickup from Pickens) is pure Walter Hill. The trope of unlikely outsiders finding common cause would recur in many of the films he would go on to write and direct.
The Getaway did well at the box office but director Sam Peckinpah was dismissive of it. Author Jim Thompson was disgusted with the revisionist plot, especially the new ending. But I've always found the film pretty satisfying: as a color-saturated follow-up to The Last Picture Show (which it was meant to vaguely resemble), as a weird and twisty road story, and as an of-its-time shoot-fest with utopian inflections. And despite the general sanding back of Thompson's hellish characters and abyssal story turns, there's still plenty of noirish astringency there.
So, back in the truck. Carol and Slim are waiting for an answer. Doc looks across at them, shakes his head in disbelief. "I kind of doubt it," he mutters, with weary disgust — at himself, at the situation, at the total absurdity or eminent plausibility of the question, you can't really tell.
***
KLUTE YOUR ENTHUSIASM: Series Introduction | Kio Stark on THE KILLERS | Alix Lambert on BANDE À PART (BAND OF OUTSIDERS) | Judith Zissman on ALPHAVILLE | Mark Kingwell on HARPER | Lynn Peril on BLOW-UP | Devin McKinney on SECONDS | Drew Daniel on BRANDED TO KILL | Luc Sante on POINT BLANK | Gordon Dahlquist on LE SAMOURAÏ | Alice Boone on LE CERCLE ROUGE | Brian Berger on COTTON COMES TO HARLEM | Adrienne Crewe on PERFORMANCE | David Levine on THE FRENCH CONNECTION | Dan Fox on GET CARTER | Melissa Gira Grant on KLUTE | Brandi Brown on SHAFT | Kaleb Horton on FAT CITY | Peter Doyle on THE GETAWAY | Sarah Weinman on HICKEY & BOGGS | Annie Nocenti on BADLANDS | Josh Glenn on CHARLEY VARRICK | Gary Groth on THE FRIENDS OF EDDIE COYLE | Lisa Jane Persky on THE LONG GOODBYE | Mimi Lipson on MEAN STREETS | Sherri Wasserman on SOYLENT GREEN.
MORE MOVIES at HILOBROW: KLUTE YOUR ENTHUSIASM: 25 neo-noirs of the Sixties (1964–1973) | James Parker's BOURNE VARIATIONS series | Alix Lambert's SÉRIE NOIRE series | Jacob Mikanowski's SCREEN TIME series | Josh Glenn's SHOCKING BLOCKING series | Joanne McNeil's ALL MY STARS series | MORE: including dozens of HILO HERO items on movie directors and actors.
MORE ENTHUSIASM at HILOBROW
NERD YOUR ENTHUSIASM (4Q2021): NERDING | ARDUIN | KLINGON CONFIDENTIAL | MAP INSERTS | TIME | & 20 other nerdy passions. SWERVE YOUR ENTHUSIASM (3Q2021): WARHOL'S WALT WHITMAN | 70, GIRLS, 70 | TYRAEL'S MIGHT | SHIRATO SANPEI | THE LEON SUITES | & 20 other never-realized cultural productions. FIVE-O YOUR ENTHUSIASM (2Q2021): DARK SHADOWS | MANNIX | GET SMART | THE ADDAMS FAMILY | I DREAM OF JEANNIE | & 20 other Sixties (1964–1973) TV shows. FERB YOUR ENTHUSIASM (1Q2021): STEVEN UNIVERSE | TOP CAT | REN & STIMPY | SHE-RA AND THE PRINCESSES OF POWER | DRAGON BALL Z | & 20 other animated series. CARBONA YOUR ENTHUSIASM (2020): "Sex Bomb" | "Going Underground" | "Soft South Africans" | "Typical Girls" | "Human Fly" | & 20 other Seventies (1974–1983) punk singles. KLAATU YOU (2020 weekly): ZARDOZ | METROPOLIS | DARK STAR | SINS OF THE FLESHAPOIDS | SOLARIS | & dozens of other pre-STAR WARS sci-fi movies. CONVOY YOUR ENTHUSIASM (2019): THE TAKING OF PELHAM ONE TWO THREE | ROLLERBALL | BLACK SUNDAY | SORCERER | STRAIGHT TIME | & 20 other Seventies (1974–1983) action movies. SERIOCOMIC (2019 weekly): LITTLE LULU | VIZ | MARSUPILAMI | ERNIE POOK'S COMEEK | HELLBOY | & dozens of other comics. TUBE YOUR ENTHUSIASM (2018): LOONEY TUNES | THREE STOOGES | THE AVENGERS | ROCKY & BULLWINKLE | THE TWILIGHT ZONE | & 20 other Fifties (1954–1963) TV shows. WOWEE ZOWEE (2018 weekly): UNISEX | UNDER THE PINK | DUMMY | AMOR PROHIBIDO | HIPS AND MAKERS | & dozens of other Nineties (1994–2003) albums. KLUTE YOUR ENTHUSIASM (2017): THE KILLERS | BANDE À PART (BAND OF OUTSIDERS) | ALPHAVILLE | HARPER | BLOW-UP | & 20 other Sixties (1964–1973) neo-noir movies. #SQUADGOALS (2017 weekly): THE WILD BUNCH | BOWIE'S BAND | THE BLOOMSBURY GROUP | THE HONG KONG CAVALIERS | VI ÄR BÄST! & dozens of other squads. GROK MY ENTHUSIASM (2016 weekly): THE THEORY AND PRACTICE OF LUNCH | WEEKEND | MILLION YEAR PICNIC | LA BARONNE EMILE D'ERLANGER | THE SURVIVAL SAMPLER | & dozens more one-off enthusiasms. QUIRK YOUR ENTHUSIASM (2016): "Tainted Love" | "Metal" | "Frankie Teardrop" | "Savoir Faire" | "Broken English" | & 20 other Seventies (1974–1983) new wave singles. CROM YOUR ENTHUSIASM (2015): DARKER THAN YOU THINK | THE SWORD IN THE STONE | OUT OF THE SILENT PLANET | THIEVES' HOUSE | QUEEN OF THE BLACK COAST | & 20 other Thirties (1934–1943) fantasy novels. KERN YOUR ENTHUSIASM (2014): ALDINE ITALIC | DATA 70 | TORONTO SUBWAY | JOHNSTON'S "HAMLET" | TODD KLONE | & 20 other typefaces. HERC YOUR ENTHUSIASM (2013): "Spoonin' Rap" | "Rapper's Delight" | "Rappin' Blow" | "The Incredible Fulk" | "The Adventures of Super Rhyme" | & 20 other Seventies (1974–1983) hip-hop songs. KIRK YOUR ENTHUSIASM (2012): Justice or vengeance? | Kirk teaches his drill thrall to kiss | "KHAAAAAN!" | "No kill I" | Kirk browbeats NOMAD | & 20 other Captain Kirk scenes. KIRB YOUR ENTHUSIASM (2011): THE ETERNALS | BLACK MAGIC | DEMON | OMAC | CAPTAIN AMERICA | & 20 other Jack Kirby panels.