KLUTE YOUR ENTHUSIASM (22)
By: Gary Groth
August 22, 2017
One of 25 installments in a series of enthusiastic posts analyzing and celebrating a few of our favorite neo-noir movies from the Sixties (1964–1973).
*
THE FRIENDS OF EDDIE COYLE | d. PETER YATES | 1973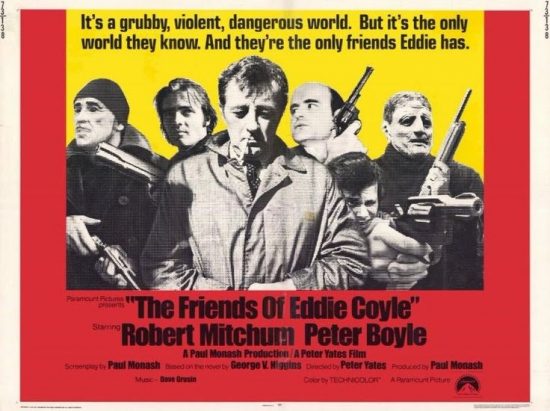 The Friends of Eddie Coyle is at least as much about Eddie Coyle as it is about his friends, though his friends are essential to the moral dilemmas that swirl around them and through the story. In what is rightfully regarded as one of his finest performances, the 50-year-old Coyle is played by the 56-year-old Robert Mitchum, as a broken blue-collar worker and amateur low-level criminal who has hit the wall and knows it.
The gangster/heist genre scaffolding is a way of getting at the truth of Coyle and his predicament, but it's Coyle that the movie is about, and it's Mitchum who carries the load (though he is surrounded by some of the best character actors of the period). Coyle is facing a minimum of two years in prison for trucking illegal liquor. He has a wife and a daughter; he's been in prison before and he can't do the time. It's a credit to Mitchum's authenticity — his exhausted but defiant demeanor — that we believe him.
Are Coyle's betrayals a matter of choice or circumstance? Obviously, it is both, but neither Coyle himself nor anyone else lets him off the hook, and this is part of the toughness of the film. He's willing to rat out friends and acquaintances if that's what it takes to get him out of doing time, but he's got enough pride left to know that what he's doing is wrong and to resent it. To this end, in his dealings with Treasury Agent Dave Foley (Richard Jordan) he bluffs, he bargains, he implores. When Foley squeezes him, like a loan shark who will never quit, for a third tip, Coyle says, plaintively, "That ain't right," which is true, to which Foley replies, simply, "The only one fucking Eddie Coyle is Eddie Coyle," which is also true.
One-on-one conversations with Jackie Brown (played as a mercenary gun running hipster by Steve Keats) and Dillon (Peter Boyle in a lean, tightly controlled role) also depict Coyle as a man staring into the abyss. The best scene is the one in which Coyle demands that Brown get the guns he needs by the next day — or else — in a deftly written monologue. But the "or else" is if not hollow, slightly equivocal; we don't know if he can follow through and we don't think Coyle knows, either. This is not the melodramatic, nourish, almost cartoonish menace of Max Cady, Mitchum's character in Cape Fear, but the desperate and fearful threat of a flesh and blood man whose guts are being slowly chewed up.
John Simon may have been right when he wrote that The Friends of Eddie Coyle does not rise to the level of tragedy, but it is nonetheless a fine portraiture in miniature of human frailty and moral failure.
***
KLUTE YOUR ENTHUSIASM: Series Introduction | Kio Stark on THE KILLERS | Alix Lambert on BANDE À PART (BAND OF OUTSIDERS) | Judith Zissman on ALPHAVILLE | Mark Kingwell on HARPER | Lynn Peril on BLOW-UP | Devin McKinney on SECONDS | Drew Daniel on BRANDED TO KILL | Luc Sante on POINT BLANK | Gordon Dahlquist on LE SAMOURAÏ | Alice Boone on LE CERCLE ROUGE | Brian Berger on COTTON COMES TO HARLEM | Adrienne Crewe on PERFORMANCE | David Levine on THE FRENCH CONNECTION | Dan Fox on GET CARTER | Melissa Gira Grant on KLUTE | Brandi Brown on SHAFT | Kaleb Horton on FAT CITY | Peter Doyle on THE GETAWAY | Sarah Weinman on HICKEY & BOGGS | Annie Nocenti on BADLANDS | Josh Glenn on CHARLEY VARRICK | Gary Groth on THE FRIENDS OF EDDIE COYLE | Lisa Jane Persky on THE LONG GOODBYE | Mimi Lipson on MEAN STREETS | Sherri Wasserman on SOYLENT GREEN.
MORE MOVIES at HILOBROW: KLUTE YOUR ENTHUSIASM: 25 neo-noirs of the Sixties (1964–1973) | James Parker's BOURNE VARIATIONS series | Alix Lambert's SÉRIE NOIRE series | Jacob Mikanowski's SCREEN TIME series | Josh Glenn's SHOCKING BLOCKING series | Joanne McNeil's ALL MY STARS series | MORE: including dozens of HILO HERO items on movie directors and actors.
MORE ENTHUSIASM at HILOBROW
NERD YOUR ENTHUSIASM (4Q2021): NERDING | ARDUIN | KLINGON CONFIDENTIAL | MAP INSERTS | TIME | & 20 other nerdy passions. SWERVE YOUR ENTHUSIASM (3Q2021): WARHOL'S WALT WHITMAN | 70, GIRLS, 70 | TYRAEL'S MIGHT | SHIRATO SANPEI | THE LEON SUITES | & 20 other never-realized cultural productions. FIVE-O YOUR ENTHUSIASM (2Q2021): DARK SHADOWS | MANNIX | GET SMART | THE ADDAMS FAMILY | I DREAM OF JEANNIE | & 20 other Sixties (1964–1973) TV shows. FERB YOUR ENTHUSIASM (1Q2021): STEVEN UNIVERSE | TOP CAT | REN & STIMPY | SHE-RA AND THE PRINCESSES OF POWER | DRAGON BALL Z | & 20 other animated series. CARBONA YOUR ENTHUSIASM (2020): "Sex Bomb" | "Going Underground" | "Soft South Africans" | "Typical Girls" | "Human Fly" | & 20 other Seventies (1974–1983) punk singles. KLAATU YOU (2020 weekly): ZARDOZ | METROPOLIS | DARK STAR | SINS OF THE FLESHAPOIDS | SOLARIS | & dozens of other pre-STAR WARS sci-fi movies. CONVOY YOUR ENTHUSIASM (2019): THE TAKING OF PELHAM ONE TWO THREE | ROLLERBALL | BLACK SUNDAY | SORCERER | STRAIGHT TIME | & 20 other Seventies (1974–1983) action movies. SERIOCOMIC (2019 weekly): LITTLE LULU | VIZ | MARSUPILAMI | ERNIE POOK'S COMEEK | HELLBOY | & dozens of other comics. TUBE YOUR ENTHUSIASM (2018): LOONEY TUNES | THREE STOOGES | THE AVENGERS | ROCKY & BULLWINKLE | THE TWILIGHT ZONE | & 20 other Fifties (1954–1963) TV shows. WOWEE ZOWEE (2018 weekly): UNISEX | UNDER THE PINK | DUMMY | AMOR PROHIBIDO | HIPS AND MAKERS | & dozens of other Nineties (1994–2003) albums. KLUTE YOUR ENTHUSIASM (2017): THE KILLERS | BANDE À PART (BAND OF OUTSIDERS) | ALPHAVILLE | HARPER | BLOW-UP | & 20 other Sixties (1964–1973) neo-noir movies. #SQUADGOALS (2017 weekly): THE WILD BUNCH | BOWIE'S BAND | THE BLOOMSBURY GROUP | THE HONG KONG CAVALIERS | VI ÄR BÄST! & dozens of other squads. GROK MY ENTHUSIASM (2016 weekly): THE THEORY AND PRACTICE OF LUNCH | WEEKEND | MILLION YEAR PICNIC | LA BARONNE EMILE D'ERLANGER | THE SURVIVAL SAMPLER | & dozens more one-off enthusiasms. QUIRK YOUR ENTHUSIASM (2016): "Tainted Love" | "Metal" | "Frankie Teardrop" | "Savoir Faire" | "Broken English" | & 20 other Seventies (1974–1983) new wave singles. CROM YOUR ENTHUSIASM (2015): DARKER THAN YOU THINK | THE SWORD IN THE STONE | OUT OF THE SILENT PLANET | THIEVES' HOUSE | QUEEN OF THE BLACK COAST | & 20 other Thirties (1934–1943) fantasy novels. KERN YOUR ENTHUSIASM (2014): ALDINE ITALIC | DATA 70 | TORONTO SUBWAY | JOHNSTON'S "HAMLET" | TODD KLONE | & 20 other typefaces. HERC YOUR ENTHUSIASM (2013): "Spoonin' Rap" | "Rapper's Delight" | "Rappin' Blow" | "The Incredible Fulk" | "The Adventures of Super Rhyme" | & 20 other Seventies (1974–1983) hip-hop songs. KIRK YOUR ENTHUSIASM (2012): Justice or vengeance? | Kirk teaches his drill thrall to kiss | "KHAAAAAN!" | "No kill I" | Kirk browbeats NOMAD | & 20 other Captain Kirk scenes. KIRB YOUR ENTHUSIASM (2011): THE ETERNALS | BLACK MAGIC | DEMON | OMAC | CAPTAIN AMERICA | & 20 other Jack Kirby panels.