KLUTE YOUR ENTHUSIASM (23)
By: Lisa Jane Persky
August 23, 2017
One of 25 installments in a series of enthusiastic posts analyzing and celebrating a few of our favorite neo-noir movies from the Sixties (1964–1973).
*
THE LONG GOODBYE | d. ROBERT ALTMAN | 1973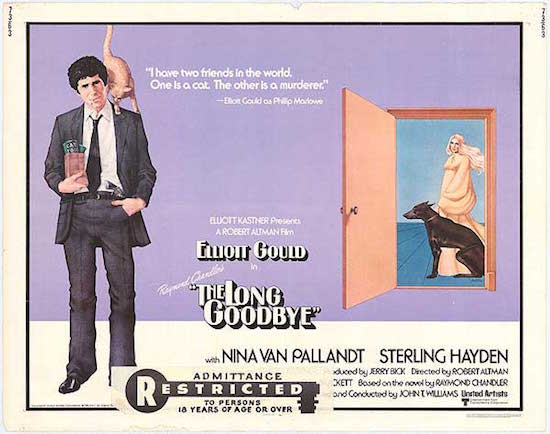 The first line of Altman's movie is "Meow," spoken by a hungry but finicky cat. As Marlowe (Elliott Gould) rises to meet the specific demands of the feline, he tells us it's 3 a.m. and lights his first Camel, commencing a ceaseless cavalcade of smoking, just one of the signs pegging him to the past, foreshadowing his future. Marlowe's out of his cat's brand and has to leave the apartment. By the time he gets into his 1948 Lincoln Continental Cabriolet Convertible, we know he's a guy with a code from prime-time noir, living in a town that's moved on. He returns with the only cat food he can score — and, as no good deed goes unpunished in Tinseltown, the cat leaves in disgust.
The next 100 minutes are a succession of fickle, human-type cats — each of whom demands something from Marlowe. The first to arrive is Terry Lennox, failed actor turned bag-man and Marlowe's second-best friend (after his cat). Lennox shows up asking for a ride to Tijuana where maybe he's gonna cool his heels after a fight with his wife. When Marlowe returns from the border, cops are waiting to arrest him for abetting Lennox — who may have killed his wife, instead. Marlowe spends the rest of the movie trying to prove to himself that his pal didn't do it.
As we approach each of his collisions with demand and disappointment, Marlowe repeats, "That's OK with me." His nonchalance, sardonic wit and cautious softness for the characters he encounters make him inviting in a way that other movie Marlowes aren't. And this noir is more of a chiaroscuro, with dark spaces illuminated by flashes of light, by tonal shifts as punctuation. Marlowe's mostly naked, pleasingly serene neighbors, the "yoga ladies," are a chipper Greek Chorus.
The movie intros with a hot blast of Benny Goodman's swinging, stinging "Hooray For Hollywood" over a close-up of a carved metal plaque, mostly in shadow, depicting palm trees, unfathomable roads and the word "Hollywood." Altman was ever at odds with the place and what doesn't actually describe it here is a direct poke at its clichés: "Nobody cares." Lennox says. "Yeah, nobody cares but me." Marlowe replies. "Well, that's you, Marlowe. You'll never learn. You're a born loser," Lennox responds. Altman's film then takes the ultimate liberty with Chandler's novel. In the penultimate scene, Marlowe joins the present by subverting his own code.
The last line of this movie is "Blam!," spoken by a gun. Moments later, on his way down a tree-lined path in Mexico, Marlowe summons the joie to play the world's tiniest harmonica. He then gently grabs an old lady and gives her a once-around twirl as the soundtrack recording from "Hollywood Hotel" replete with hiss and pops, repeats Benny Goodman's opening song. As he bears away, Marlowe kicks up his heels. That's OK with me.
***
SHOCKING BLOCKING: The Long Goodbye.
KLUTE YOUR ENTHUSIASM: Series Introduction | Kio Stark on THE KILLERS | Alix Lambert on BANDE À PART (BAND OF OUTSIDERS) | Judith Zissman on ALPHAVILLE | Mark Kingwell on HARPER | Lynn Peril on BLOW-UP | Devin McKinney on SECONDS | Drew Daniel on BRANDED TO KILL | Luc Sante on POINT BLANK | Gordon Dahlquist on LE SAMOURAÏ | Alice Boone on LE CERCLE ROUGE | Brian Berger on COTTON COMES TO HARLEM | Adrienne Crewe on PERFORMANCE | David Levine on THE FRENCH CONNECTION | Dan Fox on GET CARTER | Melissa Gira Grant on KLUTE | Brandi Brown on SHAFT | Kaleb Horton on FAT CITY | Peter Doyle on THE GETAWAY | Sarah Weinman on HICKEY & BOGGS | Annie Nocenti on BADLANDS | Josh Glenn on CHARLEY VARRICK | Gary Groth on THE FRIENDS OF EDDIE COYLE | Lisa Jane Persky on THE LONG GOODBYE | Mimi Lipson on MEAN STREETS | Sherri Wasserman on SOYLENT GREEN.
MORE MOVIES at HILOBROW: KLUTE YOUR ENTHUSIASM: 25 neo-noirs of the Sixties (1964–1973) | James Parker's BOURNE VARIATIONS series | Alix Lambert's SÉRIE NOIRE series | Jacob Mikanowski's SCREEN TIME series | Josh Glenn's SHOCKING BLOCKING series | Joanne McNeil's ALL MY STARS series | MORE: including dozens of HILO HERO items on movie directors and actors.
MORE ENTHUSIASM at HILOBROW
NERD YOUR ENTHUSIASM (4Q2021): NERDING | ARDUIN | KLINGON CONFIDENTIAL | MAP INSERTS | TIME | & 20 other nerdy passions. SWERVE YOUR ENTHUSIASM (3Q2021): WARHOL'S WALT WHITMAN | 70, GIRLS, 70 | TYRAEL'S MIGHT | SHIRATO SANPEI | THE LEON SUITES | & 20 other never-realized cultural productions. FIVE-O YOUR ENTHUSIASM (2Q2021): DARK SHADOWS | MANNIX | GET SMART | THE ADDAMS FAMILY | I DREAM OF JEANNIE | & 20 other Sixties (1964–1973) TV shows. FERB YOUR ENTHUSIASM (1Q2021): STEVEN UNIVERSE | TOP CAT | REN & STIMPY | SHE-RA AND THE PRINCESSES OF POWER | DRAGON BALL Z | & 20 other animated series. CARBONA YOUR ENTHUSIASM (2020): "Sex Bomb" | "Going Underground" | "Soft South Africans" | "Typical Girls" | "Human Fly" | & 20 other Seventies (1974–1983) punk singles. KLAATU YOU (2020 weekly): ZARDOZ | METROPOLIS | DARK STAR | SINS OF THE FLESHAPOIDS | SOLARIS | & dozens of other pre-STAR WARS sci-fi movies. CONVOY YOUR ENTHUSIASM (2019): THE TAKING OF PELHAM ONE TWO THREE | ROLLERBALL | BLACK SUNDAY | SORCERER | STRAIGHT TIME | & 20 other Seventies (1974–1983) action movies. SERIOCOMIC (2019 weekly): LITTLE LULU | VIZ | MARSUPILAMI | ERNIE POOK'S COMEEK | HELLBOY | & dozens of other comics. TUBE YOUR ENTHUSIASM (2018): LOONEY TUNES | THREE STOOGES | THE AVENGERS | ROCKY & BULLWINKLE | THE TWILIGHT ZONE | & 20 other Fifties (1954–1963) TV shows. WOWEE ZOWEE (2018 weekly): UNISEX | UNDER THE PINK | DUMMY | AMOR PROHIBIDO | HIPS AND MAKERS | & dozens of other Nineties (1994–2003) albums. KLUTE YOUR ENTHUSIASM (2017): THE KILLERS | BANDE À PART (BAND OF OUTSIDERS) | ALPHAVILLE | HARPER | BLOW-UP | & 20 other Sixties (1964–1973) neo-noir movies. #SQUADGOALS (2017 weekly): THE WILD BUNCH | BOWIE'S BAND | THE BLOOMSBURY GROUP | THE HONG KONG CAVALIERS | VI ÄR BÄST! & dozens of other squads. GROK MY ENTHUSIASM (2016 weekly): THE THEORY AND PRACTICE OF LUNCH | WEEKEND | MILLION YEAR PICNIC | LA BARONNE EMILE D'ERLANGER | THE SURVIVAL SAMPLER | & dozens more one-off enthusiasms. QUIRK YOUR ENTHUSIASM (2016): "Tainted Love" | "Metal" | "Frankie Teardrop" | "Savoir Faire" | "Broken English" | & 20 other Seventies (1974–1983) new wave singles. CROM YOUR ENTHUSIASM (2015): DARKER THAN YOU THINK | THE SWORD IN THE STONE | OUT OF THE SILENT PLANET | THIEVES' HOUSE | QUEEN OF THE BLACK COAST | & 20 other Thirties (1934–1943) fantasy novels. KERN YOUR ENTHUSIASM (2014): ALDINE ITALIC | DATA 70 | TORONTO SUBWAY | JOHNSTON'S "HAMLET" | TODD KLONE | & 20 other typefaces. HERC YOUR ENTHUSIASM (2013): "Spoonin' Rap" | "Rapper's Delight" | "Rappin' Blow" | "The Incredible Fulk" | "The Adventures of Super Rhyme" | & 20 other Seventies (1974–1983) hip-hop songs. KIRK YOUR ENTHUSIASM (2012): Justice or vengeance? | Kirk teaches his drill thrall to kiss | "KHAAAAAN!" | "No kill I" | Kirk browbeats NOMAD | & 20 other Captain Kirk scenes. KIRB YOUR ENTHUSIASM (2011): THE ETERNALS | BLACK MAGIC | DEMON | OMAC | CAPTAIN AMERICA | & 20 other Jack Kirby panels.