2013 Obits — an Epic Poem
By: Rob Walker
January 3, 2014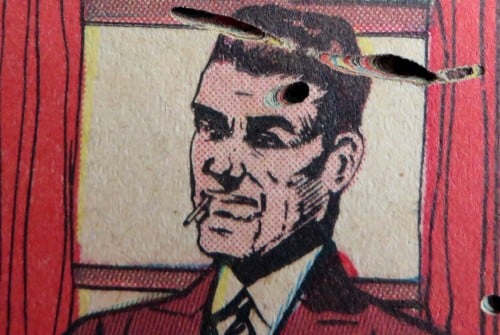 One Year of Descriptive Phrases from New York Times Obituary Headlines: 2013

Boyish Sidekick to John Wayne
Feminist Heroine in Japan
'Doggie in the Window' Singer
Environmental Activist
Minister at Marble Collegiate
Poet and Performance Artist
Historian
Canadian Who Sheltered Americans in Tehran
Rival to Mario Cuomo
Ex-Editor of The Times of London
Gave TiVo and Kindle Their Names
New York D.J. Heard on 'Milkman's Matinee'
Poet and Editor
Architecture Critic
Writer of Big Ambitions
Expert on Franklin
Economic Scholar
Novelist in Multiple Genres
Gay-Rights Advocate
Legal Scholar of No-Fault Coverage
Folksy Public TV Host
Italian Actress
Helped Catch Aldrich Ames
A Best-Selling Biographer
Top Coach Who Lifted College Baseball
Publicity Pioneer
A Leader in Space Race
Iconoclastic Filmmaker
Led Postal Strike
Rights Lawyer in Russia
Father on 'Diff'rent Strokes'
A Visionary Adman
Led Tiananmen Crackdown
A Terrorist
Culprit in California Fraud
Flinty Adviser to Millions as Dear Abby
Actor on 'The Wire'
Tennis Star Who Wore a Daring Wimbledon Outfit
Set Standard in High Jump
Volatile, Visionary Manager
Gentlemanly Slugger and Cardinals' Stan the Man
Owner of Sports Teams
An Expert in Team Dynamics
Artist Inspired by Urban Walls
Global Interior Designer
Student Who Challenged Segregation
Woodcut Master
'Death Wish' Director
Horn Player and Activist
Columnist and Playwright
Dominant Postwar Sumo Champ
Cardinal … Of Poland
Life Was Ripped From Headlines
Playwright With Light Touch on Dark Subjects
Writers' Writer
Aided Others $1 at a Time
Helped Build Real Estate Empire
A Bank of America Chief
Defiant I.R.A. Bomber
Verdi and Puccini Biographer
Architectural Photographer
Last to See First A-Bomb
Musician and Bandleader
Led Early Needle Exchange
Led Coup
Historian and Journalist
Frontman of Ohio Players
Leader of W.H.O.
Led Arms Talks
Edited Woman's Day
Dancer
Creator of 'Conduction'
Calmed Fiscal Panic
Singer With Her Sisters
Scientist and Advocate,
Polish Inventor of Recorder That Changed Hollywood
Pioneering District Attorney
Doctor Turned Novelist
Baseball Slugger
A 3-Term Mayor as Brash, Shrewd and Colorful as the City He Led
Conductor Who Led a Handel Revival
American Who Aided Britain in War
Children's Author Who Spurred a Storytelling Revival
Ex-Sniper Dies in a Shooting Back Home
Etch A Sketch Inventor
Sounded Alarm on Sex Abuse
Baseball Pioneer
Superintendent
Lead Singer of Troggs
Child of Famous but Secret Father
Coastal Risks Expert
All-Pro and Critic of N.F.L.
Who Led Team That Built Twin Towers
Fighter in Congress for Equality and the Poor
Psychologist Who Focused on Insomnia
'Star Wars' Makeup Artist
Star of 'Tea and Sympathy'
Musician With 'Good Vibrations'
Led the Way to All-Digit Dialing
Bird-Watching Guide in Central Park
Bomber Pilot Honored for Valor in Battle of Midway
A Pioneering Conductor
Champion and the Beast of the Bridge Table
Champion of an Adaptive Judaism
Painter and Sculptor
Jazz Trumpeter
Designer for Women in Politics and the Arts
Skilled in China Foreign Relations and Ping-Pong
Tenor With City Opera
Pioneer Nutritionist
Led Incorrigible D-Day Unit
Writer of Dark Screenplays
Economist and Gambling Expert
Former Chief of Gazprom
Scholar of the Law
Rare Woman Among Baseball Scouts
Songwriter and Producer
Aided Disadvantaged Youths
A Trailblazer in Judo
Man of Many Hats and a Cape
Colleague of Beatles
A Singer Long Troubled
Lakers Owner and Innovator
American Expert on Japan
Special-Effects Innovator
Creator of 'Underdog' Cartoon
Head of Fallout Shelter Program
Author of Self-Help Books
German Retailing Pioneer
Forecast '87 Market Crash
A Psychedelic Rocker
Champion of Animal Welfare
Laureate in Physics
Blues Singer and Guitarist Who Blazed Onstage
An Overseer of Presidential Households
Transformed Privacy Debate Before the Web Era
Director of Anti-Soviet Movies
Helped Define New Era of Photography
Children's Book Author
Singer of 'The Birds and the Bees'
Scrappy Leader of Firefighters' Union
Head of a Tabasco Empire
Jazz Dance Pioneer
Conductor
Forceful U.S. Surgeon General
Angler With Story Angles
British TV Innovator
Author and Activist
A Horse-Savvy Actor in Westerns
Cold War Musical Envoy
Polish Cosmetics Maker
Audacious Mastermind of Great Train Robbery
Steadfast Mom on 'One Day at a Time'
Memoirist of the Life Banal
Nightclub Founder
Oncology Pioneer
American Indian Memoirist
Master of the Organ
Biographer of Dostoevsky
Doolittle Raider
Captured Tojo
Sang in the Miracles
Nobel Winner in Physics
Edsel Designer
A Polarizing Figure Who Led a Movement
British Blues-Rock Guitarist
Invented Diplomacy Game
Creator of the Coach Handbag
Canadian Singer
Led Kent State Lawsuit
South African Official Who Led Apartheid-Era Killings
Rabbi Seeking Peace
Top Defensive Back
'Angel' of Corregidor
Stage Director
Pro Wrestling's Paul Bearer
Beloved of Prince Who Could Be King
Nightclub Founder
Turned Around Geico
Anti-Hitler Plotter
Collector and Dealer in African Art
A Mentor in Two Sports
Former Official of Khmer Rouge
Famed Harpsichordist
No. 3 in the F.B.I.
A President at Bell Labs
Modernist Architect
Award-Winning Vintner
Argentine Official During Dictatorship
Ad Executive Who Seized Cuban Assets
Linked to Killings in 1964
Ex-Washington Governor
Known as 'Mother of Martyrs'
Early McCarthy Skeptic
Led Transgenic Research
Singer in Big-Band Era
Voice of the Spinners
Writer of TV Dramas
Star of 'Deep Throat' Film
Quebec Separatist Involved in a Kidnapping and Murder
Saved Fire Island's Terrain
Stalwart at the Met for Decades in Carmen Role
Jump Shot Pioneer
African Literary Titan
Pampering Matriarch of a Grand Borscht Belt Resort
Surgeon Who Aided Polio Victims
Russian Oligarch and Critic of Putin
Shot a Ballplayer
Elvis Contemporary
Won 1943 Fight to Print Photo of War Dead
British Horror Novelist
A Force in World of Cuban Music
Itinerant in Pros and Life
Creator of a Bodybuilding Empire
'Cry of Jazz' Filmmaker and Composer
N.F.L. Star and Trophy Name
Supreme Court Reporter Who Brought Law to Life
'Secret Storm' Actress
A Balladeer of Heartbreak
Creator of Motown Hits
Threw 2 No-Hitters in 1952
Cried to the Jews of Buchenwald: 'You Are Free'
Norwegian Speedskater
A Fighter for Civil Rights
Had Night to Remember as a Rebounder
'Simpsons' Scriptwriter
Writer for Film and Stage
WNBC Reporter Who Helped Integrate TV News
Falstaffian English Actor
Critic and Defender of Non-Western Art
Pitcher With a Blazing Fastball
A Pioneering Rocket Scientist
Producer for Music's Biggest Stars
Father of Rock Criticism
Apologized for Racist Acts
Politician in Alberta Oil Boom
A Singer in Long Tradition
Linguist of Cultural Interchange
Star at Texas A&M and an N.F.L. Coach
Fitful Football Coach
Partner in Creating the Muppets
Studio Musician in High Demand
Actor of the Stage and Screen
Monica Lewinsky's Lawyer
Screenwriter
Maid Who Married Multimillionaire
Poet Laureate Versatile in Many Forms
Cheeky Columnist
A Critic for the Common Man
Exhaustive Andrew Jackson Biographer
Reviver of Batman and Flash
Son of Influential Minister
Composed Prizewinning 'Crucible' Opera
Expert on Immigration
Split From Bush Faith Effort
Definer of Christian Family Values
Founder of Major Speedway
Women's Champion
Filmmaker of America's Periphery
Heiress Who Gave Elite Clothes a Tropical Splash
Times Science Writer
Book Publisher With an Eye for Hits
New Yorker Cartoonist
Beloved as a Mouseketeer and a Star of Beach Movies
Iron Lady' Who Set Britain on New Course
Spanish Film's Shepherd
Sharp Judge of N.B.A. Talent
Architect of Counterculture
Exposed a Jewish Klansman
Seen as Modern Art Master
Actress of Stage and Screen
Brunello Winemaker
Doomsday Clock Designer
Changed Rules of Conception With First 'Test Tube Baby'
A Dazzling Ballerina and Muse for Balanchine
Unpredictable Comic and Master of Improvisation
Bullfighter Who Defied Convention
TV Writer and Woody Allen Collaborator
Chess Grandmaster
Changed the Field of Behavioral Psychology
Champ Who Ducked No One
Big Backer of 'Swift Boat' Ads
British Conductor Known for His Exuberant Approach
Lumpy on 'Leave It to Beaver'
Helped Pianists Avoid Injuries
Star Kicker With Giants and a Calm Voice on TV
Fought to Save John Jay College
Composer and Musician
U.S. Soldier Who Trained Vietnamese Troops
Architect
Stirring Singer at Billy Graham Revivals
Pianist Who Roamed the World
Chicago Blues Guitarist
First Finn to Star in the N.H.L.
Rolling Stones and Led Zeppelin Engineer
News Executive Who Built Gannett and USA Today
Designer of Unsettling Album Covers
Developed First Live-Virus Polio Vaccine
Abstract Painter
Rhino Guardian and Champion
Divinyls Singer
Wide-Ranging Entrepreneur
Steward of Cuban Cinema and Castro Ally
Author
Folk Singer Who Riveted Woodstock
Psychiatrist With Zingers on 'M*A*S*H'
'Human Computer' Who Bested the Machines
Lawyer Who Fought Censorship of Books
Stalwart Conservative
Lawmaker and Liberal Leader
Funk Guitarist
Pointed to How Traits Are Inherited
Zealous Jazz Pianist
Musician and Instrument Maker
Donor Who Made the Hudson Her Cause
His Life Was a Country Song
Unseen Singer of Indian Film
A Chronicler of the Feminist Movement
Mathematician Who Harnessed Computer Power
Activists' Lawyer
Trumpeter With Chicago Symphony
A Pianist With His Own Genre
Mathematician Who Harnessed Computer Power
Yale and '94 Olympic Coach
Master of the Cello
Plucky Movie Star of the Depression Era
A Founder of a Ski Resort
Guitarist
Of Hip-Hop Duo Kris Kross
Architectural Historian
Crowd-Pleasing Sure Shot
'China Syndrome' Writer
Guitarist
Co-Founder of the Sandstone Retreat
Put Cancer Cures in Reach
Microwave Proponent
Inventive and Charismatic Ballet Star
Premier of Italy 7 Times
Nobel-Winning Biochemist
Governor and Health Secretary
Pioneering Theater Director
Whose Creatures Battled Jason and Sinbad
President of Men's Tennis Tour
'Young and the Restless' Star
'Stepford Wives' Director
Giuliani Appointee
Producer of TV's 'Dance in America'
Children's Book Author
Bohemian and Actor
Made Zigzags a Symbol of High Fashion
Inventor of the Sting-Ray Bike
A Former Governor
Troubled Life in Malcolm X's Shadow
At Barron's Was a Thorn in Wall Street's Side
Jets Receiver and Rebel
Car Customizer and Painter
Actress and Teacher
Undrafted Football Hall of Famer
Hairdresser to the Stars
On-Air Psychologist Who Made TV House Calls
Ballet Dancer and College Dean
Chicago Stage Innovator
Troubled N.F.L. Star
Pulitzer-Winning Composer
Texas Con Man Whose Fall Shook Up Washington
Scholar of 'Historical Jesus'
Museum Director Who Gave Guggenheim Cachet
Times Correspondent in 1950s
Open Golf Champion and Broadcaster
Jailed Argentine Military Leader
Chief of Detectives in New York for Short, Tumultuous Time
Discovered Ozone Hole
Maker of Films About Black History
Actress in a Classic 'Twilight Zone'
Foreign-Relations Expert
Fashion Illustrator
Helped Shape Drug Laws
Fighter in Warsaw Ghetto Uprising
Chess Referee of the 'Match of the Century'
Keyboardist and a Founder of the Doors
American Neo-Classical Composer
Russian Film Director
Breast Cancer Iconoclast
Physicist; Helped Open Door to Nanotechnology
Children's Author
Award-Winning Short Story Writer
War Hero; Fought in the Battle of the Bulge
Modernist Composer
Founder of Snapple
Performer on Film and TV's 'S.W.A.T.'
Lawyer to Black Hollywood
Challenged State Aid to Religious Schools
Poetic French Singer
Scorer on Dominant N.B.A. Club
Journalist and Author
Novelist of Hard-Boiled Stories
Photographer of War and Peace
An Early Lawyer to Black Hollywood
'Tonight' Drummer
Hand-Press Printer of Poets
Bassist With Bill Haley
Camden Mayor Convicted of Bribery
Jazz Documentarian and Fan
Leader of Grumman in Time of Uneasy Transition
Actionist Artist
Singer in the R&B Hit 'O-o-h Child'
Repaired Arms and Careers in Baseball
Abortion Defender in Canada
Pro Bowl Lineman
Founder of Criteria Recording Studios
Italian Actress and Playwright
Robust Singer for the Dells
Influential Jazz Pianist
Author, Scholar, Scold
'Cuckoo's Nest' Doctor
Author of Experimental Novels
Pro Bowl Guard
Theologian
Played Archie Bunker's Better Angel
Bengali Film Director
Novelist of the Fantastical
Led Warsaw Pact Forces
New Jersey Senator in His 5th Term
Union Leader Who Helped and Hurt Umpires
Made Quarterback Sack Brutal and Enthralling
Maverick Minister in Civil Rights Era
Former Times Journalist
Visionary Artist of the Junkyard
Beijing Mayor During Tiananmen Protests
A Cellist and Educator
Master of Camp Way Off Broadway
Singer and Heart of a Song
Helped Japanese-Americans
Swimming Champion Who Became a Movie Star
Rock Drummer
Socialist Who Led Changes in France
The 'Night Stalker' Killer
Ex-Massachusetts Governor
Darkly Satirical British Novelist
Advocate for the Poor
Feminist Photojournalist
Led Underdog to a Stirring N.C.A.A. Run
A Free-Spirited Chocolatier
Maverick Israeli Novelist
Adman With Stradivarius
TV Reporter Who Shed Light on Black History
Nobel-Winning Economist
Shepherd for the Ramones
Novelist of Crime and Science Fiction
Served Nevada in Congress
Golf Champion With Odd Swing
Vaudeville Duo's Stumpy
Inspiration for Heroine of Spenser Mysteries
A Pioneer With Cars Using Jet Engines
G.O.P. Political Consultant
Maestro Who Shaped Lyric Opera of Chicago
Former Chief Executive of Goya Foods
Nobelist for Crystallography
Led Fight to Save Fire Island Lighthouse
Strove to Keep Life Magazine Afloat
Outspoken Judge
Shipping Innovator
Industrial Designer Who Blended Form and Function
President of Ross Bicycles
Revolutionized Wet Suits
Venerable Jazz Guitarist
Acted on Stage, Film and TV
Tennis Champion
Patriarch of Sketch Comedy
Theater Director
Winner of Polk Award
All-Pro Punter for Giants
Yodeling Country Singer With a Regular-Guy Image
A Complex Mob Boss in 'The Sopranos'
French Fashion Designer of the '60s
Wrote Best-Selling Thrillers
A Prince Among Dancers
Nobel Physicist
Helped Part Iron Curtain
Creator of Oxo Utensils
Helped Bring the Flute Into the Jazz Mainstream
'Black Athena' Scholar
Writer Who Sued Over 'Da Vinci Code'
Journalist Who Championed Country Music
Television Writer And Creator of 'Family Ties'
Soul and Blues Balladeer
A Rock Musician of the Czech Revolution
Publisher of Beacon Journal
Sleuth in 'Gentlemen Prefer Blondes'
Senator From Maine
Writer of Haunted Science Fiction and Horror
Guiding Hand in Rowing
Elite Photographer Known for Images of Marilyn Monroe
Luminary in French Ballet
Financier and Famous Fugitive
Top Amateur Golfer and Ardent Fitness Advocate
Intercepted Pass to Help Jets Win Title
Tied to Tailhook Scandal
Stage Adapter of Offbeat Material
Catalyst for the Watts Riots
Social Critic Who Renounced Academia
Innovative Leader of the Draft
Actor in 'Enter the Dragon'
Artist of Deconstructed Photographs
Sardi's Artist and 'Stalag 17' Writer
Producer of Major Spanish Films
Ministered to East Harlem
A Top Runner
Star of Martial Arts Movies
Former Italian Premier
Technology Consultant and Oxford Benefactor
Brash Chairman of Mobil
Pastor and Lawmaker
Jazz Pianist
Early Undersea Explorer
Computer Visionary Who Invented the Mouse
Specialist in 'Annoying Music'
Champion of America's Cup and Innovator in Yachting
Surrealistic British Playwright
Myanmar Drug Kingpin
Poet and Translator
Lifted National Zoo's Profile
Dentist Guilty in Organ Scheme
Historian Who Shed Light on Puritans
Academic Book Publisher
First President of Target
Spy Who Posed as Journalist
Nuclear Engineer and Chief at Fukushima Plant
Exposed Stalin Terror
Defied Racism on the Basketball Court
Paved Way for Black Journalists
Co-Creator of the Game Twister
Wife of Folk-Singing Legend
Reshaped Legislatures
First Nonfamily Member to Head Ford
Acoustic Engineer and Inventor
Made Walking Dogs a Job
Children's Book Author
Besieged Art Museum Director
Star of Hit Show 'Glee'
Speechwriter for Johnson
WWII 'Night Witch'
Lawyer and Nixon Adviser During Watergate
Villain of the Bollywood Screen
Steered First Nuclear Submarine
Led Bailout Efforts
Classic Children's Book Illustrator
Matchmaker to Publishers and Their Staff
Trumpeter and Brass Instructor to Many
Set Speed Record on Motorcycle
West Point Chief
Editor of Free City Newspapers
Writer and President of Yaddo
Late-Blooming Bluesman
Olympic Champion
Won Iron Cross and F.A. Cup
Modeling Visionary
Producer of Broadway Shows
50 Years of Tough Questions and 'Thank You, Mr. President'
Whose Premium Bourbon Revived an Industry
Pioneer of North American Soccer
Leading Canadian Artist
Pitcher Celebrated Through Softball Marathon
Sang Heavenly Jingle
Detective in Life and TV
Boxer Who Unleashed a Fatal Barrage
TV Actor, Director and Producer
Named the Killers of Emmett Till at Their Trial
A Warhol Assistant
Widely Published Collaborator in Sex Research
Pioneer in Hydraulic Fracturing
Artist on Grand Scale
Master of Latin Jazz and Drums
An Enduring Pioneer Woman of Jazz
Work Paved Way for Laser
Radio and TV Personality
Musician and Songwriter
Longtime Representative and Champion of Women
Heroic Pilot in Vietnam War
Man of No Nation Who Saw One World of No War
Studied Anthropologists
Voice of ABC and NBC News
Slugger Who Boomed 'Taters' in Fenway
G.O.P. Prodigy Who Led Pennsylvania
Co-Founder of Medellín Cartel
Virginia Senator
N.B.A.'s First Scorer
Stalwart of Film and Stage
An Architect Whose Work Stood Out
British Rock 'n' Roll Renaissance Man
Actress and Muse
Provocative Argentine Conceptual Artist
Banker and Nixon Aide
German Steel Industrialist Who Saved Jews
Author Beloved by Fellow Texans
Crime Novelist
Record-Setting Gymnastics Coach
A Founder of Cuban Ballet
Actor Who Played Cochise and Kang
City Ballet Soloist and Teacher
A Master of a Vocal Art
Dance Impresario
Whistle-Blower at Lab
A Daring Times Op-Ed Artist
Archaeologist Who Helped Find 'New Human'
A Behemoth of Modesty
Keyboardist Who Crossed Genre Boundaries
Sociologist of Religion Who Mapped the American Soul
A Fighter for Civil Rights
Eagles and Flyers Owner
WQXR Announcer and Children's Book Author
Documentary Filmmaker for 'American Masters'
'Captain Kangaroo' Actor and Puppeteer
Leader of British Navy in Falkland Islands War
'Wizard of Oz' Munchkin
Producer and Country Songwriter
Expert on Holocaust
Last of Singing Sisters' Group
Versatile Character Actress
Metropolitan Opera Star
Democratic Strategist in New York
Was Half of One of TV's First Gay Couples
Led a Record-Losing 76ers
Brought 'Monroe' to Burlesque Houses
Popular Nightclub and TV Singer
Seeker of Extraterrestrials
A Champion of Documentary Video
Press Agent for Broadway and Beyond
Influential Adviser in Reagan White House
Nazi War Crimes Suspect
Judge and Fordham Law Dean
Egyptologist and Mystery Writer
Fought for Public Housing
Historian Who Described Jefferson as 'Overrated'
Country Artist in Outlaw Movement
Cameraman for British Network
Former Chairman of Joint Chiefs
Political Reporter of the Old School
Zealous Advocate of Lower Manhattan
Parachutist From Olympics
Curator of the Brooklyn Dodgers' Legacy
Made Radio Shack an Early Player in PCs
Actress on 'That '70s Show' Sitcom
A Guiding Light for Policy Makers After 9/11
Carter Adviser
Defender of Terrorists And War Criminals
Actress Featured in Cult Films by Russ Meyer
Artist Who Wove Wire
Revered Teacher of Dancers
Spanish Food Author
Poet at Ease With Intellectualism and Wit
Detective on TV
Scholar Saw a Multicolored American Culture
BASE Jumper and Sky Diver
Jazz Singer With Long and Varied Career
Pianist and Composer
Oral Historian
Novelist Who Made Crime an Art, and His Bad Guys 'Fun'
Co-Founder of Zara
Helped Import the Beatles
Jazz Pianist and NPR Radio Staple
Food Writer and Early Locavore
Early Space Shuttle Pilot
Tackled Big Tobacco
Gay Advocate and Performer
Descendant of Bounty Mutineer
Helped Knicks to a Title
Director for Film and Television
Designer of Popular Office Chair
Celebrated Actress of Range and Intensity
English Folk Singer
Determined Trailblazer for Women on Wall Street
Celebrated Cinematographer
'Godmother of Silicon Alley'
1970s Governor of Ohio
Explorer of the Brain
Film Set Decorator
Leading Polish Playwright
First Umpire to Use Replay
Jazz Singer and Activist
Biologist in Cell-Protein Breakthrough
Helped Earth Learn of Mars
Irish Poet of Soil and Strife
Interviewed Nixon
Opera Troupe Director
Pilot Who Founded Popular Fly-In
Boxer and Co-Star in 'Rocky V'
Polish Peace Envoy in Vietnam
Pelé's Last Line of Defense
Adviser to Gorbachev
'Accidental' Economist Who Won a Nobel Prize
Science Fiction Master Who Vaporized Utopias
Negotiator in '81 Baseball Strike
Editor of Savvy Magazine
Doctor Who Said One Could Choose Happiness
Croatian Hijacker
Critic of Big Government
Sculptor of Neon
Bodyguard of Hitler
Record Store Owner and Character Actor
Typewriter Repairman
Optimistic New Realist Painter
Historian and Author
A Leader in Golf
Invited Grenada Invaders
British Pilot of Bombers and Odder Flying Machines
All-Star Center in Pro Basketball
Car Dealer With Manic Ads
Audubon Leader
Who Put Hand Soap in a Bottle
Maker of Films With Leftist Edge
Married Cello to Jazz
Made Eggs for Press
Sri Lankan Human Rights Activist
Put Moviegoers in the Middle of It
Furthered AIDS Study
A Star at Notre Dame
Who Wrote of God and Food
A Pragmatic Voice for Government's Role
Philosopher Who Praised Marx and Modernism
Sailboat Design Visionary
Jazz Performance Portraitist
Journalist and Historian of Atomic Bomb
Malaysian Rebel
Jewish Resistance Fighter
Leader in Humanities
Entertainer on TV Talk Shows
Promoter of the Toyota Way and Engineer of Its Growth
A Lawyer for Gore in 2000 Recount
A Bear Who Got Yards With Grit
Stock Market Predictor
Literary Critic
Lyme Disease Researcher
A Championship Fighter Who Broke Ali's Jaw
British Rock Singer Who Recorded With Beatles Members
Explorer of the Brain
Steered Nintendo to Dominance
Judge Who Oversaw Football Antitrust Case
Former Amazon Executive
Columnist and Critic
A Referee Who Drew Cheers
Updated Jewish Mysticism
Twangy Country Singer
Tracker Whose Work Helped Children
Advocate of Infant Bonding
Kidney Donation Specialist
Poet and Scholar Killed in Nairobi Mall Attack
Pioneer in Science and Pollution Control Efforts
Writer of 'Year of Living Dangerously'
Led L.S.U. to Its First National Title
Nobel-Winning Scientist
Beat Writer and Muse
Waif Seen in Altman Films
Agnes Gooch of 'Mame'
Cuban Economist and Castro Critic
Screenwriter
His Designs Urged Lawns to Grow
Father of Devils Star Goalie
Survivor of '85 Bombing by Philadelphia Police
Tigers' Clutch Pinch-Hitter
Master Mechanic of the Indianapolis 500
Changed the Way Americans Cook Italian Food
Award-Winning Writer of British Crime 'Cozies'
Novelist Who Created a Rambling, Ruminative Soul
Wrote 'Ghetto Schooling'
Led Iran Hostage Mission
Starred in Television's 'Daniel Boone'
Led Texas to Title
Pioneer for Basketball's Big Men
Member of 'Steel Curtain'
Survived and Documented Holocaust
Left Justice Dept. in Protest
Physicist Present at Birth of the Nuclear Age
Ex-White House Reporter
Led School Prayer Case
Architect of Aerial Spying
Beacon of Stage Avant-Garde
Best-Selling Master of Military Thrillers
General Who Took Blame for Hurricane Katrina Failures
Star Guard Who Led Soviet Upset of U.S.
Warhol Glamour Avatar
Ousted U.S. From Vietnam
Historian of Populism
Freed After 41 Years in Solitary
Captured Powerful '60s Images
Experimental Stage Producer
A Hero of the Battle of the Bulge
Prolific Producer of Westerns
Creator of a Braille Code for Math
Spiritual Leader of Israel's Sephardic Jews
Made Cotton Cloth Behave
Chronicler of Western Reptiles and Amphibians
Opera, Stage and Film Director
Guitarist With the Pogues
Minnesota Anchorman Turned Senator
Aide in Kennedy White House
Canadian Magnate
Watched Thomson's Shot
Critic, Spent a Half-Century at the Movies
Belgian Statesman
Master of Lighting
One of the Original Seven Astronauts
Nazi Who Carried Out Italian Massacre
Poet Who Wrote of Racism
Warden Who Loathed Death Penalty
Minister Who Preached to Flower Children
Won Pulitzer for Tale of Cuban-American Life
Favorite Singer in the Arab World
Criminal Turned Author
Shakespearean Actor and Tony Winner
Country Singer with a Traveling Medicine Show
Marketer of Gummi Bears
'Babe Ruth for Hunters'
Motown's Maven of Style
Actor With a Familiar Face
Survivor of Abduction in Venezuela
Welcomed Bronx's Latinos
Singer of 'I Wish You Love'
Champion of Myanmar Press Freedom
Pioneer of Off Off Broadway
Longtime Florida Congressman
Scared British Moviegoers
Led Senegal at World Cup
Prominent Jazz Bassist
House Speaker; Democrat Urged Parties to Collaborate
Lobbied for Stars' Heirs
Self-Proclaimed Sultan
Homespun Coach Behind Oilers' Rise
'Prison Angel' Who Took Inmates Under Her Wing
TV Cartoon Producer
Founding Owner of N.F.L.'s Titans
Economic Theorist
Koch's Budget Chief in New York City
Longtime Washington Huskies Football Coach
Education Advocate in Congress
Hall of Famer With a Maple Leafs Dynasty
Sang 'The Windmills of Your Mind'
Composer and Avant-Garde Drummer
Sports Fixture in New York
Followed Sculpture On a 'Path to Abstraction'
Prominent Jazz Bassist
Pianist and Jelly Roll Morton Devotee
Two-Time Basketball Hall of Famer
Helped Develop the World Financial Center
Fashion Photographer
Aide to Rosalynn Carter
Stuntman and Director of Action Films
Created Congress's Community Newspaper
Tito's Widow
Air-Crash Victims' Crusader
Comic Actress on 'The Simpsons'
Ace Fighter Pilot
A Philosopher of Art
Outsider Whose Dark, Lyrical Vision Helped Shape Rock 'n' Roll
Ex-Premier of Poland
U.S. Ambassador to Volatile Laos and Iran
Former Congressman From Missouri
Father Behind Real-Life 'Lorenzo's Oil'
Oversaw Birth of the IBM PC
Novelist and 'Rollerball' Writer
The Voice of Many a Bollywood Star
Jazz Pianist
Whose Cartoon Studio Entertained Generation X
Helped Lead Tylenol Out of Cyanide Crisis
Green Beret Ensnared in Vietnam Murder Case
Pitched Yanks to Title
Serbian Champion of Rights
French Spy Writer
Whose Sandal Shop Was Folk Music Hub
Saxophonist and Flutist With the Basie Band
Hall of Famer Traded by the Knicks
Psychologist of Intuition
A Yiddishe Momme of Music
Actress Who Turned to Writing
Poet of Nuyorican School
An Acerbic Activist and Left-Wing Writer
Chef Made Chicago a Must
Celebrity Portraitist and Doyenne of Carnegie Hall Studios
Pro Football Hall of Famer From Leather-Helmet Days
Researcher on Multitasking
Doctor Who Became Top Author
Saw Potential of School Dropouts
Documentary Filmmaker
Hero of Normandy Battle
Coined the Term 'Fiscal Cliff'
Pro Bowl Quarterterback
Star and Promoter of Bodybuilding
Witness to the History of Aviation
Pro Bowl Quarterback
Photographer of the Arts
Hero of Normandy Battle
Son of German Field Marshal
Immunologist Who Revolutionized Research
Cellist, Conductor and Composer
Investigated the Apalachin Mob Meeting
Married U.S. to Sports Cars
Journalist Who Sued U.S.
His Vaccine Saved Infants
Composer With Eye on God
Pioneer in Television Journalism
Record-Setting Tight End
Tenor Saxophonist
A Medal of Arts Winner
Won Holocaust Restitution
Symbol of Same-Sex Marriage Cause
Greek Cypriot Leader Who Sought Unification
Hall of Fame Browns Lineman
Leader of Powerful Mexican Union
Creator and Face of the Unconventional Ace Hotel Chain
Cosmonaut of Fettered Times
Influential Translator of Modern Italian Literature
Analyzed Family Time
Author Who Swept Aside Convention
Hall of Fame Bowler
Author of Junie B. Jones Series
Author of the Definitive Work on Writing Screenplays
Savior of Pre-Revolutionary Inn
Author of Books on Children's Real Issues
Keeper of Walt's Flame
Presidents' Aide
Two-Time Winner of Nobel and Pioneer in Genetics
Wide-Ranging Author and Journalist
Pioneer in Veterinary Public Health
Plastic Surgeon Who Treated Africa
Self-Proclaimed Psychic
Publisher, Scholar and Champion of Southern Writers
Peacemaking Leader of Baseball Union
Pro Wrestler
Allied Code Breaker in World War II
Hall of Famer Who Won Four Titles With the Lakers
Lent Spice to Social Justice
Bioethicist and Pioneer in Disability Studies
Civil Rights Pioneer
Composer for Opera and Theater
Benefactor of Science Prizes
Led Progressive Auto Insurance
Whose Alternative Newspaper Endured
Priest Who Helped Broker Peace Accord in Northern Ireland
Chef Who Translated French Cuisine
Prolific French Film Director
An All-Star and War Hero
Drummer, Bandleader and Exponent of Cool Jazz
Paralegal Who Bared Big Tobacco
Beloved Israeli Singer
Survivor of Manchester United Plane Crash
Actor Known for Role in 'Toma,' Dies at 77
Of 'Honeymooners' Revival
Photographer Who Captured New York's Palette
Mall Developer
Brought a Cutting Edge to The New York Observer
'Fast & Furious' Star
Founder of Trinity Broadcasting Network
Publishing Force and a Founder of New Press
Journalist and Spy
Helped Build Blueprint for Computer Design
Soviet Dissident and Poet
Member of Nazi Hit Unit in Netherlands
Writer Who Re-Examined American Frontierism
Lead Singer of the Standells
Historian of a Larger-Than-Life Texas
Chef of Refined Simplicity
Volatile Father of Tennis Great
Ex-New York Legislator From Bronx
Tortured Algerians
Advocate for Women in Prison
Pop Artist Who Tested Boundaries
South Africa's Liberator as Prisoner and President
Stage and Screen Actor
Comedy Club Owner
White Opponent to Apartheid
Top Agent for Hockey Players
Gave Orangina Its Signature Bottle
Dissident Poet of Egypt's Underclass
Historian of U.S. Psyche
Left Death Row and Fought Against It
Spread the Sound of Soukous
Diorama Painter Who Mastered Even the Illusion of Air
French Film Director
Helped Pluck British Jazz From American Shadow
Pioneering Campaign Consultant
Exceptional Salesman Who Inspired a Film
Oscar-Nominated Actress
Actor in Warhol Films
Jazz Guitarist
Put Early R&B on Record
English Author of 'The Outsider' and Other Books
A Co-Star on TV's 'Ironside'
Producer Who Created 2 Theaters
Helped Develop a Drug to Treat Overdoses
Olympic Rowing Coach Who Transformed the Sport
Saved Many From Overdose
Accounting Professor
President of M.I.T. and a Leader in Online Education
Won an Oscar for Hitchcock's 'Suspicion'
Star of 'Lawrence of Arabia'
Novelist
Country Singer
Star of 'Billy Jack' Movie Series
Noir Film Femme Fatale
Wall Street Chief Who Chose a Different Path
Romance Author
Dogged Forecaster of the End of the World
Great Train Robber
German Artist Who Made Modernism His Theme
Artist Who Painted Blue Dog
Historian of Victorian Attitudes Toward Women
Built Beer Empire
Psychiatrist Who Fought for Palestinians' Rights
Made Porn Dirtier
Bodyguard and Husband of Patty Hearst
Teacher of Jazz Dance
Nobel-Winning Chemist
Host of 'The Open Mind'
Lawyer Who Won a Pivotal Abuse Case Against the Boy Scouts
Author of Teenage Novels
Discovered That Cancer Can Be Genetic
With Help, He Flew Blind
Tamed Chickenpox
Historian and Son of the President
Brought Elegance and Expansion to Seagram
A Former Lockheed Chief
A Cranky Radio Voice That Carried
A Familiar Voice on 1010 WINS
Creator of AK-47
Led an N.B.A. Rebirth in Minnesota
Awarded Medal of Honor
Innovative Jazz Saxophonist and Flutist
Former Prisoner of War Who Defied Hanoi Hilton Guards
Biographer of Ayn Rand
Baseball Player and Broadcaster
Milliner to Royals
Frugal Philanthropist
Center Fielder for Champions
Ex-Congressman
Restaurateur of Romance
Reputed Mafia Boss of Canada
Backed Swift Boat Ads
A Pioneering Gynecologist
Revved Businesses and Cars
'The Callas of Operetta'
Doctor at Center of Landmark Abortion Case
An Editor at Time Inc.
A Star Photographer for Life Magazine
***
Image via John Hilgart's 4CP archive.