LOST OBJECTS (11)
By: Mandy Keifetz
November 4, 2017
One in a 25-part series of nonfiction stories about lost objects. We asked 25 writers to tell us about a significant object they'd lost (or thrown away, or destroyed), then assigned these stories to 25 illustrators. We're thrilled with the results. This is the fourth volume in the PROJECT:OBJECT series.
UPDATE: The Lost Objects book was published in September 2022 by Hat & Beard Press. Check it out!
*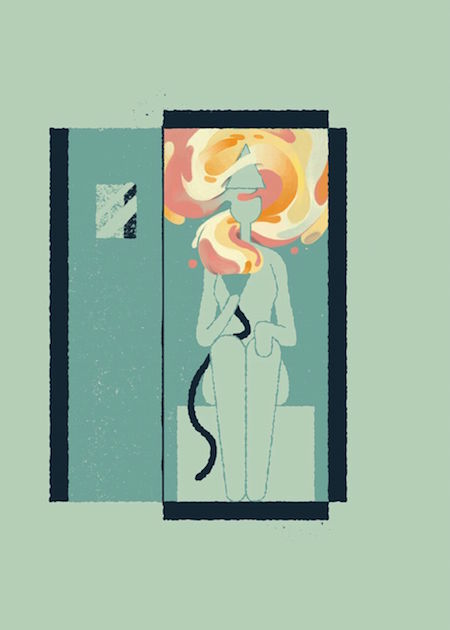 Picture an outhouse, or perhaps a public telephone booth with a vent window. Inside it, there is room for one adult to sit on a plank. The box is candy-apple red. The inside is lined with aluminum; the outside is constructed of wood. Between the wood and the aluminum are layers of cork and more aluminum. An 18″ cube, made of the identical materials, from which snakes a coil also made of these materials, sits under the plank, and the end of this is a plain aluminum funnel.
This, friends, is an orgone accumulator. It is not just any orgone accumulator. It is my mother's orgone accumulator, which she purchased from James DeMeo, who rescued it from the Long Island compound of Wilhelm Reich in 1957, when the FDA stormed that compound, intent on destroying all the orgone accumulators they could find, and on arresting Wilhelm Reich.
My mother was in very strict Reichian analysis from 1956–1959. She was naked for these sessions. At home, she sat in the accumulator, also naked. The layers of organic and inorganic material were thought to gather her universal energy and to redirect it at those areas of her being which were blocked by sexual repression. This same energy was thought to generate the color blue. This same energy was thought to be useful in the controlling of weather systems. This same energy was thought to be an effective means of planetary defense.
In case of alien attack, get it on! This is the only part of Reichian theory that I find appealing.
By the time I was born, my mother was in conventional Freudian analysis (a practice I also find unappealing) and used the accumulator more as a kind of immunotherapy. If she did not feel well, she sat in it, clothed, breathing into and out of the funnel attached to the coil attached to the cube comprised of aluminum and cork.
Shortly after my mother died, it struck me that an orgone accumulator, hand-built by Wilhelm Reich, a man who managed to annoy first the psychoanalysts, and then the Marxists, and then the Nazis, and finally the FDA, should probably be in a museum. I got that ball rolling, and then reluctantly contacted my father about the accumulator.
He put me off for quite awhile, and finally allowed as how his girlfriend had thrown that dusty old thing away. I feel a set of things about this so complex, and so paralyzing, that I hardly know how to begin to access all the things I feel, let alone to articulate them.
Or well, no. That's not exactly true. I have a suspicion how I ought to begin such an exploration of my very well-repressed feelings: in a goddamn orgone accumulator, naked as the day I was born.
*
ABOUT THE AUTHOR: See sidebar.
ABOUT THE ARTIST: Minnesota transplant Emory Allen creates whimsical characters and animations for clients the world over. Inspired equally by Jim Henson, Herb Lubalin, and Wolverine, his work is the product of an adult who never learned how to stop being a kid. Emory's latest adventure is co-founding the animation and illustration studio, Foreign Fauna.
LOST OBJECTS series: INTRODUCTION | Kate Bernheimer on MULLET WIG (ill. Amy Evans) | Dan Piepenbring on COLOGNE (ill. Josh Neufeld) | Doug Dorst on STRATOCASTER (ill. John Holbo) | Paul Lukas on VANILLA BEAN (ill. Allison Bamcat) | Mimi Lipson on DODGE DART (ill. Mister Reusch) | Luc Sante on CLUB CHAIR (ill. Kate Bingaman-Burt) | Nina Katchadourian on FOUNTAIN PENS (ill. Lisa Congdon) | Matthew Sharpe on BAUBLE (ill. Glenn Jones) | Claire Lehmann on PEANUT-BUTTER CRACKERS (ill. Karen Kurycki) | Jessamyn West on ENGINEER RING (ill. Amanda Clarke) | Mandy Keifetz on ORGONE ACCUMULATOR (ill. Emory Allen) | Molly Sauter on DESKTOP DOG (ill. Shayna Piascik) | Amy Thielen on DOG-FUR SCARF (ill. Heather Kasunick) | Stephen O'Connor on HUNTING HAT (ill. Oliver Munday) | Alice Boone on COLLEGE NEWSPAPERS (ill. Rick Pinchera) | Dante Ramos on ROAD ATLAS (ill. Joe Alterio) | Alex Balk on SHOOTING GALLERY (ill. John Lowe) | Chelsey Johnson on NOTEBOOK (ill. Rubi McGrory) | Susannah Breslin on SILICONE VAGINA (ill. Jennifer Heuer) | Seth Mnookin on .22 REVOLVER (ill. Alex Eben Meyer) | Dan Fox on CONKER (ill. Linzie Hunter) | Lisa Takeuchi Cullen on GLASS CLOCK (ill. Rose Wong) | Michael Tisserand on WALKING SHOES (ill. Jackie Roche) | Jeff Turrentine on BASEBALL MITT (ill. Andrew DeGraff) | Randy Kennedy on SNAKE RATTLES (ill. Max Temescu).
ILLICIT OBJECTS series: INTRODUCTION | Kio Stark on PEEPSHOW TOKEN | Sari Wilson on TOMBSTONE PARTS | Annalee Newitz on CAR-BOMB REMNANT | Tito Bottitta on MOONINITE DEVICE | Eric Bennett on DIRTY MAGAZINE | & 20 MORE.
TALISMANIC OBJECTS series: INTRODUCTION | Veda Hille on CROCHET SHEEP | Gary Panter on DINOSAUR BONES | Jami Attenberg on SELENITE CRYSTAL | Annie Nocenti on MINIATURE DICE | Wayne Curtis on CLOCK WINDING KEY | & 20 MORE.
POLITICAL OBJECTS series: INTRODUCTION | Luc Sante on CAMPAIGN PAMPHLETS | Lydia Millet on PVC POLAR BEAR | Ben Greenman on MATCHBOX CAR | Rob Baedeker on PRESIDENTS PLACEMAT | L.A. Kauffman on WHEATPASTE POSTER | & 20 MORE.
SIGNIFICANT OBJECTS at HILOBROW: PROJECT:OBJECT homepage | PROJECT:OBJECT newsletter | PROJECT:OBJECT objects (Threadless shop — all profits donated to the ACLU) | POLITICAL OBJECTS series (1Q2017) | TALISMANIC OBJECTS series (2Q2017) | ILLICIT OBJECTS series (3Q2017) | LOST OBJECTS vol. 1 series (4Q2017) | FLAIR series (2Q2018) | FOSSIL series (4Q2018). 12 DAYS OF SIGNIFICANCE | 12 MORE DAYS OF SIGNIFICANCE | 12 DAYS OF SIGNIFICANCE (AGAIN) | ANOTHER 12 DAYS OF SIGNIFICANCE . ALSO SEE: SIGNIFICANT OBJECTS website | SIGNIFICANT OBJECTS collection, ed. Rob Walker and Josh Glenn (Fantagraphics, 2012) | TAKING THINGS SERIOUSLY, ed. Josh Glenn (Princeton Architectural Press, 2007) | TAKING THINGS SERIOUSLY excerpts.