LOST OBJECTS (18)
By: Chelsey Johnson
December 2, 2017
One in a 25-part series of nonfiction stories about lost objects. We asked 25 writers to tell us about a significant object they'd lost (or thrown away, or destroyed), then assigned these stories to 25 illustrators. We're thrilled with the results. This is the fourth volume in the PROJECT:OBJECT series.
UPDATE: The Lost Objects book was published in September 2022 by Hat & Beard Press. Check it out!
*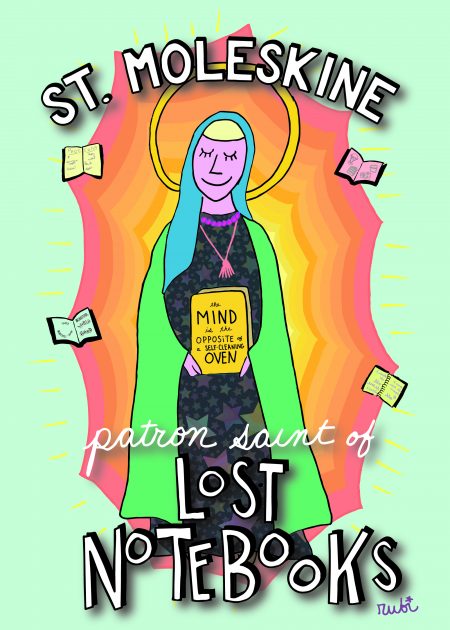 Since I was twelve I've been recording my life in notebooks, and I've never so much as thrown away a page or deleted a document. I save everything, no matter how confessional or abject. I like having these records of what I did and thought. They exist, therefore I existed. Though haphazard and incomplete, they might, I hope, comprise enough scattered bones and teeth to piece together the whole tyrannosaurus.
Don't read delusions of grandeur into that: the person doing the piecing-together is me. My memory is an inexplicable mess—a reverse sieve that catches trivia and odd fragments while letting significant knowledge and events sail gaily into the void. Without my photos and my notebooks, whole episodes of my life would dissolve from my mental record.
The standard Moleskine was my notebook of choice in the mid-aughts, but because I traveled frequently, in 2005 I bought an auxiliary small Moleskine, small enough to fit into my jacket pocket but sturdy enough with its hard black cover and cream pages to feel real. It was about the size, I suppose, that an iPhone is now. The small Moleskine then was the equivalent of my iPhone now, the thing I turned to in idle moments, but instead of the extractive relationship I have with my phone, I generated into the notebook. What a grim reversal.
Inside the cover I had written, as I always do, my name and number and email, and the promise of a reward for the notebook's return. I love this ritual when I start a new notebook, like collaring and tagging a pet. You are mine; here is your home.
On a dawn flight to San Jose, I took out the small Moleskine and wrote down some thoughts. Then I tucked it into the seat pocket, and when we landed, I walked off the plane without it.
When I realized that night that I'd accidentally abandoned it, I went frantic. I called the airline multiple times; I found and implored a human in the San Jose airport to help. No luck. For months I held out hope, imagined receiving a call from a strange area code or an email from an unfamiliar address: I have your notebook.
Of course those never came. The notebook is gone. And I remember hardly anything of its contents: a description of an afternoon spent in Vancouver, a wavy line drawing of my friend's black wolf-dog sprawled on her side and sleeping soundly, the line the mind is the opposite of a self-cleaning oven. The rest: gone. Its absence is like a mural painted over. All I can see is the erasure.
Most likely the small Moleskine now lies in a landfill, or if it was lucky, found a recycling bin. Or maybe, I still can't help but think, someone found it tucked in that seat pocket and kept it as a weird souvenir, a half-filled notebook of a stranger's inscrutable life. I haven't changed my number. Maybe one day they'll call.
*
ABOUT THE AUTHOR: See sidebar.
ABOUT THE ARTIST: Rubi McGrory grew up in New England and relocated to Savannah, GA after more than two decades traveling the world as a yacht chef. She still does some cheffery, but prefers creating with words and pictures (there are less dishes and she doesn't smell like food at the end of the day).
LOST OBJECTS series: INTRODUCTION | Kate Bernheimer on MULLET WIG (ill. Amy Evans) | Dan Piepenbring on COLOGNE (ill. Josh Neufeld) | Doug Dorst on STRATOCASTER (ill. John Holbo) | Paul Lukas on VANILLA BEAN (ill. Allison Bamcat) | Mimi Lipson on DODGE DART (ill. Mister Reusch) | Luc Sante on CLUB CHAIR (ill. Kate Bingaman-Burt) | Nina Katchadourian on FOUNTAIN PENS (ill. Lisa Congdon) | Matthew Sharpe on BAUBLE (ill. Glenn Jones) | Claire Lehmann on PEANUT-BUTTER CRACKERS (ill. Karen Kurycki) | Jessamyn West on ENGINEER RING (ill. Amanda Clarke) | Mandy Keifetz on ORGONE ACCUMULATOR (ill. Emory Allen) | Molly Sauter on DESKTOP DOG (ill. Shayna Piascik) | Amy Thielen on DOG-FUR SCARF (ill. Heather Kasunick) | Stephen O'Connor on HUNTING HAT (ill. Oliver Munday) | Alice Boone on COLLEGE NEWSPAPERS (ill. Rick Pinchera) | Dante Ramos on ROAD ATLAS (ill. Joe Alterio) | Alex Balk on SHOOTING GALLERY (ill. John Lowe) | Chelsey Johnson on NOTEBOOK (ill. Rubi McGrory) | Susannah Breslin on SILICONE VAGINA (ill. Jennifer Heuer) | Seth Mnookin on .22 REVOLVER (ill. Alex Eben Meyer) | Dan Fox on CONKER (ill. Linzie Hunter) | Lisa Takeuchi Cullen on GLASS CLOCK (ill. Rose Wong) | Michael Tisserand on WALKING SHOES (ill. Jackie Roche) | Jeff Turrentine on BASEBALL MITT (ill. Andrew DeGraff) | Randy Kennedy on SNAKE RATTLES (ill. Max Temescu).
ILLICIT OBJECTS series: INTRODUCTION | Kio Stark on PEEPSHOW TOKEN | Sari Wilson on TOMBSTONE PARTS | Annalee Newitz on CAR-BOMB REMNANT | Tito Bottitta on MOONINITE DEVICE | Eric Bennett on DIRTY MAGAZINE | & 20 MORE.
TALISMANIC OBJECTS series: INTRODUCTION | Veda Hille on CROCHET SHEEP | Gary Panter on DINOSAUR BONES | Jami Attenberg on SELENITE CRYSTAL | Annie Nocenti on MINIATURE DICE | Wayne Curtis on CLOCK WINDING KEY | & 20 MORE.
POLITICAL OBJECTS series: INTRODUCTION | Luc Sante on CAMPAIGN PAMPHLETS | Lydia Millet on PVC POLAR BEAR | Ben Greenman on MATCHBOX CAR | Rob Baedeker on PRESIDENTS PLACEMAT | L.A. Kauffman on WHEATPASTE POSTER | & 20 MORE.
SIGNIFICANT OBJECTS at HILOBROW: PROJECT:OBJECT homepage | PROJECT:OBJECT newsletter | PROJECT:OBJECT objects (Threadless shop — all profits donated to the ACLU) | POLITICAL OBJECTS series (1Q2017) | TALISMANIC OBJECTS series (2Q2017) | ILLICIT OBJECTS series (3Q2017) | LOST OBJECTS vol. 1 series (4Q2017) | FLAIR series (2Q2018) | FOSSIL series (4Q2018). 12 DAYS OF SIGNIFICANCE | 12 MORE DAYS OF SIGNIFICANCE | 12 DAYS OF SIGNIFICANCE (AGAIN) | ANOTHER 12 DAYS OF SIGNIFICANCE . ALSO SEE: SIGNIFICANT OBJECTS website | SIGNIFICANT OBJECTS collection, ed. Rob Walker and Josh Glenn (Fantagraphics, 2012) | TAKING THINGS SERIOUSLY, ed. Josh Glenn (Princeton Architectural Press, 2007) | TAKING THINGS SERIOUSLY excerpts.