Guy Maddin
By: Mark Kingwell
February 28, 2010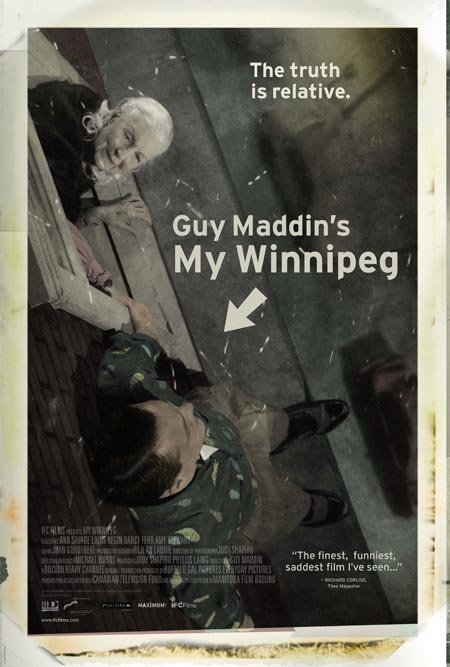 Canadian surrealist filmmaker GUY MADDIN (born 1956) grew up, as I did, in the frigid, afflicted city of Winnipeg, on the Canadian prairies. The city's claims to fame are few, but one is that it is mentioned several times in a key scene of Alfred Hitchcock's The 39 Steps (1935). Another is that Maddin, a gifted weirdo imagist, immortalized the unlikely town in My Winnipeg (2007), a dreamy fantasy-documentary about the dull chilly city where he continues to live. (I don't, which makes me the either the weaker or smarter man.) Earlier works show more clearly the influence of silent film, German expressionism, and off-kilter Lynchian absurdism. Tales from the Gimli Hospital (1988), shot in raw 16 mm, was followed by Careful (1992), which examined a snow-bound European town where everyone speaks in whispers for fear of causing an avalanche. Maddin's most famous feature is probably The Saddest Music in the World (2003), a strange semi-musical based on a Kazuo Ishiguro story about a legless beer magnate, played by Isabella Rossellini. She stages a competition to find, well, the saddest music in the world. Set during the 1930s Depression, the film struck audiences as odd enough to stay away in droves, but its peculiar sensibility is not really odd, just Canadian, from a man who lists both Douglas Sirk and G.W. Pabst among his favourite directors. Like other true north artists such as Kim Adams or Douglas Coupland, Maddin is a mash-up master, a kid from the margins let loose in the candy store of culture.
***
READ MORE about the Original Generation X.
Each day, HILOBROW pays tribute to one of our favorite high-, low-, no-, or hilobrow heroes on that person's birthday. Click here for more HiLo Hero shout-outs. To get HiLo Heroes updates via Facebook, click here.