Felix Gonzalez-Torres
By: Franklin Bruno
November 26, 2011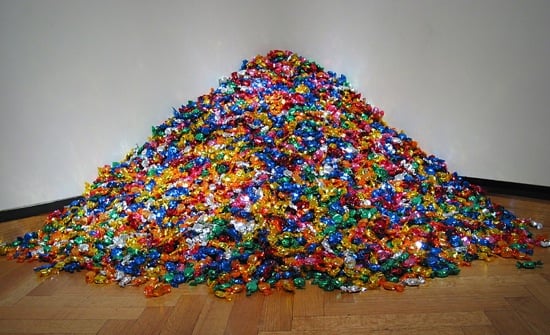 While living in my final Los Angeles apartment, I bought two battery-powered cardboard clocks from Ikea for three bucks apiece, set them to the current time, and displayed them on a bookshelf, touching — as circles must — at a single point. They ran down — as clocks must — at slightly different rates, as one set of batteries "died" a bit faster than the other. Had I forged Untitled (Perfect Lovers), fashioned from off-the-shelf materials by the Cuban-American artist FELIX GONZALEZ-TORRES (1957-1996), or had I made an unauthorized but nonetheless genuine instance of the work itself? Whatever Gonzales-Torres' estate might say, I prefer to think the latter, and to imagine that the artist might have agreed. (I'm not alone: the arts organization Temporary Services offers a three-page guide to recreating the piece.) Many of his pieces, especially the stacks of paper and spills of candy from which viewers may "sneak" a piece, and which exhibitors are obligated to replenish, engage related questions about what constitutes "the work of art," and how it might be completed by its audience. If his work is now a touchstone for so-called "post-studio, post-medium" artmaking, this is because its conceptual rigor and formal reticence are ultimately inseparable from its social and personal significance. Made as his partner Ross Laycock was dying of AIDS, and just a few years before the artist's death from the same disease, everything one needs to know about what the officially untitled clock piece "means" is right there, between the parentheses.
***
On his or her birthday, HiLobrow irregularly pays tribute to one of our high-, low-, no-, or hilobrow heroes. Also born this date: Charles M. Schulz.
READ MORE about members of the Original Generation X (1954-63).