Hilo Heroes, May 17-23
By: HILOBROW
May 17, 2009
Happy Birthday, this week, to the following high-, low-, no-, and hilobrow heroes.
MAY 17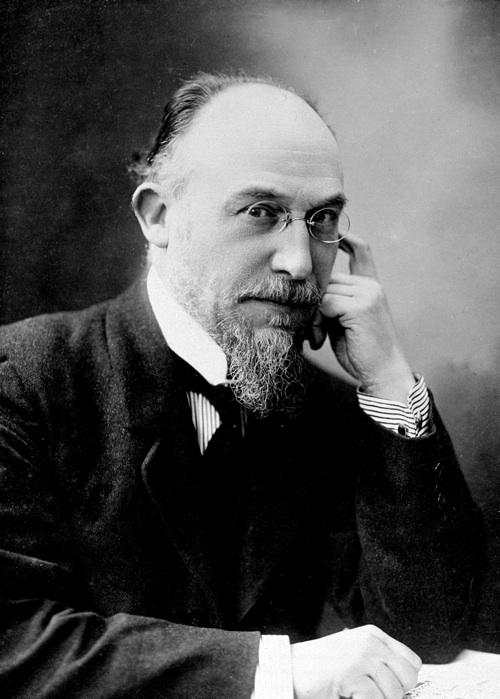 Parisian composer ERIK SATIE (1866-1925) was the great-grandaddy of ambient music, the distant progenitor of Musak and smooth jazz. In 1902, Satie and friends introduced what they called "Furniture Music" in a Paris Gallery — that is, atmospheric music, intended to be ignored — and failed miserably when the crowd stopped looking at the art to watch the musicians. Like many a musical avant-gardist, the Velvet Gentleman's influence outlived him. For example: Ravel and Debussy, Cage and Ono, Subotnik and Lesh, Eno and Aphex Twin, Kenny G and The Microsoft Windows '95 Startup Sound. I dare any child of the 1970s to listen to Satie's "Gymnopedie" compositions without being abruptly transported back to the torturous boredom of childhood, waiting for parents in a mattress store or watching a soft-focus TV-movie romance. — Jason Grote
MAY 18
Although other rock frontmen had been strange before MARK MOTHERSBAUGH (born 1950), none had been so aggressively strange or so brazenly uncool. Devo was the soundtrack of a life spent stumbling on uneven pavement, knocking over full glasses at the dinner table. Mothersbaugh is a nonfictional Lionel Essrog, giving Tourettic yelps and pricks to unsettle the comfortable. The classic Devo single is "Mongoloid" — even as you sing along you feel like the mark in a long con. For years since Devo's peak Mothersbaugh has been inserting counter-hegemonic viruses into the heads of children of all ages through his work scoring Rugrats, Pee-Wee's Playhouse, and Wes Anderson's films, for instance. But practice nodding that head in 7/8 time, because a new Devo album is scheduled for fall 2009. — Tor Aarestad
MAY 19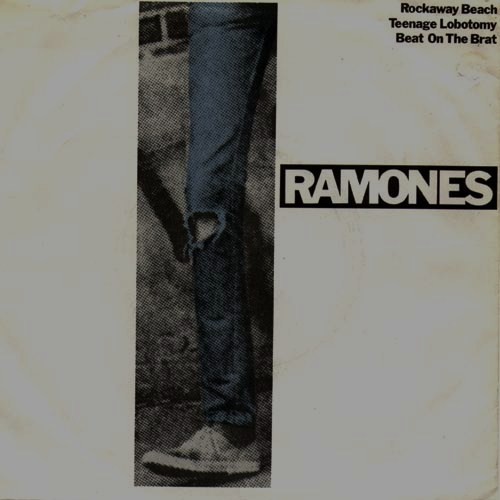 Look at the way people describe JOEY RAMONE's (1951-2001) voice: "bleat," "snarl," "hiccup." Would they say the same about Ronnie Spector? His voice was honest, plangent… it was bliss. He left us too soon, yes, but was it a shock? Not really. He was a fragile Ramone — a romantic, brokenhearted Ramone. We secretly favored the sweet love songs, and we were gratified to learn that he did, too. We cry for our teenage selves when we listen to "I Wanna Be Your Boyfriend." We're listening to it right now. — Mimi Lipson
MAY 20

JIMMY STEWART (1908-97) endlessly reprised Everyman… yet his most iconic films are perfect set pieces of horror. Capra's It's a Wonderful Life, supposedly a Christmas classic, is a vicious exposé of the underpinnings of capitalism. In it, Business As Usual presents a value proposition of such incoherence, in both economic and human terms, that the only rational course left to Everyman is suicide. And in Hitchcock's Vertigo, Stewart plays a retired detective — a nice, normal guy who's spent his adult life coming up with convincing explanations and tidy solutions. But he has one little problem… which widens into a fault line revealing an abyss of phobia and obsession. Soon, Everyman has blundered his way to the frontier of rationality, and his world has become an endless feedback loop that mocks his, and our, attempts at escape.
Plus, a pre-20th century figure for whom we have a certain amount of admiration:
The result of what must be the gold standard of overparenting, JOHN STUART MILL (1806-73) was a prodigy who read Greek at 3, Latin at 8, pretty much everything else by his teens, befriended (and edited!) his father's famous friends including Jeremy Bentham, and achieved his first nervous breakdown at 20. But Mill was not just his father's lab experiment. He exposed the holes in his father's philosophy, made his own friends, and wrote extensively on every -ology, -osophy, -onomy and -ism. The most famous of these, Utilitarianism, he reformatted into a how-to manual for happiness. He emphasized practicality and action even as he examined underlying assumptions with a subtle lens, rendering him Eminently readable, even for a Victorian. — Peggy Nelson
MAY 21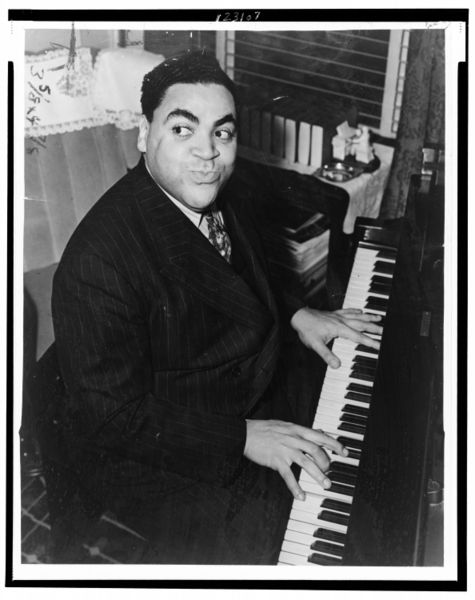 FATS WALLER (1904-43) lives in some impossible space between Paganini, St. Augustine, and James Brown. Tracks like "Handful of Keys" show Fats challenging Art Tatum in sublime stride-piano ostentation. But Waller was also fearlessly upfront in his depictions of tougher aspects of Harlem culture. Listen to "The Joint is Jumping" for references to rent-party violence, sexual licentiousness, and mass arrests. But who really believes that Fats "Ain't Misbehavin"? It's precisely his self-reflexiveness, cherubic bravado, and sense of a perpetually postponed repentance that puts him decades in advance of contemporary performers who try to commodify the urban black experience for the voyeuristic gratification of mainstream audiences. — Greg Rowland
MAY 22

HiLobrow.com was recently drugged, blindfolded and pushed through a series of strangely booming rooms en route to an exclusive listening party for the new MORRISSEY (born 1959) album. And still we managed to take notes! Titled The Great Divorce and produced by Rolf Harris, Moz's latest will feature the following eight tracks: "They Hanged My Saintly Billy" (groaning torch song), "You'll Still Be Ugly In The Morning" (glam chug), "Goodbye To All That" (plasma-pop), "I Laughed For The First Time The Day You Drowned" (scuffling mozzabilly), "Arthurian Torso" (music hall), "I Can't Hug You Anymore (I've Cut Off My Arms)" (unisex opera), "My Mate Stanley" (crime spree), and the epic, feedback-laden closer "Last of the Eager Hangers On." You heard it here first, pop pickers! — James Parker
MAY 23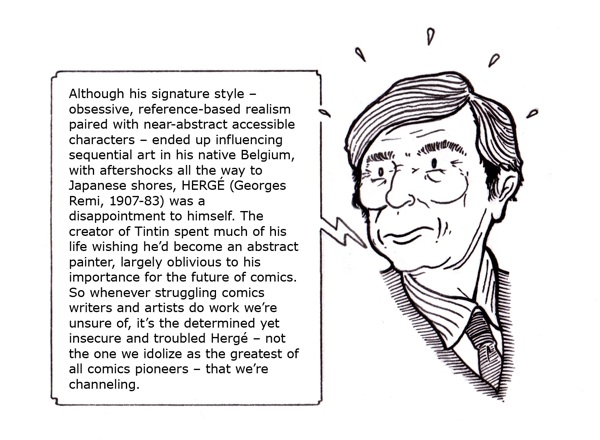 — Hergé cartoon by Joe Alterio
More HiLo Heroes born May 17-23…
May 17: Dennis Hopper, Maureen O'Sullivan, Frederic Prokosch
May 18: Bertrand Russell, Walter Gropius, Reggie Jackson, Don Martin, George Strait, Tina Fey
May 19: Malcolm X, André the Giant, Grace Jones, Peter Mayhew (Chewbacca), Pete Townshend
May 20: Cher, Jimmy Stewart, Hal Clement, Jane Wiedlin
May 21: Mr. T, Notorious B.I.G., Marcel Breuer, Robert Creeley, Henri Rousseau
May 22: Arthur Conan Doyle, Gérard de Nerval, Laurence Olivier, Vance Packard
May 23: James Blish, Scatman Crothers, Margaret Fuller, Robert Moog