Arthur Ganson
By: Alix Lambert
July 26, 2011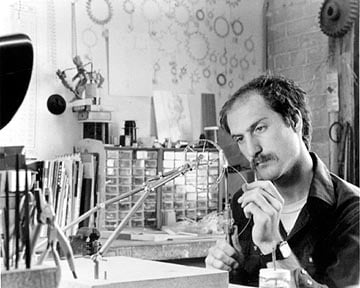 The kinetic sculptor ARTHUR GANSON (born 1955) builds machines that don't serve any machine-like (utilitarian) purpose; instead, they embrace a gesture that evokes an emotional response. The epically empathic Ganson started at a young age playing around with tiny motors, wire, and found objects. Describing himself as a profoundly introverted child who "put my ideas and passions into objects and learning how to speak with my hands," he has invented not only the machines, but also the tools with which to make the machines. One of my favorites was inspired by a withered artichoke petal that resulted from a microwaving debacle:
In one of his larger scale creations, Machine With Chair, Ganson incorporates his other early love, playing the guitar, into his sculptural work:
Ganson has explained: "All these pieces start off in my own mind, in my heart, and I do my best at finding ways to express them and it always feels really crude, it's always a struggle, but somehow I manage to get this thought out into an object and then it's there. It means nothing at all. The object itself means nothing. Once it is perceived and someone brings it into their own mind, then there's a cycle that has been completed."
***
On his or her birthday, HiLobrow irregularly pays tribute to one of our high-, low-, no-, or hilobrow heroes. Also born this date: Aldous Huxley and Carl Jung.
READ MORE about members of the Original Generation X (1954-63).