ANGÉLIQUE KIDJO
By: Adam McGovern
July 14, 2011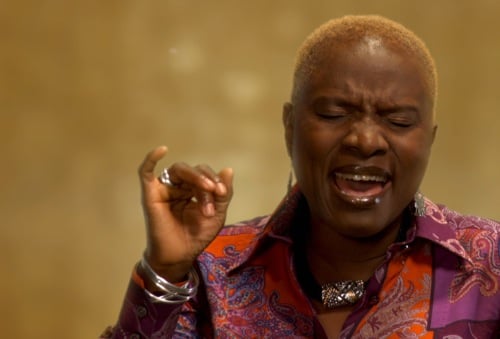 I remember ANGÉLIQUE KIDJO (born 1960) in motion, so whenever I think of her she's further in the future. Tearing up a free Central Park stage when she first bounded into America on an Afropop package tour; striding through the publicist's office the next day ("The dancing was phenomenal," said the publicist; "Come to Benin," Kidjo replied, "You'll see that kind of thing every night"); jumping onstage at a Harlem library residency by predecessor legend Salif Keita for an impromptu, perfect duet 'cuz she just couldn't help herself. Kidjo came from Benin, or rather burned through it on her way to and from the world, a child of French colonialism, African communism and imported American rock and soul who was held in by great powers and bound for a bigger, better stage. Kidjo's irresistible, tribal-inflected pan-pop now makes her a recognizable face from refugee camps to coffeehouse counters everywhere, propelling her from Paris to Brooklyn to UN ambassadorship, and it's a face you can approach. "World music" artists can often be superstars in one place and unknowns a hemisphere or a few miles away; it grants a centered perspective and secured creativity largely unknown to the capitalist bloc's packaged celeb divinities. I couldn't jump on that stage myself for a quick interview with a Western superstar or bump into one after a club show to ask for an introduction to my world-music guide, but it happened with Kidjo; she shoots forward, but never leaves you behind. What is left for all to absorb are lifegiving performances and inventive, infectious hybrid recordings that are the model and message of genius without egotism and accommodation without compromise. It's Angélique Kidjo's "world," she just makes it worth living in.
***
On his or her birthday, HiLobrow irregularly pays tribute to one of our high-, low-, no-, or hilobrow heroes. Also born this date: Northrop Frye and Woody Guthrie.
READ MORE about members of the Original Generation X (1964-73).