FLAIR (22)
By: James Gaddy
July 3, 2018
The fifth PROJECT:OBJECT volume is a 25-part series of true stories about significant accoutrements, appurtenances, and regalia.
*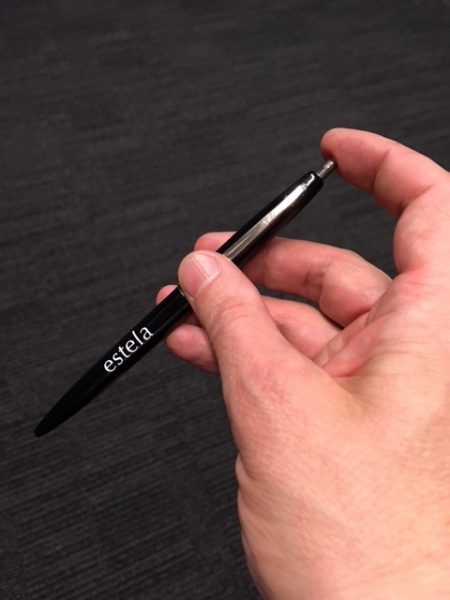 The waitress brought me a pen to add the tip: a thin black rod of plastic with a gold-flecked top. The font that spells out the name of the restaurant, "Estela," catches my attention, at first, because it vaguely reminds me of an Irish pub. And then I remember: This is the place that declined the credit card of our country's first black president. I give the pen a click with my thumb and marvel at how beautiful my script comes out. Then I deposit it into my pocket.
I used to ask permission to take these pens, but no one ever told me no. Now I eat my food, ask for the check, and see what model of retractable ink dispenser the server brings me.
Maybe it's that clicky sound, which can give just about any task a metronomic rhythm. Sometimes I click them out of habit, sometimes sheer boredom, or the way rude people might snap their gum. I recommend it as a stalling technique. There's also the "ease of use," especially compared to pens with a cap, or the obnoxious ones that twist in the middle. The retractable ones have a certain flourish. Voila! they seem to say. I'm ready to make a statement.
Carrying pens on me started out innocently. I wasn't a Boy Scout, but I wanted to be prepared, and hey, you never know when inspiration will strike, right? Occasionally, they even come in handy. Everyone knows the look on the face of some poor bank teller or cashier as they pat the front side of their pants, maybe dig through a purse or fumble with their breast pocket. Here you go, I say with a click. Their furrowed brow morphs to a surprised relief that costs me nothing, because it's not even mine.
Today everyone has a smartphone, me too. But merely using a pen in public — retractable or not — can border on the subversive. Here's a fun game: Next time you're on the bus, pull out a notebook and pen and start writing. Every so often, look at the person across from you, then write some more. Seriously, see what happens! I'll bring some ice for your face.
I lose them, eventually. I loved the vibrant yellow and orange color of the ones at An Choi, a crowded little Vietnamese joint in my old Lower East Side neighborhood. The one from Il Buco, a tragically hip trattoria near the Bowery, was a rather posh maroon and silver combo until I nearly broke it between my teeth. The worst was when I dropped a particularly beloved souvenir — taken from an outdoor cafe in Lisbon — in a steamy, summer Midtown puddle. Inspiration that day would have to wait.
But usually it's pretty easy to let them go. There's always another one, a meal away.
*
FLAIR: INTRODUCTION | Cliff Kuang on ROLEX DATEJUST | Ethan Zuckerman on LAPTOP STICKERS | Ann Shoket on LEATHER JACKET | Kembrew McLeod on KEMBREW MERCH | Paola Antonelli on MERMAID TEARS | Kanishka Raja on HANDMADE JACKET | Lynn Peril on BASEBALL RING | Rob Horning on NOTE PAD | Alexandra Lange on BEAD NECKLACE | Stephanie Burt on D&D EARRINGS | Michael Bierut on FEDORA | Debbie Millman on CHARM | Abram Himelstein on LUCKY 7 RING | Deb Chachra on HANDWRAPS | Jennifer Howze on HOLD-UP STOCKINGS | Mark Frauenfelder on CLARK KENT GLASSES | Adam McGovern on PLASTIC ALLIGATOR SHOES | Nicola Twilley on GOLD BRACES | Anne Quito on MUSEUM EARRINGS | Kristin Parker on STEEL BRACELET | Hillary Chute on POCKET KNIFE | James Gaddy on RESTAURANT PEN | Davy Rothbart on SHOELACE BELT | David Hajdu on PINCE-NEZ | Bishakh Som on KNEE-HIGH BOOTS.
LOST OBJECTS (vol. 1): INTRODUCTION | Kate Bernheimer on MULLET WIG (ill. Amy Evans) | Dan Piepenbring on COLOGNE (ill. Josh Neufeld) | Doug Dorst on STRATOCASTER (ill. John Holbo) | Paul Lukas on VANILLA BEAN (ill. Allison Bamcat) | Mimi Lipson on DODGE DART (ill. Mister Reusch) | & 20 MORE.
ILLICIT OBJECTS: INTRODUCTION | Kio Stark on PEEPSHOW TOKEN | Sari Wilson on TOMBSTONE PARTS | Annalee Newitz on CAR-BOMB REMNANT | Tito Bottitta on MOONINITE DEVICE | Eric Bennett on DIRTY MAGAZINE | & 20 MORE.
TALISMANIC OBJECTS: INTRODUCTION | Veda Hille on CROCHET SHEEP | Gary Panter on DINOSAUR BONES | Jami Attenberg on SELENITE CRYSTAL | Annie Nocenti on MINIATURE DICE | Wayne Curtis on CLOCK WINDING KEY | & 20 MORE.
POLITICAL OBJECTS: INTRODUCTION | Luc Sante on CAMPAIGN PAMPHLETS | Lydia Millet on PVC POLAR BEAR | Ben Greenman on MATCHBOX CAR | Rob Baedeker on PRESIDENTS PLACEMAT | L.A. Kauffman on WHEATPASTE POSTER | & 20 MORE.
SIGNIFICANT OBJECTS at HILOBROW: PROJECT:OBJECT homepage | PROJECT:OBJECT newsletter | PROJECT:OBJECT objects (Threadless shop — all profits donated to the ACLU) | POLITICAL OBJECTS series (1Q2017) | TALISMANIC OBJECTS series (2Q2017) | ILLICIT OBJECTS series (3Q2017) | LOST OBJECTS vol. 1 series (4Q2017) | FLAIR series (2Q2018) | FOSSIL series (4Q2018) | FETISHES series (2Q2019) | LOST OBJECTS vol. 2 series (4Q2019) | MOVIE OBJECTS series (2Q2020). ALSO SEE: SIGNIFICANT OBJECTS website | SIGNIFICANT OBJECTS collection, ed. Rob Walker and Josh Glenn (Fantagraphics, 2012) | TAKING THINGS SERIOUSLY, ed. Josh Glenn (Princeton Architectural Press, 2007) | TAKING THINGS SERIOUSLY excerpts.