FLAIR (17)
By: Adam McGovern
June 19, 2018
The fifth PROJECT:OBJECT volume is a 25-part series of true stories about significant accoutrements, appurtenances, and regalia.
*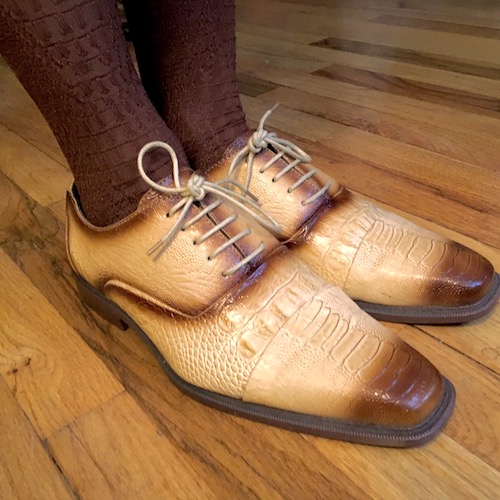 There was a clearance discount on ruby slippers — or my idea of them. I'd been hired to write a catalog essay for the museum the Ferragamo fashion house had built to itself, and, more Oz-like, I'd been invited to the newest show's opening in Florence, Italy. The first Ferragamo, Salvatore, had made Dorothy's red shoes, and I had to step up. At the legendary Suit Corner in Philadelphia's still-ungentrified Old City section, I could go full Cinderella on an ash-sweeper's budget. The sharkskin semi-zoot suit I'd walked slower past in the window many times before was now on clearance, so instead I stepped inside. The window-pane check suit, purple-and-gold paisley tie, and ochre candystripe shirt were one thing (and too much of it), but what really turned me into a princess were the bronze-to-cream-fade plastic alligator shoes and, more miraculously, the matching copper alligator SOCKS the valets laid before me. It was promised that this retinue would attract "the ladies," but my queen was with me, having put me up to this and needing me to look proper when she accompanied me to the ball. About a hundred and twenty-five dollars made the dream come true. In Florence, the modern-day heirs of "The Shoemaker to the Stars" stopped to circle and admire my spraypaint vegan leather, after gratefully taking off their unwalkable Ferragamo high heels once around the corner from the office (literally, the palace, standing since the 14th century). Those shoes walked me from the cobblestones of medieval Europe down the basement stairs of hipster culture and across the boards of comic-cons in midcentury Catholic school gyms and faded seaside grand hotels. My magic boots, my glamour of discount glam. All things must go, and the Suit Corner's old space got demolished, having stood like an advance mirage before the vaguely colonial CVS took its place. My lady went to sleep forever and I carry all the dreams, though it sometimes feels like there's no such place as home. The gentleman I play in my wardrobe of thrift couture, and former finery inherited by no one, was never really there… but I've gotten to walk half the world in his shoes.
*
FLAIR: INTRODUCTION | Cliff Kuang on ROLEX DATEJUST | Ethan Zuckerman on LAPTOP STICKERS | Ann Shoket on LEATHER JACKET | Kembrew McLeod on KEMBREW MERCH | Paola Antonelli on MERMAID TEARS | Kanishka Raja on HANDMADE JACKET | Lynn Peril on BASEBALL RING | Rob Horning on NOTE PAD | Alexandra Lange on BEAD NECKLACE | Stephanie Burt on D&D EARRINGS | Michael Bierut on FEDORA | Debbie Millman on CHARM | Abram Himelstein on LUCKY 7 RING | Deb Chachra on HANDWRAPS | Jennifer Howze on HOLD-UP STOCKINGS | Mark Frauenfelder on CLARK KENT GLASSES | Adam McGovern on PLASTIC ALLIGATOR SHOES | Nicola Twilley on GOLD BRACES | Anne Quito on MUSEUM EARRINGS | Kristin Parker on STEEL BRACELET | Hillary Chute on POCKET KNIFE | James Gaddy on RESTAURANT PEN | Davy Rothbart on SHOELACE BELT | David Hajdu on PINCE-NEZ | Bishakh Som on KNEE-HIGH BOOTS.
LOST OBJECTS (vol. 1): INTRODUCTION | Kate Bernheimer on MULLET WIG (ill. Amy Evans) | Dan Piepenbring on COLOGNE (ill. Josh Neufeld) | Doug Dorst on STRATOCASTER (ill. John Holbo) | Paul Lukas on VANILLA BEAN (ill. Allison Bamcat) | Mimi Lipson on DODGE DART (ill. Mister Reusch) | & 20 MORE.
ILLICIT OBJECTS: INTRODUCTION | Kio Stark on PEEPSHOW TOKEN | Sari Wilson on TOMBSTONE PARTS | Annalee Newitz on CAR-BOMB REMNANT | Tito Bottitta on MOONINITE DEVICE | Eric Bennett on DIRTY MAGAZINE | & 20 MORE.
TALISMANIC OBJECTS: INTRODUCTION | Veda Hille on CROCHET SHEEP | Gary Panter on DINOSAUR BONES | Jami Attenberg on SELENITE CRYSTAL | Annie Nocenti on MINIATURE DICE | Wayne Curtis on CLOCK WINDING KEY | & 20 MORE.
POLITICAL OBJECTS: INTRODUCTION | Luc Sante on CAMPAIGN PAMPHLETS | Lydia Millet on PVC POLAR BEAR | Ben Greenman on MATCHBOX CAR | Rob Baedeker on PRESIDENTS PLACEMAT | L.A. Kauffman on WHEATPASTE POSTER | & 20 MORE.
SIGNIFICANT OBJECTS at HILOBROW: PROJECT:OBJECT homepage | PROJECT:OBJECT newsletter | PROJECT:OBJECT objects (Threadless shop — all profits donated to the ACLU) | POLITICAL OBJECTS series (1Q2017) | TALISMANIC OBJECTS series (2Q2017) | ILLICIT OBJECTS series (3Q2017) | LOST OBJECTS vol. 1 series (4Q2017) | FLAIR series (2Q2018) | FOSSIL series (4Q2018) | FETISHES series (2Q2019) | LOST OBJECTS vol. 2 series (4Q2019) | MOVIE OBJECTS series (2Q2020). ALSO SEE: SIGNIFICANT OBJECTS website | SIGNIFICANT OBJECTS collection, ed. Rob Walker and Josh Glenn (Fantagraphics, 2012) | TAKING THINGS SERIOUSLY, ed. Josh Glenn (Princeton Architectural Press, 2007) | TAKING THINGS SERIOUSLY excerpts.