FLAIR (13)
By: Abram Himelstein
June 7, 2018
The fifth PROJECT:OBJECT volume is a 25-part series of true stories about significant accoutrements, appurtenances, and regalia.
*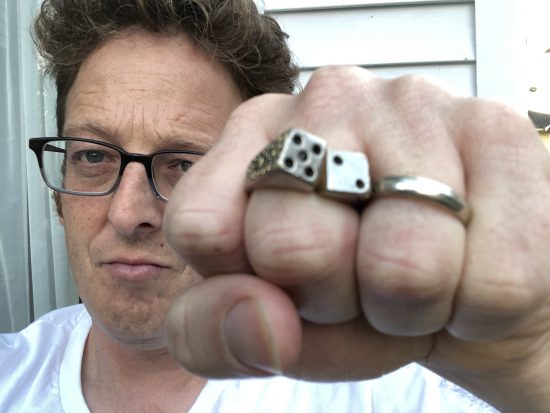 I came home from nerd summer camp at age 16 owing $200 to several "friends." My dad said, as he wrote checks, "These better be gambling debts, and this better be the last time." My parents had raised me gambling: poker, horses, gin, football props, but always manageable stakes. With this round of checks they were worried that gambling might be my vice. I was more curious than worried, because I really liked gambling. While the cards were coming around, I was focused, completely.
After college, when I had my own money, I was ready to "explore." I got lucky my first few trips to play craps in Atlantic City, and I liked the way that it changed my relationship to money. That money in my pocket was no longer the money I earned. There was a phrase for it among gamblers: I was playing with the house's money. Everything else was so layered and gray. I was earning my living teaching, or trying to, and I received money for that. It was supposedly noble, teaching children. I didn't know. But the gambling was black and white — no grays. Turn a day's wages into plastic chips. Go home with five days' wages. Or none. A clean sort of clarity.
A few years into my more serious gambling, I visited my parents in New Orleans, and tried to tell/reassure them about it. I liked the way gambling said fuck you to the idea of squirreling away acorns. Gambling implied a disbelief in the way capitalism had been sold to us, that hard work would earn a layer between you and the dangerously poor.
Even if they agreed with the critique of capitalism, this wasn't a road they were eager to watch me take. So I mostly downplayed it, describing it as a few trips with friends to Atlantic City. And then we saw the sights in New Orleans: beignets, jazz, the river. At the required stop at the French Market, after looking through different terrible t-shirts and tchotchkes, I saw the Lucky 7 ring, discounted to five dollars.
I put it on my middle finger, and it fit, loosely. A loose-fitting five-dollar ring, missing most of the fake diamonds, seemed like the right level of signifier. I wasn't committed enough for a tattoo, but I needed more than a pro-gambling t-shirt.
I held onto to the ring through some mediocre gambling years, and I would play with it on my ring or key chain as the night of gambling was beginning, or cornily enough, while playing. But mostly I held the talisman after nights of losses, on my way home, completely broke, on many dawn walks. My clearest memory is after losing a month's pay in Iowa City, where I had found my way into my most hardcore games, playing with the weed dealers who would use bags of product as IOUs when their cash ran out.
Those walks, broke, truly hungry, playing with the Lucky 7, made me feel clean. Clean was not a thing that I had felt before, and those clean mornings, walking hungrily into the dawn light, did something good for me. Twenty years later, the ring stays on my keychain, and I feel it against my leg, or in my hand, and I can feel that clean feeling again, and it helps.
*
FLAIR: INTRODUCTION | Cliff Kuang on ROLEX DATEJUST | Ethan Zuckerman on LAPTOP STICKERS | Ann Shoket on LEATHER JACKET | Kembrew McLeod on KEMBREW MERCH | Paola Antonelli on MERMAID TEARS | Kanishka Raja on HANDMADE JACKET | Lynn Peril on BASEBALL RING | Rob Horning on NOTE PAD | Alexandra Lange on BEAD NECKLACE | Stephanie Burt on D&D EARRINGS | Michael Bierut on FEDORA | Debbie Millman on CHARM | Abram Himelstein on LUCKY 7 RING | Deb Chachra on HANDWRAPS | Jennifer Howze on HOLD-UP STOCKINGS | Mark Frauenfelder on CLARK KENT GLASSES | Adam McGovern on PLASTIC ALLIGATOR SHOES | Nicola Twilley on GOLD BRACES | Anne Quito on MUSEUM EARRINGS | Kristin Parker on STEEL BRACELET | Hillary Chute on POCKET KNIFE | James Gaddy on RESTAURANT PEN | Davy Rothbart on SHOELACE BELT | David Hajdu on PINCE-NEZ | Bishakh Som on KNEE-HIGH BOOTS.
LOST OBJECTS (vol. 1): INTRODUCTION | Kate Bernheimer on MULLET WIG (ill. Amy Evans) | Dan Piepenbring on COLOGNE (ill. Josh Neufeld) | Doug Dorst on STRATOCASTER (ill. John Holbo) | Paul Lukas on VANILLA BEAN (ill. Allison Bamcat) | Mimi Lipson on DODGE DART (ill. Mister Reusch) | & 20 MORE.
ILLICIT OBJECTS: INTRODUCTION | Kio Stark on PEEPSHOW TOKEN | Sari Wilson on TOMBSTONE PARTS | Annalee Newitz on CAR-BOMB REMNANT | Tito Bottitta on MOONINITE DEVICE | Eric Bennett on DIRTY MAGAZINE | & 20 MORE.
TALISMANIC OBJECTS: INTRODUCTION | Veda Hille on CROCHET SHEEP | Gary Panter on DINOSAUR BONES | Jami Attenberg on SELENITE CRYSTAL | Annie Nocenti on MINIATURE DICE | Wayne Curtis on CLOCK WINDING KEY | & 20 MORE.
POLITICAL OBJECTS: INTRODUCTION | Luc Sante on CAMPAIGN PAMPHLETS | Lydia Millet on PVC POLAR BEAR | Ben Greenman on MATCHBOX CAR | Rob Baedeker on PRESIDENTS PLACEMAT | L.A. Kauffman on WHEATPASTE POSTER | & 20 MORE.
SIGNIFICANT OBJECTS at HILOBROW: PROJECT:OBJECT homepage | PROJECT:OBJECT newsletter | PROJECT:OBJECT objects (Threadless shop — all profits donated to the ACLU) | POLITICAL OBJECTS series (1Q2017) | TALISMANIC OBJECTS series (2Q2017) | ILLICIT OBJECTS series (3Q2017) | LOST OBJECTS vol. 1 series (4Q2017) | FLAIR series (2Q2018) | FOSSIL series (4Q2018) | FETISHES series (2Q2019) | LOST OBJECTS vol. 2 series (4Q2019) | MOVIE OBJECTS series (2Q2020). ALSO SEE: SIGNIFICANT OBJECTS website | SIGNIFICANT OBJECTS collection, ed. Rob Walker and Josh Glenn (Fantagraphics, 2012) | TAKING THINGS SERIOUSLY, ed. Josh Glenn (Princeton Architectural Press, 2007) | TAKING THINGS SERIOUSLY excerpts.