FLAIR (18)
By: Nicola Twilley
June 22, 2018
The fifth PROJECT:OBJECT volume is a 25-part series of true stories about significant accoutrements, appurtenances, and regalia.
*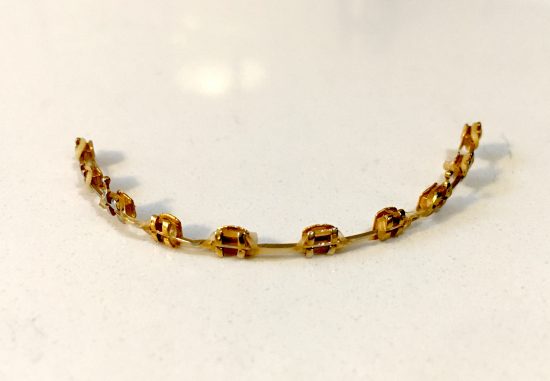 "You will have gold," said my Russian-born orthodontist, a former Soviet ice-skating champion who had yet to embrace the American ethos of consumer choice. And, with that, I found myself walking the streets of New York City with gold-plated train tracks. My post-facto rationale was that if one is going to get braces at the age of 37, one should, pun intended, embrace them. Besides, my British teeth were too much of a mess for the dignified option, Invisalign. If I was going to have a mouthful of metal anyway, why not go bling?
At first, I sent warning emails to friends and colleagues before meetings, begging them not to laugh. Smiling with my mouth closed was already my habit, given my self-consciousness about the way my front teeth crossed over. Then, a couple of weeks in, I was at a Shake Shack in Brooklyn. The young woman taking my burger order asked whether I had a grill. Her tone was curious, amused, but also, maybe, a little impressed. An upper-middle-class white woman in her late thirties sporting a gold grill? Ridiculous in a way that I had no choice but to own. For the first time since my front teeth began their tectonic slip underneath and over each other in my early twenties, I stopped being embarrassed by my mouth. Instead, I started flashing my teeth like a cheerleader in a yearbook headshot. After more than a decade living in the United States, my smile, and, with it, my attitude to my smile, started to feel American with a capital A.
Then there were the sensory benefits. In the first-ever episode of Gastropod, my podcast about the science and history of food, my co-host and I reported on the sensory properties of different metals. A study had demonstrated that copper made foods taste saltier and less sweet, zinc boosted bitter notes, while gold-plated cutlery was "just sort of divine," according to Zoe Laughlin, the lead researcher on the study. Of course, dining off gold plate is exactly the kind of baller lifestyle move to which a freelance writer can never aspire, and yet here I was, with gold atoms floating around in my mouth at every meal! Subjective or scientific — who cares? My every edible experience was elevated.
In the end, my gold braces phase was short-lived. As quickly as they had crossed, my front teeth came apart, much to my orthodontist's concern. "Your teeth, they move too fast," she told me, while suggesting that the next thing I needed was to get my jaw broken, in order to correct my overbite. (Yeah, no.) I do love my straight, American teeth — even now, a couple of years later, I pause to admire them in photos and restroom mirrors. But I kept my gold braces and I still look at them too — a shiny reminder of what it felt like to enjoy my smile, for the first time in almost twenty years.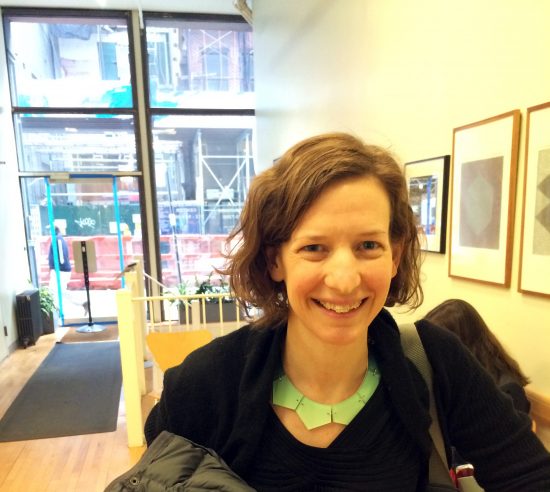 *
FLAIR: INTRODUCTION | Cliff Kuang on ROLEX DATEJUST | Ethan Zuckerman on LAPTOP STICKERS | Ann Shoket on LEATHER JACKET | Kembrew McLeod on KEMBREW MERCH | Paola Antonelli on MERMAID TEARS | Kanishka Raja on HANDMADE JACKET | Lynn Peril on BASEBALL RING | Rob Horning on NOTE PAD | Alexandra Lange on BEAD NECKLACE | Stephanie Burt on D&D EARRINGS | Michael Bierut on FEDORA | Debbie Millman on CHARM | Abram Himelstein on LUCKY 7 RING | Deb Chachra on HANDWRAPS | Jennifer Howze on HOLD-UP STOCKINGS | Mark Frauenfelder on CLARK KENT GLASSES | Adam McGovern on PLASTIC ALLIGATOR SHOES | Nicola Twilley on GOLD BRACES | Anne Quito on MUSEUM EARRINGS | Kristin Parker on STEEL BRACELET | Hillary Chute on POCKET KNIFE | James Gaddy on RESTAURANT PEN | Davy Rothbart on SHOELACE BELT | David Hajdu on PINCE-NEZ | Bishakh Som on KNEE-HIGH BOOTS.
LOST OBJECTS (vol. 1): INTRODUCTION | Kate Bernheimer on MULLET WIG (ill. Amy Evans) | Dan Piepenbring on COLOGNE (ill. Josh Neufeld) | Doug Dorst on STRATOCASTER (ill. John Holbo) | Paul Lukas on VANILLA BEAN (ill. Allison Bamcat) | Mimi Lipson on DODGE DART (ill. Mister Reusch) | & 20 MORE.
ILLICIT OBJECTS: INTRODUCTION | Kio Stark on PEEPSHOW TOKEN | Sari Wilson on TOMBSTONE PARTS | Annalee Newitz on CAR-BOMB REMNANT | Tito Bottitta on MOONINITE DEVICE | Eric Bennett on DIRTY MAGAZINE | & 20 MORE.
TALISMANIC OBJECTS: INTRODUCTION | Veda Hille on CROCHET SHEEP | Gary Panter on DINOSAUR BONES | Jami Attenberg on SELENITE CRYSTAL | Annie Nocenti on MINIATURE DICE | Wayne Curtis on CLOCK WINDING KEY | & 20 MORE.
POLITICAL OBJECTS: INTRODUCTION | Luc Sante on CAMPAIGN PAMPHLETS | Lydia Millet on PVC POLAR BEAR | Ben Greenman on MATCHBOX CAR | Rob Baedeker on PRESIDENTS PLACEMAT | L.A. Kauffman on WHEATPASTE POSTER | & 20 MORE.
SIGNIFICANT OBJECTS at HILOBROW: PROJECT:OBJECT homepage | PROJECT:OBJECT newsletter | PROJECT:OBJECT objects (Threadless shop — all profits donated to the ACLU) | POLITICAL OBJECTS series (1Q2017) | TALISMANIC OBJECTS series (2Q2017) | ILLICIT OBJECTS series (3Q2017) | LOST OBJECTS vol. 1 series (4Q2017) | FLAIR series (2Q2018) | FOSSIL series (4Q2018) | FETISHES series (2Q2019) | LOST OBJECTS vol. 2 series (4Q2019) | MOVIE OBJECTS series (2Q2020). ALSO SEE: SIGNIFICANT OBJECTS website | SIGNIFICANT OBJECTS collection, ed. Rob Walker and Josh Glenn (Fantagraphics, 2012) | TAKING THINGS SERIOUSLY, ed. Josh Glenn (Princeton Architectural Press, 2007) | TAKING THINGS SERIOUSLY excerpts.