FLAIR (11)
By: Michael Bierut
June 1, 2018
The fifth PROJECT:OBJECT volume is a 25-part series of true stories about significant accoutrements, appurtenances, and regalia.
*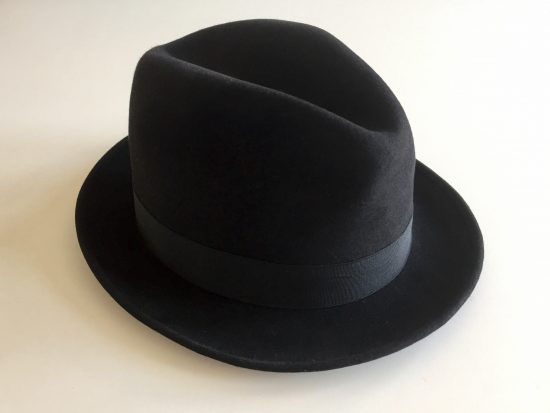 I arrived in New York City in 1980, an immigrant from the deeply unstylish southwestern suburbs of Cleveland. I was insecure and adrift. I dimly sensed that my life in Ohio had been hopelessly insular, and that my new home operated by norms and customs that were utterly foreign to me. That year, Lisa Birnbach published The Official Preppy Handbook, a brilliant social satire that I mistook for a how-to guide. I was deeply afraid of being laughed at. Here were instructions on how to fit in, complete with a shopping list: blue blazers, button-down Oxford-cloth shirts, oxblood loafers. In my new job, I was largely kept behind the scenes, but after being called into a surprise meeting and feeling underdressed, I vowed to wear a tie every working day for the rest of my life. I sought to be as normal and unremarkable as a John le Carré spy.
In retrospect, my desperate surrender to conformity was odd. After all, I was working as a graphic designer, a field where convention invited flouting. Yet "dressing like a designer" seemed a much more complicated proposition, one in which daring and originality concealed a higher order of rules, rules that imposed their own conformity, yet for which no guidebook existed. Somewhere along the way I saw the quote "Dress like a bourgeois, think like a revolutionary," variously attributed to Charles Baudelaire or Gustave Flaubert. I took comfort in the idea that my insecurity was actually a deliberate strategic choice. By fitting in, my bold and disruptive ideas — if I were to have them — would take my colleagues by surprise. I clung to these habits for the next four decades.
Along the way, something strange happened. Everyone stopped dressing like me. Jackets and ties, once mandatory, became optional, then exceptional. Increasingly, day after day, meeting after meeting, I would be the only person in the room not wearing an open-collared shirt. I would never begrudge anyone else their right to wear a t-shirt with an ironic vintage logo to work (to work!), but I would have just as soon shown up stark naked. Every morning, I coordinated my tie with my socks, my belt buckle with my watch, and set off, the only person in my subway car dressed for business.
About ten years ago, I took one final step. I made an appointment at one of New York City's last hat shops, Worth & Worth, and inquired about purchasing a felt fedora. I explained that I was going bald and my optometrist had suggested I avoid sun in my eyes, but in fact I had simply decided to complete my unwilling transition from anonymous everyman to eccentric fop. I explained that I did not want anything that might be mistaken for the kind of hat a hipster would wear, that I wasn't making a retro Mad Men-inspired fashion statement, but rather just wanted a perfectly normal hat. I bought an American-made, size 73⁄8 black model from their Madison line: simple, elegant, classic. I wear it every day, disappearing into a crowd that exists only in my imagination.
*
FLAIR: INTRODUCTION | Cliff Kuang on ROLEX DATEJUST | Ethan Zuckerman on LAPTOP STICKERS | Ann Shoket on LEATHER JACKET | Kembrew McLeod on KEMBREW MERCH | Paola Antonelli on MERMAID TEARS | Kanishka Raja on HANDMADE JACKET | Lynn Peril on BASEBALL RING | Rob Horning on NOTE PAD | Alexandra Lange on BEAD NECKLACE | Stephanie Burt on D&D EARRINGS | Michael Bierut on FEDORA | Debbie Millman on CHARM | Abram Himelstein on LUCKY 7 RING | Deb Chachra on HANDWRAPS | Jennifer Howze on HOLD-UP STOCKINGS | Mark Frauenfelder on CLARK KENT GLASSES | Adam McGovern on PLASTIC ALLIGATOR SHOES | Nicola Twilley on GOLD BRACES | Anne Quito on MUSEUM EARRINGS | Kristin Parker on STEEL BRACELET | Hillary Chute on POCKET KNIFE | James Gaddy on RESTAURANT PEN | Davy Rothbart on SHOELACE BELT | David Hajdu on PINCE-NEZ | Bishakh Som on KNEE-HIGH BOOTS.
LOST OBJECTS (vol. 1): INTRODUCTION | Kate Bernheimer on MULLET WIG (ill. Amy Evans) | Dan Piepenbring on COLOGNE (ill. Josh Neufeld) | Doug Dorst on STRATOCASTER (ill. John Holbo) | Paul Lukas on VANILLA BEAN (ill. Allison Bamcat) | Mimi Lipson on DODGE DART (ill. Mister Reusch) | & 20 MORE.
ILLICIT OBJECTS: INTRODUCTION | Kio Stark on PEEPSHOW TOKEN | Sari Wilson on TOMBSTONE PARTS | Annalee Newitz on CAR-BOMB REMNANT | Tito Bottitta on MOONINITE DEVICE | Eric Bennett on DIRTY MAGAZINE | & 20 MORE.
TALISMANIC OBJECTS: INTRODUCTION | Veda Hille on CROCHET SHEEP | Gary Panter on DINOSAUR BONES | Jami Attenberg on SELENITE CRYSTAL | Annie Nocenti on MINIATURE DICE | Wayne Curtis on CLOCK WINDING KEY | & 20 MORE.
POLITICAL OBJECTS: INTRODUCTION | Luc Sante on CAMPAIGN PAMPHLETS | Lydia Millet on PVC POLAR BEAR | Ben Greenman on MATCHBOX CAR | Rob Baedeker on PRESIDENTS PLACEMAT | L.A. Kauffman on WHEATPASTE POSTER | & 20 MORE.
SIGNIFICANT OBJECTS at HILOBROW: PROJECT:OBJECT homepage | PROJECT:OBJECT newsletter | PROJECT:OBJECT objects (Threadless shop — all profits donated to the ACLU) | POLITICAL OBJECTS series (1Q2017) | TALISMANIC OBJECTS series (2Q2017) | ILLICIT OBJECTS series (3Q2017) | LOST OBJECTS vol. 1 series (4Q2017) | FLAIR series (2Q2018) | FOSSIL series (4Q2018) | FETISHES series (2Q2019) | LOST OBJECTS vol. 2 series (4Q2019) | MOVIE OBJECTS series (2Q2020). ALSO SEE: SIGNIFICANT OBJECTS website | SIGNIFICANT OBJECTS collection, ed. Rob Walker and Josh Glenn (Fantagraphics, 2012) | TAKING THINGS SERIOUSLY, ed. Josh Glenn (Princeton Architectural Press, 2007) | TAKING THINGS SERIOUSLY excerpts.