FLAIR (6)
By: Kanishka Raja
May 17, 2018
The fifth PROJECT:OBJECT volume is a 25-part series of true stories about significant accoutrements, appurtenances, and regalia.
*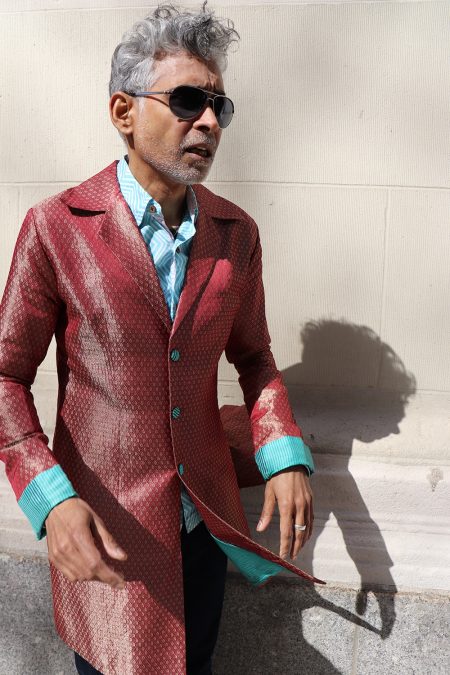 It's a jacket. It's long — down to my knees — with lapels, as in a suit. Its principal effect is a ruby-red and gold shimmer, which comes from the intricate brocade all over its surface. The red silk is handwoven in Benares, a city whose traditions of opulent, heavily ornamented saris have been legend since at least the time of the Mughal courts of the 16th century. The brocade — thousands of tiny leaves set inside a crisscrossing diamond pattern — is gold thread.
Three sharp blue accents, in the form of circular buttons running down the front, punctuate this expanse of red-gold. The buttons are covered in printed silk and at each edge of the jacket's three-quarter-length sleeves are 2-inch bands of the same material, its electric turquoise plucked from an image of the famous mosque in Isfahan.
The pattern — a simple two-color stripe — is hand-printed at my parents' studio. They are textile designers and experts in woodblock printing and it is of no little consternation to them that of the thousands of original and exceptional designs that constitute their life's work, I chose this most banal of examples for my jacket. No matter: the blue silk struts out from inside and from the discreetly cut side pockets as well, for it is the lining for the entire piece and if you were to watch me walk away, the last visible color will be a band of blue piercing across my shoulder, where the front and back panels meet.
Juli Raja designed it. I had some ideas for what I wanted but no one else knows me as well or has the same precise understanding (or love) of glamor and craftsmanship in quite the same combination to have undertaken this job.
One finds Vien Singh, the man who tailored these ideas into form, after many referrals and much asking around, in a crumbling 19th-century Calcutta mansion, up six floors via a hand-cranked elevator. There, surrounded by a small army of tailors and assorted helpers, this fabulously exuberant man conjures up, in a spirit of joyous, infectious collaboration, whatever extravagance your imagination can dream up.
I wore the jacket most recently while celebrating the 45th anniversary of my parents' design studio. That night we were on stage, Juli and I, holding hands and walking a runway, two of many fans, celebrities, and customers celebrating this couple's extraordinary achievements. And while that night didn't belong to us, for that brief spotlit moment the jacket allowed me to revel in one of my deepest secret fantasies: the one where I am Prince, onstage. Not a prince, mind you; Prince. And while not a lifetime's worth of painstakingly handmade, hand-tailored, custom-fitted clothes can come close to touching the purple one's unending swagger, at that moment, under those lights, I got a fleeting taste.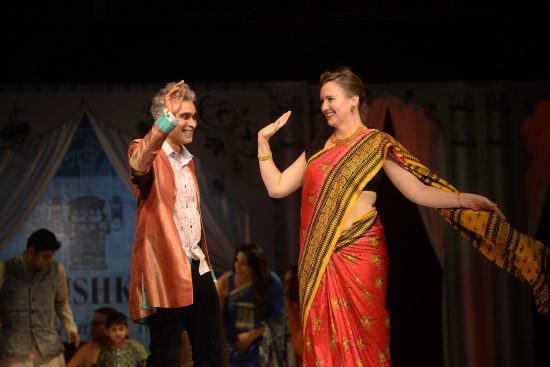 *
FLAIR: INTRODUCTION | Cliff Kuang on ROLEX DATEJUST | Ethan Zuckerman on LAPTOP STICKERS | Ann Shoket on LEATHER JACKET | Kembrew McLeod on KEMBREW MERCH | Paola Antonelli on MERMAID TEARS | Kanishka Raja on HANDMADE JACKET | Lynn Peril on BASEBALL RING | Rob Horning on NOTE PAD | Alexandra Lange on BEAD NECKLACE | Stephanie Burt on D&D EARRINGS | Michael Bierut on FEDORA | Debbie Millman on CHARM | Abram Himelstein on LUCKY 7 RING | Deb Chachra on HANDWRAPS | Jennifer Howze on HOLD-UP STOCKINGS | Mark Frauenfelder on CLARK KENT GLASSES | Adam McGovern on PLASTIC ALLIGATOR SHOES | Nicola Twilley on GOLD BRACES | Anne Quito on MUSEUM EARRINGS | Kristin Parker on STEEL BRACELET | Hillary Chute on POCKET KNIFE | James Gaddy on RESTAURANT PEN | Davy Rothbart on SHOELACE BELT | David Hajdu on PINCE-NEZ | Bishakh Som on KNEE-HIGH BOOTS.
LOST OBJECTS (vol. 1): INTRODUCTION | Kate Bernheimer on MULLET WIG (ill. Amy Evans) | Dan Piepenbring on COLOGNE (ill. Josh Neufeld) | Doug Dorst on STRATOCASTER (ill. John Holbo) | Paul Lukas on VANILLA BEAN (ill. Allison Bamcat) | Mimi Lipson on DODGE DART (ill. Mister Reusch) | & 20 MORE.
ILLICIT OBJECTS: INTRODUCTION | Kio Stark on PEEPSHOW TOKEN | Sari Wilson on TOMBSTONE PARTS | Annalee Newitz on CAR-BOMB REMNANT | Tito Bottitta on MOONINITE DEVICE | Eric Bennett on DIRTY MAGAZINE | & 20 MORE.
TALISMANIC OBJECTS: INTRODUCTION | Veda Hille on CROCHET SHEEP | Gary Panter on DINOSAUR BONES | Jami Attenberg on SELENITE CRYSTAL | Annie Nocenti on MINIATURE DICE | Wayne Curtis on CLOCK WINDING KEY | & 20 MORE.
POLITICAL OBJECTS: INTRODUCTION | Luc Sante on CAMPAIGN PAMPHLETS | Lydia Millet on PVC POLAR BEAR | Ben Greenman on MATCHBOX CAR | Rob Baedeker on PRESIDENTS PLACEMAT | L.A. Kauffman on WHEATPASTE POSTER | & 20 MORE.
SIGNIFICANT OBJECTS at HILOBROW: PROJECT:OBJECT homepage | PROJECT:OBJECT newsletter | PROJECT:OBJECT objects (Threadless shop — all profits donated to the ACLU) | POLITICAL OBJECTS series (1Q2017) | TALISMANIC OBJECTS series (2Q2017) | ILLICIT OBJECTS series (3Q2017) | LOST OBJECTS vol. 1 series (4Q2017) | FLAIR series (2Q2018) | FOSSIL series (4Q2018) | FETISHES series (2Q2019) | LOST OBJECTS vol. 2 series (4Q2019) | MOVIE OBJECTS series (2Q2020). ALSO SEE: SIGNIFICANT OBJECTS website | SIGNIFICANT OBJECTS collection, ed. Rob Walker and Josh Glenn (Fantagraphics, 2012) | TAKING THINGS SERIOUSLY, ed. Josh Glenn (Princeton Architectural Press, 2007) | TAKING THINGS SERIOUSLY excerpts.