FLAIR (8)
By: Rob Horning
May 23, 2018
The fifth PROJECT:OBJECT volume is a 25-part series of true stories about significant accoutrements, appurtenances, and regalia.
*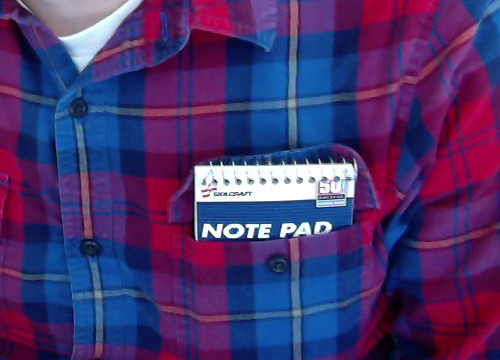 For years I've often carried around a small notebook with me — not a Moleskine or anything conspicuous like that, but a cheap 3-by-5 inch notebook with narrow-ruled pages held together by a wire spiral. I used to buy them at the drugstore; the one I'm using now came from an office supply closet. I get nervous about forgetting ideas that occur to me, so I think that if I always carry a notepad I won't lose anything. Usually I have it in my breast pocket, where I used to keep a pack of cigarettes or my phone.
The notebook and my phone are basically the same size, which makes me feel as if I'm replacing one with the other. Sometimes I worry that others will draw that conclusion too. The notepad can seem like a quirky anachronism, like a pince nez or suspenders. In the early 2000s, it was briefly trendy to carry around a stack of index cards held together with a binder clip as a simple and supposedly clarifying analog alternative to electronic organizers — this was somewhat ironically billed as the "hipster PDA."
Few now would know what a PDA was, but the idea that one can score points by seeming to be against or above gadgetry has remained viable. When I pull out my notepad, it must seem as if I'm trying to signal to the world that I'm on some sort of digital detox, pursuing a pad-and-paper-based means to mindfulness. Look at me! I am hand-crafting a thought — a real, authentic thought. It's not just some picture of my lunch or some other slice of social media ephemera.
I'd like to think I'm not signaling anything with the notepad, that its being cheap and generic somehow means that it automatically deflects attention. But there's no escaping the self-importance in carrying one around, in believing that one is so writerly, and so deeply susceptible to important flashes of inspiration that one had better have a notepad at the ready.
The reality is that most of the pages in my notebook are blank. It's actually rare that I think to write anything down, and when I do, it often turns out I have nothing to write with. (I end up dictating to my phone.) There are some notes scrawled in it, but most of these are illegible, having been written hurriedly or furtively. For all the angst about where and when it is appropriate to use a phone, writing in a notepad is far more aggressively antisocial. There's no way to pull it off that isn't extremely pretentious; I get self-conscious just thinking about it.
Still, I keep carrying the notepad, because it works as an anxiety absorber despite itself, not because it captures my deep ideas but because it repels them. It reminds me that it's embarrassing to hoard my thoughts privately when I'm out with people: If I have something to say, I may as well just say it.
*
FLAIR: INTRODUCTION | Cliff Kuang on ROLEX DATEJUST | Ethan Zuckerman on LAPTOP STICKERS | Ann Shoket on LEATHER JACKET | Kembrew McLeod on KEMBREW MERCH | Paola Antonelli on MERMAID TEARS | Kanishka Raja on HANDMADE JACKET | Lynn Peril on BASEBALL RING | Rob Horning on NOTE PAD | Alexandra Lange on BEAD NECKLACE | Stephanie Burt on D&D EARRINGS | Michael Bierut on FEDORA | Debbie Millman on CHARM | Abram Himelstein on LUCKY 7 RING | Deb Chachra on HANDWRAPS | Jennifer Howze on HOLD-UP STOCKINGS | Mark Frauenfelder on CLARK KENT GLASSES | Adam McGovern on PLASTIC ALLIGATOR SHOES | Nicola Twilley on GOLD BRACES | Anne Quito on MUSEUM EARRINGS | Kristin Parker on STEEL BRACELET | Hillary Chute on POCKET KNIFE | James Gaddy on RESTAURANT PEN | Davy Rothbart on SHOELACE BELT | David Hajdu on PINCE-NEZ | Bishakh Som on KNEE-HIGH BOOTS.
LOST OBJECTS (vol. 1): INTRODUCTION | Kate Bernheimer on MULLET WIG (ill. Amy Evans) | Dan Piepenbring on COLOGNE (ill. Josh Neufeld) | Doug Dorst on STRATOCASTER (ill. John Holbo) | Paul Lukas on VANILLA BEAN (ill. Allison Bamcat) | Mimi Lipson on DODGE DART (ill. Mister Reusch) | & 20 MORE.
ILLICIT OBJECTS: INTRODUCTION | Kio Stark on PEEPSHOW TOKEN | Sari Wilson on TOMBSTONE PARTS | Annalee Newitz on CAR-BOMB REMNANT | Tito Bottitta on MOONINITE DEVICE | Eric Bennett on DIRTY MAGAZINE | & 20 MORE.
TALISMANIC OBJECTS: INTRODUCTION | Veda Hille on CROCHET SHEEP | Gary Panter on DINOSAUR BONES | Jami Attenberg on SELENITE CRYSTAL | Annie Nocenti on MINIATURE DICE | Wayne Curtis on CLOCK WINDING KEY | & 20 MORE.
POLITICAL OBJECTS: INTRODUCTION | Luc Sante on CAMPAIGN PAMPHLETS | Lydia Millet on PVC POLAR BEAR | Ben Greenman on MATCHBOX CAR | Rob Baedeker on PRESIDENTS PLACEMAT | L.A. Kauffman on WHEATPASTE POSTER | & 20 MORE.
SIGNIFICANT OBJECTS at HILOBROW: PROJECT:OBJECT homepage | PROJECT:OBJECT newsletter | PROJECT:OBJECT objects (Threadless shop — all profits donated to the ACLU) | POLITICAL OBJECTS series (1Q2017) | TALISMANIC OBJECTS series (2Q2017) | ILLICIT OBJECTS series (3Q2017) | LOST OBJECTS vol. 1 series (4Q2017) | FLAIR series (2Q2018) | FOSSIL series (4Q2018) | FETISHES series (2Q2019) | LOST OBJECTS vol. 2 series (4Q2019) | MOVIE OBJECTS series (2Q2020). ALSO SEE: SIGNIFICANT OBJECTS website | SIGNIFICANT OBJECTS collection, ed. Rob Walker and Josh Glenn (Fantagraphics, 2012) | TAKING THINGS SERIOUSLY, ed. Josh Glenn (Princeton Architectural Press, 2007) | TAKING THINGS SERIOUSLY excerpts.