FLAIR (20)
By: Kristin Parker
June 28, 2018
The fifth PROJECT:OBJECT volume is a 25-part series of true stories about significant accoutrements, appurtenances, and regalia.
*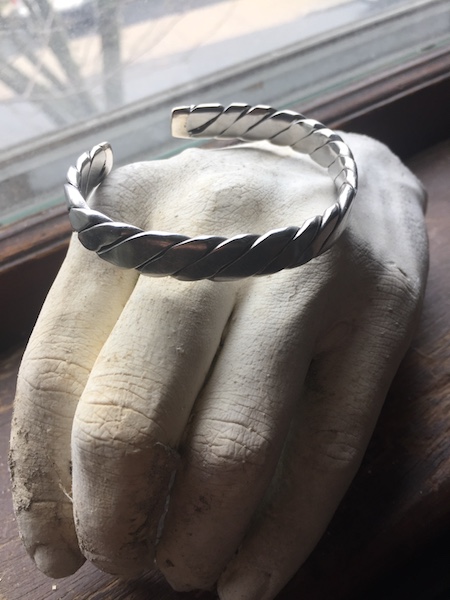 I loved my Nana's hands, so worn and expert and knuckly. During family gatherings, when I was too little to understand the grown-up banter, I'd lay my head in Siri's lap and she'd trace circles on my back with those strong fingers. When she grew very old, she was self-conscious of how contorted they were. The phalanx of her right pointer finger arched wildly to the right, like a plant looking for light. She never stopped wearing her jewelry; her most precious piece was handmade by her husband out of cast-off steel.
Al Coletti, a grandad I never met, was a mighty guy — often driving his point home by slamming a fist on the dining room table. But he had a superb sense of humor, I'm told, and he loved to garden. Al's very Catholic family wasn't happy about him meeting and marrying a divorced Swedish Lutheran who ran her own business, so Siri assimilated as best as she could, substituting oregano for cardamon in her meatballs and sending their two daughters to a school run by nuns.
Al worked at the Quincy shipyard, home of Bethlehem Steel. During the 1950s the yard built 92 naval vessels — battleships, carriers, cruisers and destroyers — and, a woman's bracelet. Siri would pick him up and he'd slump into the passenger seat, exhausted, then head into the house through the cellar where he'd strip off his clothes, then into the bedroom upstairs where Siri would feed him his supper. He died on the day of the moon landing.
When I remember my Nana, now, I see the most recent version of her, before her death, pulling her wig down low over her forehead like a wooly hat, wearing a comfortable, pastel colored fleece pullover. But at age 13, in 1928, she was known as the girl who painted Mickey Mouse on the back of her long leather jacket. At 19, she owned her own hair salon in Milton Square.
Siri was the person who taught me how to thrift. "Let's go to Morgies!" she'd say, and we'd drive to the local Goodwill and comb through the racks for hours. In those days, you could find a 1940s atomic print dress in beautiful rayon for less than $10. It doesn't matter what year the clothes come from, she'd tell me, as long as they fit just right. She also said bell-bottoms would never go out of style. "So flattering to the tush!"
At the end of her life, Siri started handing things to me, filling my hands with objects she wanted to be sure I kept. A ring of opal, another with garnets. Then she took the steel bracelet off her tiny wrist and fitted it onto mine. Something she never took off, despite how heavy it was on her aging arm. It's totally inflexible, tough like my grandparents, embedded with memory. When I wear it I gesture, Italian-style, and it falls off with a tremendous bang — commanding a perfect, percussive snap to attention. When I need extra ballast, I make sure I've got it on.
*
FLAIR: INTRODUCTION | Cliff Kuang on ROLEX DATEJUST | Ethan Zuckerman on LAPTOP STICKERS | Ann Shoket on LEATHER JACKET | Kembrew McLeod on KEMBREW MERCH | Paola Antonelli on MERMAID TEARS | Kanishka Raja on HANDMADE JACKET | Lynn Peril on BASEBALL RING | Rob Horning on NOTE PAD | Alexandra Lange on BEAD NECKLACE | Stephanie Burt on D&D EARRINGS | Michael Bierut on FEDORA | Debbie Millman on CHARM | Abram Himelstein on LUCKY 7 RING | Deb Chachra on HANDWRAPS | Jennifer Howze on HOLD-UP STOCKINGS | Mark Frauenfelder on CLARK KENT GLASSES | Adam McGovern on PLASTIC ALLIGATOR SHOES | Nicola Twilley on GOLD BRACES | Anne Quito on MUSEUM EARRINGS | Kristin Parker on STEEL BRACELET | Hillary Chute on POCKET KNIFE | James Gaddy on RESTAURANT PEN | Davy Rothbart on SHOELACE BELT | David Hajdu on PINCE-NEZ | Bishakh Som on KNEE-HIGH BOOTS.
LOST OBJECTS (vol. 1): INTRODUCTION | Kate Bernheimer on MULLET WIG (ill. Amy Evans) | Dan Piepenbring on COLOGNE (ill. Josh Neufeld) | Doug Dorst on STRATOCASTER (ill. John Holbo) | Paul Lukas on VANILLA BEAN (ill. Allison Bamcat) | Mimi Lipson on DODGE DART (ill. Mister Reusch) | & 20 MORE.
ILLICIT OBJECTS: INTRODUCTION | Kio Stark on PEEPSHOW TOKEN | Sari Wilson on TOMBSTONE PARTS | Annalee Newitz on CAR-BOMB REMNANT | Tito Bottitta on MOONINITE DEVICE | Eric Bennett on DIRTY MAGAZINE | & 20 MORE.
TALISMANIC OBJECTS: INTRODUCTION | Veda Hille on CROCHET SHEEP | Gary Panter on DINOSAUR BONES | Jami Attenberg on SELENITE CRYSTAL | Annie Nocenti on MINIATURE DICE | Wayne Curtis on CLOCK WINDING KEY | & 20 MORE.
POLITICAL OBJECTS: INTRODUCTION | Luc Sante on CAMPAIGN PAMPHLETS | Lydia Millet on PVC POLAR BEAR | Ben Greenman on MATCHBOX CAR | Rob Baedeker on PRESIDENTS PLACEMAT | L.A. Kauffman on WHEATPASTE POSTER | & 20 MORE.
SIGNIFICANT OBJECTS at HILOBROW: PROJECT:OBJECT homepage | PROJECT:OBJECT newsletter | PROJECT:OBJECT objects (Threadless shop — all profits donated to the ACLU) | POLITICAL OBJECTS series (1Q2017) | TALISMANIC OBJECTS series (2Q2017) | ILLICIT OBJECTS series (3Q2017) | LOST OBJECTS vol. 1 series (4Q2017) | FLAIR series (2Q2018) | FOSSIL series (4Q2018) | FETISHES series (2Q2019) | LOST OBJECTS vol. 2 series (4Q2019) | MOVIE OBJECTS series (2Q2020). ALSO SEE: SIGNIFICANT OBJECTS website | SIGNIFICANT OBJECTS collection, ed. Rob Walker and Josh Glenn (Fantagraphics, 2012) | TAKING THINGS SERIOUSLY, ed. Josh Glenn (Princeton Architectural Press, 2007) | TAKING THINGS SERIOUSLY excerpts.