FLAIR (9)
By: Alexandra Lange
May 26, 2018
The fifth PROJECT:OBJECT volume is a 25-part series of true stories about significant accoutrements, appurtenances, and regalia.
*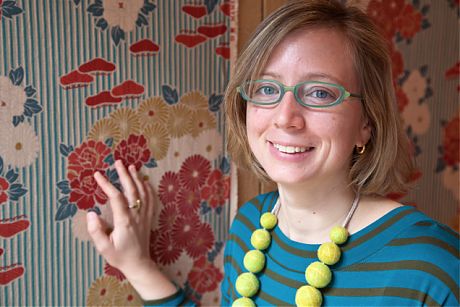 By rights, I'm a spring. In the 1980s we all got our colors done and my results were discouraging. Pink, light blue, Easter hues would be most flattering to my pale skin and light eyes. Small, gold jewelry and minimal patterns were recommended given my small scale. It all sounded very… pleasant. Who ever heard of a pleasant critic? Inside, I didn't feel pastel or small or minimal. Inside, I feel loud. Beads, round, colorful, unmissable, flattered my personality.
With them I wear big prints, Marimekko when I can afford it, and the combination has become a kind of uniform. If I'm giving a talk, you can see me in the back. I've worn the same outfit both pregnant and not. I look like a paper doll, the graphic essence of myself, with a breastplate of beads. I am a character.
Once I adopted this costume, I noticed other critical women doing it too. After watching The September Issue I started to feel that Anna Wintour's power was contained in her bob, her sunglasses, and the strand of giant gems perpetually around her neck. (I could not afford a set of her beads, I checked.)
Georgia O'Keeffe controlled her image by dressing for photographs in black, a flat-brimmed hat and bold Native American jewelry. Her style was so consistent that Jennifer Lawrence dressed à la mode du Georgia in a series of Dior ads.
Preservationist Sarah Marson started selling Tiny Jane Jacobs dolls as a fundraiser last year: the miniature is instantly recognizable to design nerds, with red glasses, big beads, and a dress in a city print.
I've always been intrigued by how Ada Louise Huxtable, the New York Times's first architecture critic, presented herself. The first word that comes to mind is ladylike: blouses, strands of pearls, hair up in a cloud. The background is books or buildings, the effect is one of distance. She's ready. Are you?
My first strand was yellow like a crayon, painted wooden spheres in graduated sizes. I took those beads home and soon they gained siblings: red, blue and chartreuse wooden orbs, then green felt balls, ribbon-wrapped pods, rainbow Brazilian seeds, clear glass bubbles. People saw me wearing them and bought them for me: turquoise beads made of tinier beads; metal beads like ball bearings; vacation beads in seafoam and coral. Beach beads. Pritzker Prize ceremony beads. A bead wardrobe.
It is not unusual for me to be on a panel with four men, a head taller, suits. I'm never going to fit in so I might as well stand out. My beads say, I'm not here to smile and agree.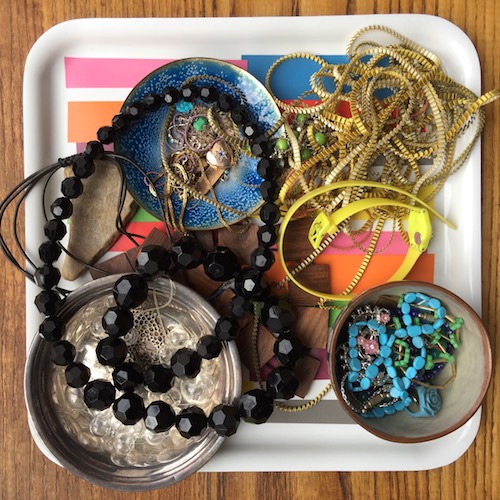 *
FLAIR: INTRODUCTION | Cliff Kuang on ROLEX DATEJUST | Ethan Zuckerman on LAPTOP STICKERS | Ann Shoket on LEATHER JACKET | Kembrew McLeod on KEMBREW MERCH | Paola Antonelli on MERMAID TEARS | Kanishka Raja on HANDMADE JACKET | Lynn Peril on BASEBALL RING | Rob Horning on NOTE PAD | Alexandra Lange on BEAD NECKLACE | Stephanie Burt on D&D EARRINGS | Michael Bierut on FEDORA | Debbie Millman on CHARM | Abram Himelstein on LUCKY 7 RING | Deb Chachra on HANDWRAPS | Jennifer Howze on HOLD-UP STOCKINGS | Mark Frauenfelder on CLARK KENT GLASSES | Adam McGovern on PLASTIC ALLIGATOR SHOES | Nicola Twilley on GOLD BRACES | Anne Quito on MUSEUM EARRINGS | Kristin Parker on STEEL BRACELET | Hillary Chute on POCKET KNIFE | James Gaddy on RESTAURANT PEN | Davy Rothbart on SHOELACE BELT | David Hajdu on PINCE-NEZ | Bishakh Som on KNEE-HIGH BOOTS.
LOST OBJECTS (vol. 1): INTRODUCTION | Kate Bernheimer on MULLET WIG (ill. Amy Evans) | Dan Piepenbring on COLOGNE (ill. Josh Neufeld) | Doug Dorst on STRATOCASTER (ill. John Holbo) | Paul Lukas on VANILLA BEAN (ill. Allison Bamcat) | Mimi Lipson on DODGE DART (ill. Mister Reusch) | & 20 MORE.
ILLICIT OBJECTS: INTRODUCTION | Kio Stark on PEEPSHOW TOKEN | Sari Wilson on TOMBSTONE PARTS | Annalee Newitz on CAR-BOMB REMNANT | Tito Bottitta on MOONINITE DEVICE | Eric Bennett on DIRTY MAGAZINE | & 20 MORE.
TALISMANIC OBJECTS: INTRODUCTION | Veda Hille on CROCHET SHEEP | Gary Panter on DINOSAUR BONES | Jami Attenberg on SELENITE CRYSTAL | Annie Nocenti on MINIATURE DICE | Wayne Curtis on CLOCK WINDING KEY | & 20 MORE.
POLITICAL OBJECTS: INTRODUCTION | Luc Sante on CAMPAIGN PAMPHLETS | Lydia Millet on PVC POLAR BEAR | Ben Greenman on MATCHBOX CAR | Rob Baedeker on PRESIDENTS PLACEMAT | L.A. Kauffman on WHEATPASTE POSTER | & 20 MORE.
SIGNIFICANT OBJECTS at HILOBROW: PROJECT:OBJECT homepage | PROJECT:OBJECT newsletter | PROJECT:OBJECT objects (Threadless shop — all profits donated to the ACLU) | POLITICAL OBJECTS series (1Q2017) | TALISMANIC OBJECTS series (2Q2017) | ILLICIT OBJECTS series (3Q2017) | LOST OBJECTS vol. 1 series (4Q2017) | FLAIR series (2Q2018) | FOSSIL series (4Q2018) | FETISHES series (2Q2019) | LOST OBJECTS vol. 2 series (4Q2019) | MOVIE OBJECTS series (2Q2020). ALSO SEE: SIGNIFICANT OBJECTS website | SIGNIFICANT OBJECTS collection, ed. Rob Walker and Josh Glenn (Fantagraphics, 2012) | TAKING THINGS SERIOUSLY, ed. Josh Glenn (Princeton Architectural Press, 2007) | TAKING THINGS SERIOUSLY excerpts.