FLAIR (23)
By: Davy Rothbart
July 7, 2018
The fifth PROJECT:OBJECT volume is a 25-part series of true stories about significant accoutrements, appurtenances, and regalia.
*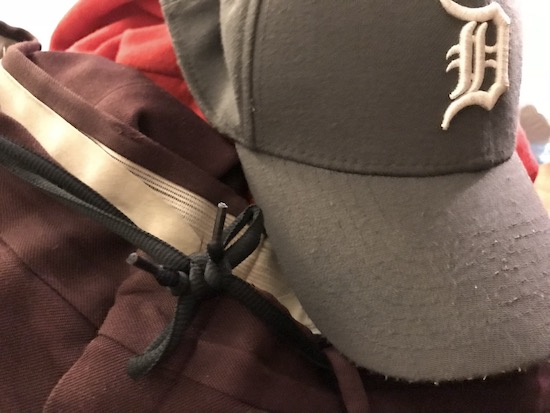 Out in the cold van, sipping a warm beer, I heard the strangest sound. Dylan, sitting shotgun, was crying. He was nineteen, no longer a boy but not quite a man. "Dylan, what's goin' on?" I said, gripping his shoulder. "Talk to me!"
This was a few years ago in Champaign, Illinois. Dylan was one of the subjects of a documentary I'd made with my friend Andrew called Medora, about a high school basketball team in a dwindling, poverty-stricken Indiana town. We took the movie on tour, bringing some of the kids featured in the movie.
In the film, Dylan reveals his story with aching intimacy. Audience members often gasped in the moment when he has to face his family situation head-on near the end. At screenings, when we revealed Dylan was our special guest, the crowd often gave him a standing ovation.
But now, nearing the end of tour, parked in back of Champaign's packed Art Theater, he was in tears. His upset-ness upset me, too. Not only was he my friend, it was also my job, in a way, to take care of him on his first, long trip away from home.
Dylan began to talk. All the Q&As and interviews, they were therapeutic in a way, but they also meant constantly confronting the most painful difficulties in his life. He was badly homesick, he said, and at the same time terrified of what it would feel like to return home after such a transforming journey.
I suddenly realized how shamefully little consideration I'd given to Dylan's experience the past few months. What was novelty for me — watching an Indiana farm kid grapple with the New York City subway or a rave in Oakland — was for him a cocoon-like emergence. It's one thing to have a rough upbringing and learn how to stay afloat; it's a whole other thing to process your heart-shattering experience into sound bites for MSNBC, Fox & Friends, and some AM station out of Kalamazoo, then make crowd-pleasing quips night after night at a post-screening Q&As.
And now it was time for the next Q&A. "Why don't you sit this one out?" I suggested. "We'll get some pizza later."
Dylan nodded, composing himself. "Thanks," he said. "You go on in. I'll be all right."
I met Andrew in the lobby and let him know that Dylan wasn't coming. Right before we went in for the Q&A, though, the theater door swung open, and Dylan came loping in, wearing a goofy grin, a long brown shoelace dangling from his hands.
"Dude," he said to me, "you look ridiculous. You can't walk around everywhere holding your pants up." I'd left my belt in some motel room a few nights before, and kept talking about how I needed to replace it. Even as Dylan wrestled with his personal traumas, he'd seen me walking into the theater holding my pants up and felt moved to find a solution. "Here," he said, handing me the shoelace. I saw that he'd pulled it from his own left shoe. "What's wrong?" he asked. "You look like you're about to cry."
I was. I weaved the shoelace through my belt loops. Five years later, that same shoelace is still woven through those loops, holding up that same pair of pants.
"Bring it in," Andrew said. And the three of us hugged, before heading for the stage.
*
FLAIR: INTRODUCTION | Cliff Kuang on ROLEX DATEJUST | Ethan Zuckerman on LAPTOP STICKERS | Ann Shoket on LEATHER JACKET | Kembrew McLeod on KEMBREW MERCH | Paola Antonelli on MERMAID TEARS | Kanishka Raja on HANDMADE JACKET | Lynn Peril on BASEBALL RING | Rob Horning on NOTE PAD | Alexandra Lange on BEAD NECKLACE | Stephanie Burt on D&D EARRINGS | Michael Bierut on FEDORA | Debbie Millman on CHARM | Abram Himelstein on LUCKY 7 RING | Deb Chachra on HANDWRAPS | Jennifer Howze on HOLD-UP STOCKINGS | Mark Frauenfelder on CLARK KENT GLASSES | Adam McGovern on PLASTIC ALLIGATOR SHOES | Nicola Twilley on GOLD BRACES | Anne Quito on MUSEUM EARRINGS | Kristin Parker on STEEL BRACELET | Hillary Chute on POCKET KNIFE | James Gaddy on RESTAURANT PEN | Davy Rothbart on SHOELACE BELT | David Hajdu on PINCE-NEZ | Bishakh Som on KNEE-HIGH BOOTS.
LOST OBJECTS (vol. 1): INTRODUCTION | Kate Bernheimer on MULLET WIG (ill. Amy Evans) | Dan Piepenbring on COLOGNE (ill. Josh Neufeld) | Doug Dorst on STRATOCASTER (ill. John Holbo) | Paul Lukas on VANILLA BEAN (ill. Allison Bamcat) | Mimi Lipson on DODGE DART (ill. Mister Reusch) | & 20 MORE.
ILLICIT OBJECTS: INTRODUCTION | Kio Stark on PEEPSHOW TOKEN | Sari Wilson on TOMBSTONE PARTS | Annalee Newitz on CAR-BOMB REMNANT | Tito Bottitta on MOONINITE DEVICE | Eric Bennett on DIRTY MAGAZINE | & 20 MORE.
TALISMANIC OBJECTS: INTRODUCTION | Veda Hille on CROCHET SHEEP | Gary Panter on DINOSAUR BONES | Jami Attenberg on SELENITE CRYSTAL | Annie Nocenti on MINIATURE DICE | Wayne Curtis on CLOCK WINDING KEY | & 20 MORE.
POLITICAL OBJECTS: INTRODUCTION | Luc Sante on CAMPAIGN PAMPHLETS | Lydia Millet on PVC POLAR BEAR | Ben Greenman on MATCHBOX CAR | Rob Baedeker on PRESIDENTS PLACEMAT | L.A. Kauffman on WHEATPASTE POSTER | & 20 MORE.
SIGNIFICANT OBJECTS at HILOBROW: PROJECT:OBJECT homepage | PROJECT:OBJECT newsletter | PROJECT:OBJECT objects (Threadless shop — all profits donated to the ACLU) | POLITICAL OBJECTS series (1Q2017) | TALISMANIC OBJECTS series (2Q2017) | ILLICIT OBJECTS series (3Q2017) | LOST OBJECTS vol. 1 series (4Q2017) | FLAIR series (2Q2018) | FOSSIL series (4Q2018) | FETISHES series (2Q2019) | LOST OBJECTS vol. 2 series (4Q2019) | MOVIE OBJECTS series (2Q2020). ALSO SEE: SIGNIFICANT OBJECTS website | SIGNIFICANT OBJECTS collection, ed. Rob Walker and Josh Glenn (Fantagraphics, 2012) | TAKING THINGS SERIOUSLY, ed. Josh Glenn (Princeton Architectural Press, 2007) | TAKING THINGS SERIOUSLY excerpts.