FLAIR (24)
By: David Hajdu
July 10, 2018
The fifth PROJECT:OBJECT volume is a 25-part series of true stories about significant accoutrements, appurtenances, and regalia.
*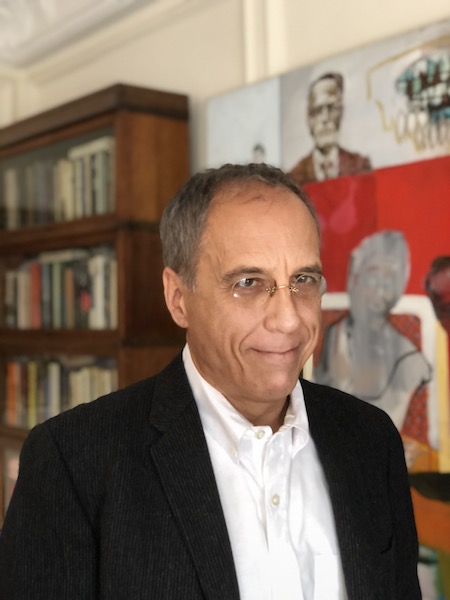 I lost friends easily when I was in high school. I would meet somebody new and we'd start to hit if off. But then, within a few weeks, they'd stop talking to me. It took me a couple of years to figure out what was happening. I was — and still am — so near-sighted that everything further than about a foot from my face is a soupy, indecipherable blur. New friends would pass me in the hall and wave or nod, and I would ignore them and keep walking. They would mistakenly think I was a rude asshole, not realizing that I was merely so vain that I refused to wear glasses, and couldn't see anybody. I wasn't an asshole. I was an idiot.
When I was forced to get glasses to pass the test for my driver's license, I found an approach to eyewear that wouldn't impinge on my vanity but would, in fact, only enhance it. Hunting in a thrift store for vintage clothes to make me feel more bohemian and less like the generic New Jersey suburbanite I was, I found a pair of silver wire-rim "granny glasses" from the early the 20th century — the same kind my teenage idol John Lennon wore.
I discovered stylish eyewear as a way to shape the way I was seen by my peers, as well as to see them, pretty much for the first time. Over the decades since, I've stuck with vintage glasses and made them the heart — in fact, the near totality — of whatever claim to personal style I have. I've built a collection of more than 30 pairs of glasses, all picked up in flea markets and thrift shops, typically for around $20 or $30. I bring the frames to an optician in Chinatown who's skilled and cheap.
As with children, I wouldn't want to pick a single pair of my glasses as my favorite. If the way I use them is a measure of my favor, the top ranking goes to a pair of simple but rare glass pince-nez from the 1930s that I reserve for the specialest of occasions. I wore them the only time I attended the Academy Awards.
The pince-nez are almost impossible to notice, because they have no frames and no side pieces, but clip onto the bridge of my nose. When I wear them, people tend not to see them till they've been with me for at least an hour. Then, they'll say something like, "Hey — what kind of glasses are you wearing"? Or, "Wow — that's the most pretentious thing I've ever seen in my life."
When director Preston Sturges made The Palm Beach Story, in 1942, he had the Rudy Vallee character wear pince-nez exactly like mine, as visual shorthand for his hoity daffiness. The Vallee character is perpetually taking the glasses off and putting them back on, with an effete pinch of his fingers.
So, yes, I know wearing pince-nez makes me come off as pretentious. But isn't that better than looking like an asshole?
*
FLAIR: INTRODUCTION | Cliff Kuang on ROLEX DATEJUST | Ethan Zuckerman on LAPTOP STICKERS | Ann Shoket on LEATHER JACKET | Kembrew McLeod on KEMBREW MERCH | Paola Antonelli on MERMAID TEARS | Kanishka Raja on HANDMADE JACKET | Lynn Peril on BASEBALL RING | Rob Horning on NOTE PAD | Alexandra Lange on BEAD NECKLACE | Stephanie Burt on D&D EARRINGS | Michael Bierut on FEDORA | Debbie Millman on CHARM | Abram Himelstein on LUCKY 7 RING | Deb Chachra on HANDWRAPS | Jennifer Howze on HOLD-UP STOCKINGS | Mark Frauenfelder on CLARK KENT GLASSES | Adam McGovern on PLASTIC ALLIGATOR SHOES | Nicola Twilley on GOLD BRACES | Anne Quito on MUSEUM EARRINGS | Kristin Parker on STEEL BRACELET | Hillary Chute on POCKET KNIFE | James Gaddy on RESTAURANT PEN | Davy Rothbart on SHOELACE BELT | David Hajdu on PINCE-NEZ | Bishakh Som on KNEE-HIGH BOOTS.
LOST OBJECTS (vol. 1): INTRODUCTION | Kate Bernheimer on MULLET WIG (ill. Amy Evans) | Dan Piepenbring on COLOGNE (ill. Josh Neufeld) | Doug Dorst on STRATOCASTER (ill. John Holbo) | Paul Lukas on VANILLA BEAN (ill. Allison Bamcat) | Mimi Lipson on DODGE DART (ill. Mister Reusch) | & 20 MORE.
ILLICIT OBJECTS: INTRODUCTION | Kio Stark on PEEPSHOW TOKEN | Sari Wilson on TOMBSTONE PARTS | Annalee Newitz on CAR-BOMB REMNANT | Tito Bottitta on MOONINITE DEVICE | Eric Bennett on DIRTY MAGAZINE | & 20 MORE.
TALISMANIC OBJECTS: INTRODUCTION | Veda Hille on CROCHET SHEEP | Gary Panter on DINOSAUR BONES | Jami Attenberg on SELENITE CRYSTAL | Annie Nocenti on MINIATURE DICE | Wayne Curtis on CLOCK WINDING KEY | & 20 MORE.
POLITICAL OBJECTS: INTRODUCTION | Luc Sante on CAMPAIGN PAMPHLETS | Lydia Millet on PVC POLAR BEAR | Ben Greenman on MATCHBOX CAR | Rob Baedeker on PRESIDENTS PLACEMAT | L.A. Kauffman on WHEATPASTE POSTER | & 20 MORE.
SIGNIFICANT OBJECTS at HILOBROW: PROJECT:OBJECT homepage | PROJECT:OBJECT newsletter | PROJECT:OBJECT objects (Threadless shop — all profits donated to the ACLU) | POLITICAL OBJECTS series (1Q2017) | TALISMANIC OBJECTS series (2Q2017) | ILLICIT OBJECTS series (3Q2017) | LOST OBJECTS vol. 1 series (4Q2017) | FLAIR series (2Q2018) | FOSSIL series (4Q2018) | FETISHES series (2Q2019) | LOST OBJECTS vol. 2 series (4Q2019) | MOVIE OBJECTS series (2Q2020). ALSO SEE: SIGNIFICANT OBJECTS website | SIGNIFICANT OBJECTS collection, ed. Rob Walker and Josh Glenn (Fantagraphics, 2012) | TAKING THINGS SERIOUSLY, ed. Josh Glenn (Princeton Architectural Press, 2007) | TAKING THINGS SERIOUSLY excerpts.