FLAIR (7)
By: Lynn Peril
May 20, 2018
The fifth PROJECT:OBJECT volume is a 25-part series of true stories about significant accoutrements, appurtenances, and regalia.
*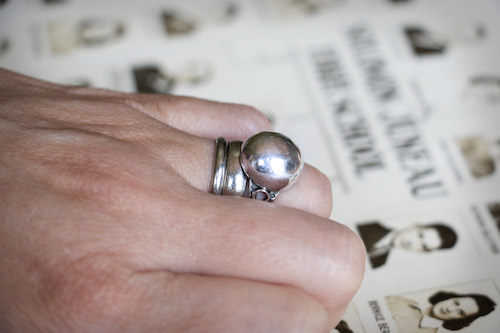 People frequently compliment me on the ring I wear above my wedding band: coworkers, checkout clerks, people at the gym. I always thank them and tell them it belonged to my mother. If we have more time and they seem interested, I tell them she called it a baseball ring. She said they were a fad at her high school (Solomon Juneau High in Milwaukee, where she belonged to the class of 1940), but she couldn't tell me more than that. I suppose it was a "baseball" ring because the half-spherical shape is reminiscent of one, but who can really explain a teenage fad from any era? Memory fades, even if you lived it.
The only references to baseball rings I can find online show tacky items mass-produced for fans. Mom's ring is unmarked, but I know it's sterling because it doesn't trigger my nickel allergy. When I saw a similar ring at an antique mall decades ago, I bought it. It's slightly larger than my mom's ring, also unmarked, also sterling, and they look fabulous when worn in combination.
I didn't always wear a baseball ring in lieu of an engagement ring. When, in 1994, my then-unemployed boyfriend asked me to marry him (from behind the wheel of his 1957 Oldsmobile Rocket 88 as we cruised down Brannan Street in San Francisco), he couldn't afford and I didn't want a diamond. Spending an absurd amount on an engagement ring (the diamond industry helpfully suggests two months' salary) seemed like a waste of money, not to mention a grossly patriarchal display of competitive consumerism. No, plain wedding bands it would be, for both of us.
But then my finger just felt so… naked. I wore my Czechoslovakian grandmother's blingy platinum-and-diamond art deco cocktail ring until the solder broke where it was sized, some time after our tenth wedding anniversary. (Photos show my grandmother's style to be sturdily utilitarian — that's her narrow wedding band under my own in the photo. Why she owned a cocktail ring at all, let alone a sparkly beauty, is a mystery right up there with the origins of the baseball ring.)
I don't remember when mom gave me the baseball ring, nor do I remember exactly when I slipped it on my left ring finger. I do know that by the time she died at the age of 92, her memory largely gone, I had been wearing it for years. She and I were not particularly close, but we share the sin of vanity. Every time someone says, "I love your ring!" I smile inside, and I know she does too.
*
FLAIR: INTRODUCTION | Cliff Kuang on ROLEX DATEJUST | Ethan Zuckerman on LAPTOP STICKERS | Ann Shoket on LEATHER JACKET | Kembrew McLeod on KEMBREW MERCH | Paola Antonelli on MERMAID TEARS | Kanishka Raja on HANDMADE JACKET | Lynn Peril on BASEBALL RING | Rob Horning on NOTE PAD | Alexandra Lange on BEAD NECKLACE | Stephanie Burt on D&D EARRINGS | Michael Bierut on FEDORA | Debbie Millman on CHARM | Abram Himelstein on LUCKY 7 RING | Deb Chachra on HANDWRAPS | Jennifer Howze on HOLD-UP STOCKINGS | Mark Frauenfelder on CLARK KENT GLASSES | Adam McGovern on PLASTIC ALLIGATOR SHOES | Nicola Twilley on GOLD BRACES | Anne Quito on MUSEUM EARRINGS | Kristin Parker on STEEL BRACELET | Hillary Chute on POCKET KNIFE | James Gaddy on RESTAURANT PEN | Davy Rothbart on SHOELACE BELT | David Hajdu on PINCE-NEZ | Bishakh Som on KNEE-HIGH BOOTS.
LOST OBJECTS (vol. 1): INTRODUCTION | Kate Bernheimer on MULLET WIG (ill. Amy Evans) | Dan Piepenbring on COLOGNE (ill. Josh Neufeld) | Doug Dorst on STRATOCASTER (ill. John Holbo) | Paul Lukas on VANILLA BEAN (ill. Allison Bamcat) | Mimi Lipson on DODGE DART (ill. Mister Reusch) | & 20 MORE.
ILLICIT OBJECTS: INTRODUCTION | Kio Stark on PEEPSHOW TOKEN | Sari Wilson on TOMBSTONE PARTS | Annalee Newitz on CAR-BOMB REMNANT | Tito Bottitta on MOONINITE DEVICE | Eric Bennett on DIRTY MAGAZINE | & 20 MORE.
TALISMANIC OBJECTS: INTRODUCTION | Veda Hille on CROCHET SHEEP | Gary Panter on DINOSAUR BONES | Jami Attenberg on SELENITE CRYSTAL | Annie Nocenti on MINIATURE DICE | Wayne Curtis on CLOCK WINDING KEY | & 20 MORE.
POLITICAL OBJECTS: INTRODUCTION | Luc Sante on CAMPAIGN PAMPHLETS | Lydia Millet on PVC POLAR BEAR | Ben Greenman on MATCHBOX CAR | Rob Baedeker on PRESIDENTS PLACEMAT | L.A. Kauffman on WHEATPASTE POSTER | & 20 MORE.
SIGNIFICANT OBJECTS at HILOBROW: PROJECT:OBJECT homepage | PROJECT:OBJECT newsletter | PROJECT:OBJECT objects (Threadless shop — all profits donated to the ACLU) | POLITICAL OBJECTS series (1Q2017) | TALISMANIC OBJECTS series (2Q2017) | ILLICIT OBJECTS series (3Q2017) | LOST OBJECTS vol. 1 series (4Q2017) | FLAIR series (2Q2018) | FOSSIL series (4Q2018) | FETISHES series (2Q2019) | LOST OBJECTS vol. 2 series (4Q2019) | MOVIE OBJECTS series (2Q2020). ALSO SEE: SIGNIFICANT OBJECTS website | SIGNIFICANT OBJECTS collection, ed. Rob Walker and Josh Glenn (Fantagraphics, 2012) | TAKING THINGS SERIOUSLY, ed. Josh Glenn (Princeton Architectural Press, 2007) | TAKING THINGS SERIOUSLY excerpts.