FLAIR (16)
By: Mark Frauenfelder
June 16, 2018
The fifth PROJECT:OBJECT volume is a 25-part series of true stories about significant accoutrements, appurtenances, and regalia.
*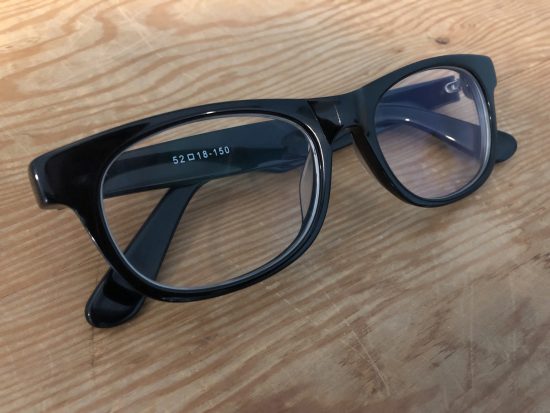 In 1986 my two friends and I moved from Ft. Collins, Colorado to London. We'd formed a rockabilly-punk band while we were in college and wanted to see if we could become successful in the UK, home to many of our favorite bands, including The Clash, The Buzzcocks, and The Smiths.
About a week after we landed, I met someone who knew someone who wanted to sublet his council flat in Elephant & Castle for a year while he went to carpenter school in Liverpool. The rent for the four of us (the guitarist's girlfriend came with him) was 14 pounds a week, which meant my share was the price of a couple of pints of lager. It was unfurnished but we found mattresses in a dumpster and slowly acquired chairs and tables left on the curb.
Up until then, I'd had excellent eyesight, but I started noticing that details in London's skyline were looking a little fuzzy. For instance, what was going on with the statue of Admiral Nelson that stood atop the 179-foot-tall column in Trafalgar Square? Was he missing his right hand? I needed eyeglasses. But I couldn't afford them.
One day my bandmates and I were handing out fliers in Covent Garden for our upcoming gig at a place called The Rock Garden. We saw Morrissey standing against a railing. The second I saw the Clark Kent eyeglasses he was wearing I knew they were the only kind I would ever want. Our drummer handed him a flier. Morrissey didn't say anything. He held the paper with both hands, lifted it to eye level, smiled, folded it, and put it in his pocket.
He didn't come to the show.
Months later, I read that his glass were one of the free National Health Service spectacles (Model 524) given to people who couldn't afford ostensibly more stylish glasses.
When I moved back to Colorado and got a job, I went to an optician and had my eyes examined. I described the kind of glasses I wanted but he didn't have any. I ended up buying a pair of Ray-Ban Wayfarer sunglasses and had prescription lenses put in them. I did that for years, but now I buy them for $30 a pair online. I go through a pair every six months or so.
Morrissey stopped wearing his glasses a long time ago. I stopped reading interviews with him because he's so cranky now. But I still thank him for the glasses I've worn every day for over 30 years.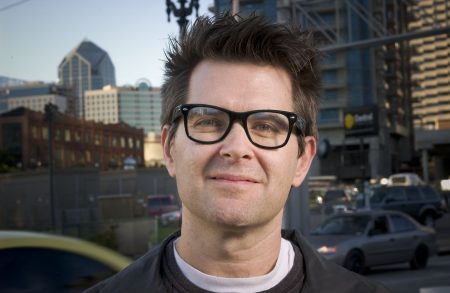 *
FLAIR: INTRODUCTION | Cliff Kuang on ROLEX DATEJUST | Ethan Zuckerman on LAPTOP STICKERS | Ann Shoket on LEATHER JACKET | Kembrew McLeod on KEMBREW MERCH | Paola Antonelli on MERMAID TEARS | Kanishka Raja on HANDMADE JACKET | Lynn Peril on BASEBALL RING | Rob Horning on NOTE PAD | Alexandra Lange on BEAD NECKLACE | Stephanie Burt on D&D EARRINGS | Michael Bierut on FEDORA | Debbie Millman on CHARM | Abram Himelstein on LUCKY 7 RING | Deb Chachra on HANDWRAPS | Jennifer Howze on HOLD-UP STOCKINGS | Mark Frauenfelder on CLARK KENT GLASSES | Adam McGovern on PLASTIC ALLIGATOR SHOES | Nicola Twilley on GOLD BRACES | Anne Quito on MUSEUM EARRINGS | Kristin Parker on STEEL BRACELET | Hillary Chute on POCKET KNIFE | James Gaddy on RESTAURANT PEN | Davy Rothbart on SHOELACE BELT | David Hajdu on PINCE-NEZ | Bishakh Som on KNEE-HIGH BOOTS.
LOST OBJECTS (vol. 1): INTRODUCTION | Kate Bernheimer on MULLET WIG (ill. Amy Evans) | Dan Piepenbring on COLOGNE (ill. Josh Neufeld) | Doug Dorst on STRATOCASTER (ill. John Holbo) | Paul Lukas on VANILLA BEAN (ill. Allison Bamcat) | Mimi Lipson on DODGE DART (ill. Mister Reusch) | & 20 MORE.
ILLICIT OBJECTS: INTRODUCTION | Kio Stark on PEEPSHOW TOKEN | Sari Wilson on TOMBSTONE PARTS | Annalee Newitz on CAR-BOMB REMNANT | Tito Bottitta on MOONINITE DEVICE | Eric Bennett on DIRTY MAGAZINE | & 20 MORE.
TALISMANIC OBJECTS: INTRODUCTION | Veda Hille on CROCHET SHEEP | Gary Panter on DINOSAUR BONES | Jami Attenberg on SELENITE CRYSTAL | Annie Nocenti on MINIATURE DICE | Wayne Curtis on CLOCK WINDING KEY | & 20 MORE.
POLITICAL OBJECTS: INTRODUCTION | Luc Sante on CAMPAIGN PAMPHLETS | Lydia Millet on PVC POLAR BEAR | Ben Greenman on MATCHBOX CAR | Rob Baedeker on PRESIDENTS PLACEMAT | L.A. Kauffman on WHEATPASTE POSTER | & 20 MORE.
SIGNIFICANT OBJECTS at HILOBROW: PROJECT:OBJECT homepage | PROJECT:OBJECT newsletter | PROJECT:OBJECT objects (Threadless shop — all profits donated to the ACLU) | POLITICAL OBJECTS series (1Q2017) | TALISMANIC OBJECTS series (2Q2017) | ILLICIT OBJECTS series (3Q2017) | LOST OBJECTS vol. 1 series (4Q2017) | FLAIR series (2Q2018) | FOSSIL series (4Q2018) | FETISHES series (2Q2019) | LOST OBJECTS vol. 2 series (4Q2019) | MOVIE OBJECTS series (2Q2020). ALSO SEE: SIGNIFICANT OBJECTS website | SIGNIFICANT OBJECTS collection, ed. Rob Walker and Josh Glenn (Fantagraphics, 2012) | TAKING THINGS SERIOUSLY, ed. Josh Glenn (Princeton Architectural Press, 2007) | TAKING THINGS SERIOUSLY excerpts.