FLAIR (21)
By: Hillary Chute
July 1, 2018
The fifth PROJECT:OBJECT volume is a 25-part series of true stories about significant accoutrements, appurtenances, and regalia.
*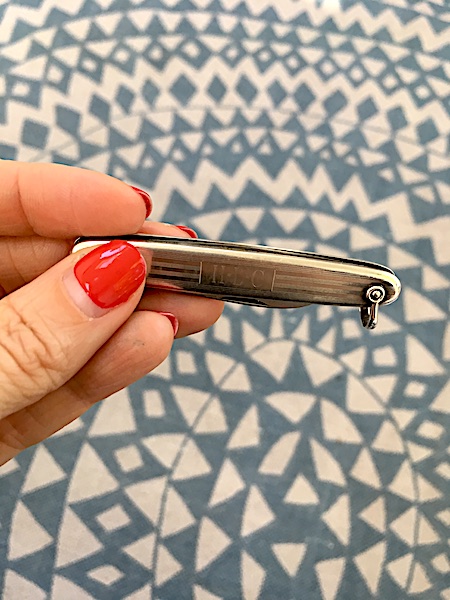 I'm a person who likes, often, to put things on my body and never take them off. I've been wearing my grandmother's delicate turquoise-flower ring since the year she died, when I was 10 (I'm now 42). At 10 it was a little big for my finger, but I've grown into it. I wear a gold signet ring bearing my family crest and motto — a gift from a boyfriend — that has adorned my hand since the day I opened it nine years ago.
I carry something in my pocket every day that feels almost like it is welded to my body, but the fact that it isn't — that I need to draw it to me — gives it a talismanic power. If for some reason it cannot be in my right-hand pocket, my hand will instinctively brush the area to check for it. It's a two-and-half inch sterling silver pocket knife, monogrammed with my initials, HLC, in between bullets. It's Italian. It has one small, elegant blade, which I use often (opening packages, for instance), and the nicest nail file I know.
Pocket knives run in my family. My father always carries one in his pocket; it's why I started doing it, too, in my teens or twenties. When I asked him about this habit of accoutrement recently, he told me, "I've done that all my life, even when I was a child." How old? "Probably 6 or 7." I had assumed that my father got this practice from his father, who died when I was small; that was part of the reason I adopted it, to keep it going. When I asked my dad about my grandfather's love of pocket knives, he told me he remembered Grandpa getting dressed up and wearing a vest, a gold chain, and a small gold knife that hung off of the chain.
My pocket knife — also called a pen knife, or a "dress knife" — was a gift from the same boyfriend who got me the signet ring. He knew I loved these slim silver knives, because I had recently lost one — unmonogrammed, passed along from my father — and was beside myself. I had lost it in the most abject way. I stopped to use the restroom at one of those stripped-down rest areas — the ones that just have a little hut with maps, bathrooms, and vending machines — on the highway somewhere between New York and Boston. In the stall after a brief visit, I stood up to flush the toilet, and my pocket knife tumbled out of my pocket and into the bowl, and was immediately swept away by the weirdly powerful industrial toilet as I screamed and plunged my arm in to grab it. It was gone — completely gone — in two seconds. So my HLC pocket knife, not a pass-me-down, but my very own particularized knife, came into my life as my lucky object, and it reminds me of both old family traditions and of new ones.
*
FLAIR: INTRODUCTION | Cliff Kuang on ROLEX DATEJUST | Ethan Zuckerman on LAPTOP STICKERS | Ann Shoket on LEATHER JACKET | Kembrew McLeod on KEMBREW MERCH | Paola Antonelli on MERMAID TEARS | Kanishka Raja on HANDMADE JACKET | Lynn Peril on BASEBALL RING | Rob Horning on NOTE PAD | Alexandra Lange on BEAD NECKLACE | Stephanie Burt on D&D EARRINGS | Michael Bierut on FEDORA | Debbie Millman on CHARM | Abram Himelstein on LUCKY 7 RING | Deb Chachra on HANDWRAPS | Jennifer Howze on HOLD-UP STOCKINGS | Mark Frauenfelder on CLARK KENT GLASSES | Adam McGovern on PLASTIC ALLIGATOR SHOES | Nicola Twilley on GOLD BRACES | Anne Quito on MUSEUM EARRINGS | Kristin Parker on STEEL BRACELET | Hillary Chute on POCKET KNIFE | James Gaddy on RESTAURANT PEN | Davy Rothbart on SHOELACE BELT | David Hajdu on PINCE-NEZ | Bishakh Som on KNEE-HIGH BOOTS.
LOST OBJECTS (vol. 1): INTRODUCTION | Kate Bernheimer on MULLET WIG (ill. Amy Evans) | Dan Piepenbring on COLOGNE (ill. Josh Neufeld) | Doug Dorst on STRATOCASTER (ill. John Holbo) | Paul Lukas on VANILLA BEAN (ill. Allison Bamcat) | Mimi Lipson on DODGE DART (ill. Mister Reusch) | & 20 MORE.
ILLICIT OBJECTS: INTRODUCTION | Kio Stark on PEEPSHOW TOKEN | Sari Wilson on TOMBSTONE PARTS | Annalee Newitz on CAR-BOMB REMNANT | Tito Bottitta on MOONINITE DEVICE | Eric Bennett on DIRTY MAGAZINE | & 20 MORE.
TALISMANIC OBJECTS: INTRODUCTION | Veda Hille on CROCHET SHEEP | Gary Panter on DINOSAUR BONES | Jami Attenberg on SELENITE CRYSTAL | Annie Nocenti on MINIATURE DICE | Wayne Curtis on CLOCK WINDING KEY | & 20 MORE.
POLITICAL OBJECTS: INTRODUCTION | Luc Sante on CAMPAIGN PAMPHLETS | Lydia Millet on PVC POLAR BEAR | Ben Greenman on MATCHBOX CAR | Rob Baedeker on PRESIDENTS PLACEMAT | L.A. Kauffman on WHEATPASTE POSTER | & 20 MORE.
SIGNIFICANT OBJECTS at HILOBROW: PROJECT:OBJECT homepage | PROJECT:OBJECT newsletter | PROJECT:OBJECT objects (Threadless shop — all profits donated to the ACLU) | POLITICAL OBJECTS series (1Q2017) | TALISMANIC OBJECTS series (2Q2017) | ILLICIT OBJECTS series (3Q2017) | LOST OBJECTS vol. 1 series (4Q2017) | FLAIR series (2Q2018) | FOSSIL series (4Q2018) | FETISHES series (2Q2019) | LOST OBJECTS vol. 2 series (4Q2019) | MOVIE OBJECTS series (2Q2020). ALSO SEE: SIGNIFICANT OBJECTS website | SIGNIFICANT OBJECTS collection, ed. Rob Walker and Josh Glenn (Fantagraphics, 2012) | TAKING THINGS SERIOUSLY, ed. Josh Glenn (Princeton Architectural Press, 2007) | TAKING THINGS SERIOUSLY excerpts.