FLAIR (15)
By: Jennifer Howze
June 14, 2018
The fifth PROJECT:OBJECT volume is a 25-part series of true stories about significant accoutrements, appurtenances, and regalia.
*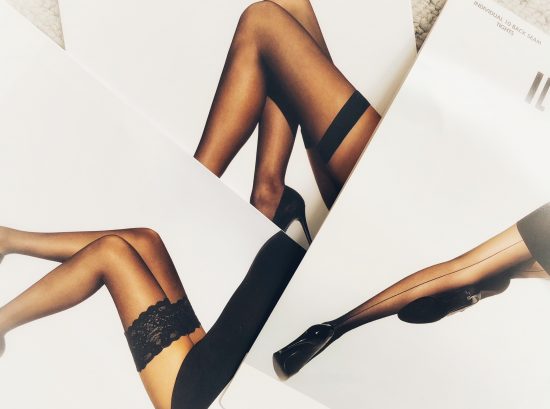 It was just after my husband told me he'd gambled away more than $100,000 that I became preoccupied with hold-up stockings. I was choosing an outfit for a work cocktail reception when I pulled out an old pair to wear. They were snagged and scruffy, with a musty smell. I was seized by an urgency to buy a new pair that would pull my outfit together, that would look and feel beautiful and expensive. I took two subways to get to a shop that carried the brand I liked.
The new pair was a rich black, semi-opaque, without that cheap shiny finish that made my thighs look like hot dogs. I put them on in the tiny elegant changing room and wore them out of the shop, like a child wearing her new sneakers out of the shoe store. The next week there was another dinner, this one requiring a sheerer pair. I travelled back to the shop, this time buying two, the bill edging close to $100. They made me feel sexy and independent, like I had been before marriage. Still, I tore up the receipt and hid the packaging in the recycling bin. I put my stockings on in the bathroom, where I couldn't be observed.
Over the following weeks, as my husband and I fought, negotiated with the bank, cancelled the magazine and gym subscriptions, I went back again and again. I emptied my pretty paisley hatbox of coarse pantyhose and cheap hold-ups whose elastic squeezed the soft flesh of my upper thigh, making it spill out like pastry blobbing over the top of a pie pan. I created a home for my new collection, each pair preserved in its individual cellophane bag. On their labels I wrote which shoes they should be worn with — the suede knee-highs, the mid-calf black boots, the patent red high-heeled Mary Janes. A shop clerk persuaded me, without much effort, to buy a special bag in which I could gently hand wash them. I bought a bottle of lavender-scented lingerie detergent, which I measured out in capfuls.
By the time the divorce papers were being drafted and I was packing the bedroom, the contents of the box represented an investment close to $1,000. Some of the packs, bought just in case I needed a slight shimmer or a sexy back seam, were still unopened. I had quit frequenting the shop by then. I still had the delicate washing bag and the special detergent. I had plenty to wear for every outfit. I wouldn't have to put them on discreetly in the new flat I would be sharing with my daughter. I am still a little bit in love with them — but starting to wonder if bare legs might work better this season.
*
FLAIR: INTRODUCTION | Cliff Kuang on ROLEX DATEJUST | Ethan Zuckerman on LAPTOP STICKERS | Ann Shoket on LEATHER JACKET | Kembrew McLeod on KEMBREW MERCH | Paola Antonelli on MERMAID TEARS | Kanishka Raja on HANDMADE JACKET | Lynn Peril on BASEBALL RING | Rob Horning on NOTE PAD | Alexandra Lange on BEAD NECKLACE | Stephanie Burt on D&D EARRINGS | Michael Bierut on FEDORA | Debbie Millman on CHARM | Abram Himelstein on LUCKY 7 RING | Deb Chachra on HANDWRAPS | Jennifer Howze on HOLD-UP STOCKINGS | Mark Frauenfelder on CLARK KENT GLASSES | Adam McGovern on PLASTIC ALLIGATOR SHOES | Nicola Twilley on GOLD BRACES | Anne Quito on MUSEUM EARRINGS | Kristin Parker on STEEL BRACELET | Hillary Chute on POCKET KNIFE | James Gaddy on RESTAURANT PEN | Davy Rothbart on SHOELACE BELT | David Hajdu on PINCE-NEZ | Bishakh Som on KNEE-HIGH BOOTS.
LOST OBJECTS (vol. 1): INTRODUCTION | Kate Bernheimer on MULLET WIG (ill. Amy Evans) | Dan Piepenbring on COLOGNE (ill. Josh Neufeld) | Doug Dorst on STRATOCASTER (ill. John Holbo) | Paul Lukas on VANILLA BEAN (ill. Allison Bamcat) | Mimi Lipson on DODGE DART (ill. Mister Reusch) | & 20 MORE.
ILLICIT OBJECTS: INTRODUCTION | Kio Stark on PEEPSHOW TOKEN | Sari Wilson on TOMBSTONE PARTS | Annalee Newitz on CAR-BOMB REMNANT | Tito Bottitta on MOONINITE DEVICE | Eric Bennett on DIRTY MAGAZINE | & 20 MORE.
TALISMANIC OBJECTS: INTRODUCTION | Veda Hille on CROCHET SHEEP | Gary Panter on DINOSAUR BONES | Jami Attenberg on SELENITE CRYSTAL | Annie Nocenti on MINIATURE DICE | Wayne Curtis on CLOCK WINDING KEY | & 20 MORE.
POLITICAL OBJECTS: INTRODUCTION | Luc Sante on CAMPAIGN PAMPHLETS | Lydia Millet on PVC POLAR BEAR | Ben Greenman on MATCHBOX CAR | Rob Baedeker on PRESIDENTS PLACEMAT | L.A. Kauffman on WHEATPASTE POSTER | & 20 MORE.
SIGNIFICANT OBJECTS at HILOBROW: PROJECT:OBJECT homepage | PROJECT:OBJECT newsletter | PROJECT:OBJECT objects (Threadless shop — all profits donated to the ACLU) | POLITICAL OBJECTS series (1Q2017) | TALISMANIC OBJECTS series (2Q2017) | ILLICIT OBJECTS series (3Q2017) | LOST OBJECTS vol. 1 series (4Q2017) | FLAIR series (2Q2018) | FOSSIL series (4Q2018) | FETISHES series (2Q2019) | LOST OBJECTS vol. 2 series (4Q2019) | MOVIE OBJECTS series (2Q2020). ALSO SEE: SIGNIFICANT OBJECTS website | SIGNIFICANT OBJECTS collection, ed. Rob Walker and Josh Glenn (Fantagraphics, 2012) | TAKING THINGS SERIOUSLY, ed. Josh Glenn (Princeton Architectural Press, 2007) | TAKING THINGS SERIOUSLY excerpts.