FLAIR (19)
By: Anne Quito
June 25, 2018
The fifth PROJECT:OBJECT volume is a 25-part series of true stories about significant accoutrements, appurtenances, and regalia.
*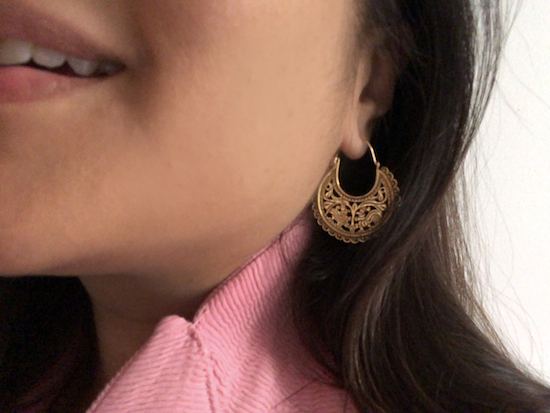 It all started with golden peacocks. Wandering around the Met Museum's gift shop some years ago, I was drawn to moon-shaped earrings adorned with the majestic birds. There was something about the explosion of detail compressed in a small disc and the delicate scallop flourish around the edges. But I was most intrigued by the idea that they're a replica of a pair from the Byzantine Empire.
Standing at the Met's jewelry counter, I imagined the earrings as a kind of heirloom from a fabulous ancient ancestor and the $60 price was a courier fee for the museum's time capsule. The fact that the peacock was considered a symbol of immortality — "a creature incapable of rot and decay" in Christian iconography — made it even more beguiling. The notion was intoxicating: to wear a relic from a bygone era and channel the spirit of its original wearer for the day. It was my own twist on costume jewelry.
This internal joke started my collection. After the gateway peacocks came a pair of delicate Cloisters mustard seed earrings; followed by saucy teardrops adapted from Peter Paul Rubens's Venus in Front of a Mirror. Soon after came dolphin-shaped Etruscan danglers; jiggly drop earrings from ancient Rome and my latest, a shoulder-grazing pair that look like tiny dessert forks from afar. At some point I decided that I would only buy earrings from the Met's gift shop — justifying the splurge for the fact that I never pay the full amount of its suggested entrance fee.
It's unusual for me to be drawn to such peacocky jewelry. Prior to the museum earrings, I mostly wore simple studs — usually a single pearl — which reminded me of the Philippines (once called the "Pearl of the Orient") where I grew up. Modesty was something hammered in us in Catholic school, and wearing such expressive, showy earrings outside of a formal event was considered an act of deviance only tolerated for actors, matrons or drag queens.
Gift shop earrings, each pair with a story to tell, remind me that I'm shaped by cultures and richer histories beyond that I was born into. Wearing whatever pair I want feels like a triumph against the expected and the ordinary.
*
FLAIR: INTRODUCTION | Cliff Kuang on ROLEX DATEJUST | Ethan Zuckerman on LAPTOP STICKERS | Ann Shoket on LEATHER JACKET | Kembrew McLeod on KEMBREW MERCH | Paola Antonelli on MERMAID TEARS | Kanishka Raja on HANDMADE JACKET | Lynn Peril on BASEBALL RING | Rob Horning on NOTE PAD | Alexandra Lange on BEAD NECKLACE | Stephanie Burt on D&D EARRINGS | Michael Bierut on FEDORA | Debbie Millman on CHARM | Abram Himelstein on LUCKY 7 RING | Deb Chachra on HANDWRAPS | Jennifer Howze on HOLD-UP STOCKINGS | Mark Frauenfelder on CLARK KENT GLASSES | Adam McGovern on PLASTIC ALLIGATOR SHOES | Nicola Twilley on GOLD BRACES | Anne Quito on MUSEUM EARRINGS | Kristin Parker on STEEL BRACELET | Hillary Chute on POCKET KNIFE | James Gaddy on RESTAURANT PEN | Davy Rothbart on SHOELACE BELT | David Hajdu on PINCE-NEZ | Bishakh Som on KNEE-HIGH BOOTS.
LOST OBJECTS (vol. 1): INTRODUCTION | Kate Bernheimer on MULLET WIG (ill. Amy Evans) | Dan Piepenbring on COLOGNE (ill. Josh Neufeld) | Doug Dorst on STRATOCASTER (ill. John Holbo) | Paul Lukas on VANILLA BEAN (ill. Allison Bamcat) | Mimi Lipson on DODGE DART (ill. Mister Reusch) | & 20 MORE.
ILLICIT OBJECTS: INTRODUCTION | Kio Stark on PEEPSHOW TOKEN | Sari Wilson on TOMBSTONE PARTS | Annalee Newitz on CAR-BOMB REMNANT | Tito Bottitta on MOONINITE DEVICE | Eric Bennett on DIRTY MAGAZINE | & 20 MORE.
TALISMANIC OBJECTS: INTRODUCTION | Veda Hille on CROCHET SHEEP | Gary Panter on DINOSAUR BONES | Jami Attenberg on SELENITE CRYSTAL | Annie Nocenti on MINIATURE DICE | Wayne Curtis on CLOCK WINDING KEY | & 20 MORE.
POLITICAL OBJECTS: INTRODUCTION | Luc Sante on CAMPAIGN PAMPHLETS | Lydia Millet on PVC POLAR BEAR | Ben Greenman on MATCHBOX CAR | Rob Baedeker on PRESIDENTS PLACEMAT | L.A. Kauffman on WHEATPASTE POSTER | & 20 MORE.
SIGNIFICANT OBJECTS at HILOBROW: PROJECT:OBJECT homepage | PROJECT:OBJECT newsletter | PROJECT:OBJECT objects (Threadless shop — all profits donated to the ACLU) | POLITICAL OBJECTS series (1Q2017) | TALISMANIC OBJECTS series (2Q2017) | ILLICIT OBJECTS series (3Q2017) | LOST OBJECTS vol. 1 series (4Q2017) | FLAIR series (2Q2018) | FOSSIL series (4Q2018) | FETISHES series (2Q2019) | LOST OBJECTS vol. 2 series (4Q2019) | MOVIE OBJECTS series (2Q2020). ALSO SEE: SIGNIFICANT OBJECTS website | SIGNIFICANT OBJECTS collection, ed. Rob Walker and Josh Glenn (Fantagraphics, 2012) | TAKING THINGS SERIOUSLY, ed. Josh Glenn (Princeton Architectural Press, 2007) | TAKING THINGS SERIOUSLY excerpts.