LOST OBJECTS (6)
By: Lucy Sante
October 12, 2017
One in a 25-part series of nonfiction stories about lost objects. We asked 25 writers to tell us about a significant object they'd lost (or thrown away, or destroyed), then assigned these stories to 25 illustrators. We're thrilled with the results. This is the fourth volume in the PROJECT:OBJECT series.
UPDATE: The Lost Objects book was published in September 2022 by Hat & Beard Press. Check it out!
*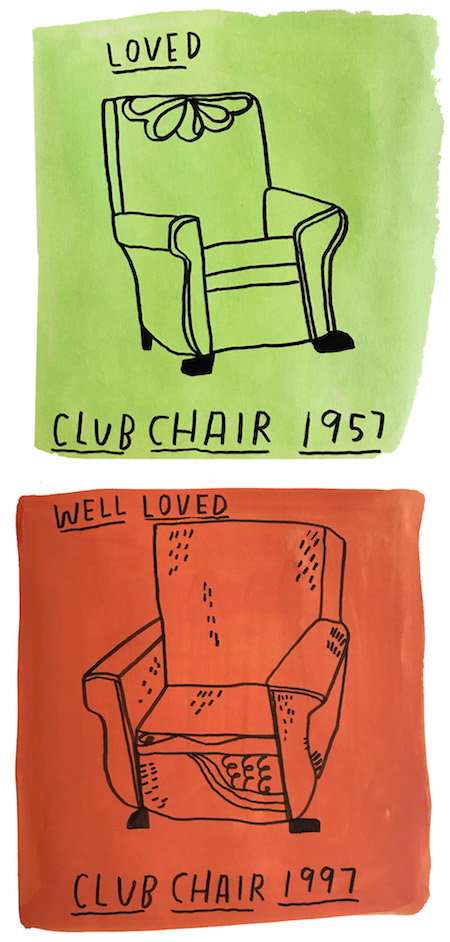 In 1957, my family was at the historical apex of its prosperity. My father had been hired as director of operations at an iron foundry — a sharp turn upward from the shoe store my parents had been running in a grim factory town. Suddenly we had a new house and even a new car — no one among our family or our neighbors had one then. And my father allowed himself the only true luxury I ever knew him to indulge in: he designed a leather club chair and had it built to his specifications. I think he may have had an inside contact at the manufacturers. Nevertheless, the act was so uncharacteristically self-indulgent I'm tempted to call it hubristic.
But that would be because I know the punchline. Within a year the foundry had closed, my father was out of a job, and there were no jobs to be had in our corner of southeastern Belgium, dependent on a centuries-old textile industry that had chosen that moment to die. So, in part because a childhood friend of my father had married a G.I. from New Jersey, we emigrated to the United States. We emigrated in style, bringing along nine wooden crates of china, crystal (much of it smashed in transit), tweeds, woollens, books — and the chair, which got its own crate. My father found a factory job, and we lived in a succession of apartments and eventually a small house. He wore his tweeds and my mother her white gloves for the first year or two, and then never again. The surviving china was brought out for Christmas and Easter, but supermarket china made do the rest of the time. But there was always the chair, in which my father watched TV and read Alphonse Daudet and ten thousand accounts of the war.
In 1987, when he retired, my parents decided to move back to Belgium. They gave me the chair. I was of course thrilled — it was the single one of their possessions I'd ever really coveted. So I hauled it off to my Lower East Side tenement, where it made the acquaintance of the first in a series of cats. It also encountered steam heat and people throwing themselves into it, as well as my habit of napping in it crosswise–more comfortably than you'd think. It made its way through five apartments in under a decade, progressively sagging, its leather and horsehair progressively mauled. And then there was nothing to do but to put it out on the sidewalk on trash night.
It felt like the ignominious burial of the house of Sante. The chair was my legacy — I didn't inherit much else of note — and it predeceased my parents. It once seemed as if would last forever, and I managed to kill it in ten years. It was as if I'd vaporized the family purse on lapdances and blow. In extremis, the chair became the McGuffin from a sub-Balzac novel of petit-bourgeois succession. Progress, however, assured that at least I didn't have to chop it up for firewood.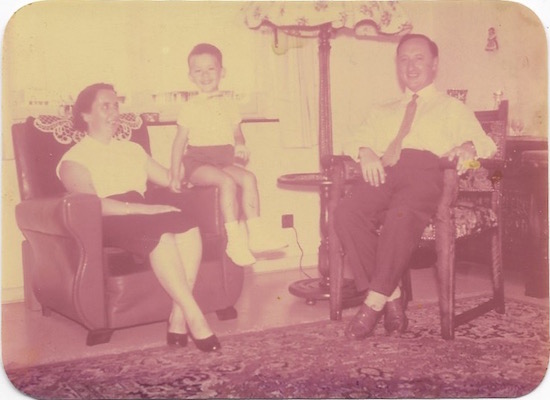 *
ABOUT THE AUTHOR: See sidebar.
ABOUT THE ARTIST: Kate Bingaman-Burt is an illustrator & educator living in Portland, OR.
LOST OBJECTS series: INTRODUCTION | Kate Bernheimer on MULLET WIG (ill. Amy Evans) | Dan Piepenbring on COLOGNE (ill. Josh Neufeld) | Doug Dorst on STRATOCASTER (ill. John Holbo) | Paul Lukas on VANILLA BEAN (ill. Allison Bamcat) | Mimi Lipson on DODGE DART (ill. Mister Reusch) | Luc Sante on CLUB CHAIR (ill. Kate Bingaman-Burt) | Nina Katchadourian on FOUNTAIN PENS (ill. Lisa Congdon) | Matthew Sharpe on BAUBLE (ill. Glenn Jones) | Claire Lehmann on PEANUT-BUTTER CRACKERS (ill. Karen Kurycki) | Jessamyn West on ENGINEER RING (ill. Amanda Clarke) | Mandy Keifetz on ORGONE ACCUMULATOR (ill. Emory Allen) | Molly Sauter on DESKTOP DOG (ill. Shayna Piascik) | Amy Thielen on DOG-FUR SCARF (ill. Heather Kasunick) | Stephen O'Connor on HUNTING HAT (ill. Oliver Munday) | Alice Boone on COLLEGE NEWSPAPERS (ill. Rick Pinchera) | Dante Ramos on ROAD ATLAS (ill. Joe Alterio) | Alex Balk on SHOOTING GALLERY (ill. John Lowe) | Chelsey Johnson on NOTEBOOK (ill. Rubi McGrory) | Susannah Breslin on SILICONE VAGINA (ill. Jennifer Heuer) | Seth Mnookin on .22 REVOLVER (ill. Alex Eben Meyer) | Dan Fox on CONKER (ill. Linzie Hunter) | Lisa Takeuchi Cullen on GLASS CLOCK (ill. Rose Wong) | Michael Tisserand on WALKING SHOES (ill. Jackie Roche) | Jeff Turrentine on BASEBALL MITT (ill. Andrew DeGraff) | Randy Kennedy on SNAKE RATTLES (ill. Max Temescu).
ILLICIT OBJECTS series: INTRODUCTION | Kio Stark on PEEPSHOW TOKEN | Sari Wilson on TOMBSTONE PARTS | Annalee Newitz on CAR-BOMB REMNANT | Tito Bottitta on MOONINITE DEVICE | Eric Bennett on DIRTY MAGAZINE | & 20 MORE.
TALISMANIC OBJECTS series: INTRODUCTION | Veda Hille on CROCHET SHEEP | Gary Panter on DINOSAUR BONES | Jami Attenberg on SELENITE CRYSTAL | Annie Nocenti on MINIATURE DICE | Wayne Curtis on CLOCK WINDING KEY | & 20 MORE.
POLITICAL OBJECTS series: INTRODUCTION | Luc Sante on CAMPAIGN PAMPHLETS | Lydia Millet on PVC POLAR BEAR | Ben Greenman on MATCHBOX CAR | Rob Baedeker on PRESIDENTS PLACEMAT | L.A. Kauffman on WHEATPASTE POSTER | & 20 MORE.
SIGNIFICANT OBJECTS at HILOBROW: PROJECT:OBJECT homepage | PROJECT:OBJECT newsletter | PROJECT:OBJECT objects (Threadless shop — all profits donated to the ACLU) | POLITICAL OBJECTS series (1Q2017) | TALISMANIC OBJECTS series (2Q2017) | ILLICIT OBJECTS series (3Q2017) | LOST OBJECTS vol. 1 series (4Q2017) | FLAIR series (2Q2018) | FOSSIL series (4Q2018). 12 DAYS OF SIGNIFICANCE | 12 MORE DAYS OF SIGNIFICANCE | 12 DAYS OF SIGNIFICANCE (AGAIN) | ANOTHER 12 DAYS OF SIGNIFICANCE . ALSO SEE: SIGNIFICANT OBJECTS website | SIGNIFICANT OBJECTS collection, ed. Rob Walker and Josh Glenn (Fantagraphics, 2012) | TAKING THINGS SERIOUSLY, ed. Josh Glenn (Princeton Architectural Press, 2007) | TAKING THINGS SERIOUSLY excerpts.