LOST OBJECTS (9)
By: Claire Lehmann
October 26, 2017
One in a 25-part series of nonfiction stories about lost objects. We asked 25 writers to tell us about a significant object they'd lost (or thrown away, or destroyed), then assigned these stories to 25 illustrators. We're thrilled with the results. This is the fourth volume in the PROJECT:OBJECT series. Please subscribe to the P:O newsletter; and purchase P:O apparel and accessories — all profits will be donated to the ACLU!
*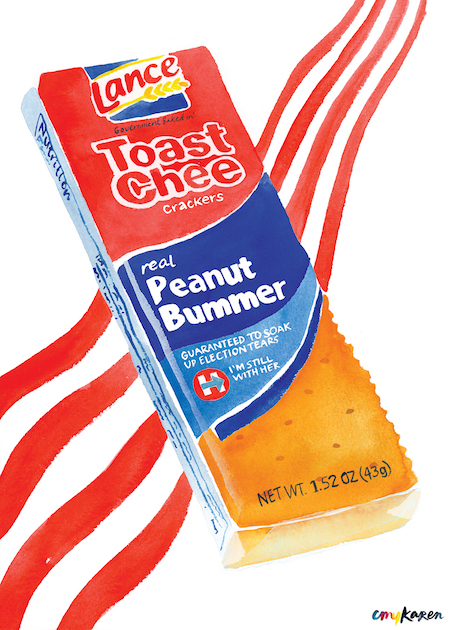 On Election Day 2016 I wandered around the streets of outer Philadelphia, knocking on people's front doors in the early afternoon to urge them to vote (Democratic). We had been dispatched from the campaign HQ, where giant urns of coffee, platters of red-white-and-blue donuts, and copious packaged snacks were available along with our neatly clipboarded packets of voter information; in a distinct technological shift from 2008, when I'd last gotten out the vote in Philly, Uber credits were deposited on our phones to facilitate our journeys to the relevant target neighborhoods. (In the aughts, a rotund Midwestern volunteer with a bowl cut, a minivan, and a Garmon GPS had ferried the doorknockers to and fro.)
The mission did not go well; no one was home, save for a couple of retirees and one harried mother, who cursed at her daughter for opening the door for me. My canvassing partner and I finished our assigned routes, found a sub shop, and ate cheesesteaks in the grass outside a primary school up the hill.
We called a car to head back to HQ, and as we got in, our driver asked us if we had just voted. Briefly taken aback, we realized that the school on whose lawn we had picnicked was the local polling place. Moreover, we had on our hands a genuinely undecided voter. He had no idea we were campaign volunteers; he just wanted to debate the issues. The one that consumed him above all was welfare: His younger siblings in their twenties, he claimed, were recipients, because they "didn't like to work"; he knew a woman who sold her monthly EBT card on the corner for $800 cash. It infuriated him. He believed the Republican nominee to be unstable, dangerous, a lying fraud, but he felt certain that they were in perfect agreement on welfare.
Six weeks after Election Day I found a leftover packet of peanut-butter crackers in the bottom of my purse, a snack that I'd taken from the mound of free refreshments at the Democratic office. They were Toast-Chee brand: A maker of snack crackers famous for engineering the odd combination of a peanut-butter filling inside cheese-flavored crackers. It brought to mind the fact that before EBT cards, the US government used to distribute surplus food to the needy at ration centers; among the more storied of these products were "government cheese" and "welfare peanut butter," the former a processed block of mixed cheese curds and emulsifiers packaged in unmarked gold foil, the latter a siccative spread that apparently had to be pried from the jar in craggy hunks. Furnished to me by a party that had become synonymous with government handouts, the Toast-Chee crackers seemed to me the nonpareil symbol of all that had gone wrong in the election. Unthinkingly, I ate the entire packet. The taste of loss was not bitter but dry; it stuck in the throat.
*
ABOUT THE AUTHOR: See sidebar.
ABOUT THE ARTIST: Karen Kurycki is a designer/illustrator in Jacksonville, FL. She is best known for her vibrant watercolor and hand lettering and loves combining illustration with design in her commercial work. She loves dips.
LOST OBJECTS series: INTRODUCTION | Kate Bernheimer on MULLET WIG (ill. Amy Evans) | Dan Piepenbring on COLOGNE (ill. Josh Neufeld) | Doug Dorst on STRATOCASTER (ill. John Holbo) | Paul Lukas on VANILLA BEAN (ill. Alison Bamcat) | Mimi Lipson on DODGE DART (ill. Mister Reusch) | Luc Sante on CLUB CHAIR (ill. Kate Bingaman-Burt) | Nina Katchadourian on FOUNTAIN PENS (ill. Lisa Congdon) | Matthew Sharpe on BAUBLE (ill. Glenn Jones) | Claire Lehmann on PEANUT-BUTTER CRACKERS (ill. Karen Kurycki) | Jessamyn West on ENGINEER RING (ill. Amanda Clarke) | Mandy Keifetz on ORGONE ACCUMULATOR (ill. Emory Allen) | Molly Sauter on DESKTOP DOG (ill. Shayna Piascik) | Amy Thielen on DOG-FUR SCARF (ill. Heather Kasunick) | Stephen O'Connor on HUNTING HAT (ill. Oliver Munday) | Alice Boone on COLLEGE NEWSPAPERS (ill. Rick Pinchera) | Dante Ramos on ROAD ATLAS (ill. Joe Alterio) | Alex Balk on SHOOTING GALLERY (ill. John Lowe) | Chelsey Johnson on NOTEBOOK (ill. Rubi McGrory) | Susannah Breslin on SILICONE VAGINA (ill. Jennifer Heuer) | Seth Mnookin on .22 REVOLVER (ill. Alex Eben Meyer) | Dan Fox on CONKER (ill. Linzie Hunter) | Lisa Takeuchi Cullen on GLASS CLOCK (ill. Rose Wong) | Michael Tisserand on WALKING SHOES (ill. Jackie Roche) | Jeff Turrentine on BASEBALL MITT (ill. Andrew DeGraff) | Randy Kennedy on SNAKE RATTLES (ill. Max Temescu).
ILLICIT OBJECTS series: INTRODUCTION | Kio Stark on PEEPSHOW TOKEN | Sari Wilson on TOMBSTONE PARTS | Annalee Newitz on CAR-BOMB REMNANT | Tito Bottitta on MOONINITE DEVICE | Eric Bennett on DIRTY MAGAZINE | & 20 MORE.
TALISMANIC OBJECTS series: INTRODUCTION | Veda Hille on CROCHET SHEEP | Gary Panter on DINOSAUR BONES | Jami Attenberg on SELENITE CRYSTAL | Annie Nocenti on MINIATURE DICE | Wayne Curtis on CLOCK WINDING KEY | & 20 MORE.
POLITICAL OBJECTS series: INTRODUCTION | Luc Sante on CAMPAIGN PAMPHLETS | Lydia Millet on PVC POLAR BEAR | Ben Greenman on MATCHBOX CAR | Rob Baedeker on PRESIDENTS PLACEMAT | L.A. Kauffman on WHEATPASTE POSTER | & 20 MORE.
SIGNIFICANT OBJECTS at HILOBROW: PROJECT:OBJECT homepage | PROJECT:OBJECT newsletter | PROJECT:OBJECT objects (Threadless shop — all profits donated to the ACLU) | POLITICAL OBJECTS series (1Q2017) | TALISMANIC OBJECTS series (2Q2017) | ILLICIT OBJECTS series (3Q2017) | LOST OBJECTS vol. 1 series (4Q2017) | FLAIR series (2Q2018) | FOSSIL series (4Q2018). 12 DAYS OF SIGNIFICANCE | 12 MORE DAYS OF SIGNIFICANCE | 12 DAYS OF SIGNIFICANCE (AGAIN) | ANOTHER 12 DAYS OF SIGNIFICANCE . ALSO SEE: SIGNIFICANT OBJECTS website | SIGNIFICANT OBJECTS collection, ed. Rob Walker and Josh Glenn (Fantagraphics, 2012) | TAKING THINGS SERIOUSLY, ed. Josh Glenn (Princeton Architectural Press, 2007) | TAKING THINGS SERIOUSLY excerpts.