LOST OBJECTS (7)
By: Nina Katchadourian
October 16, 2017
One in a 25-part series of nonfiction stories about lost objects. We asked 25 writers to tell us about a significant object they'd lost (or thrown away, or destroyed), then assigned these stories to 25 illustrators. We're thrilled with the results. This is the fourth volume in the PROJECT:OBJECT series.
UPDATE: The Lost Objects book was published in September 2022 by Hat & Beard Press. Check it out!
*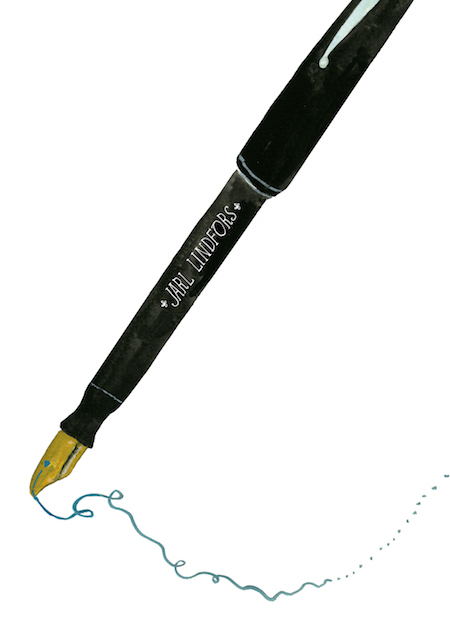 Two pens, one inherited from my grandfather and one purchased at a junk store in San Francisco, were the bedrock of my journal writing ritual for about fifteen years. They were both fountain pens, but not valuable or fancy.
According to the assessment of a fountain pen expert who once had a look at them, my grandfather's pen was a Waterman Junior, an inexpensive "popular student model from the mid-1930s." It was a stubby little workhorse that was always on his desk and which I therefore believe served him well. My grandfather's name, Jarl Lindfors, was engraved on its side. It had a fat, soft, hardy nib that could accommodate my heavy press, unloading broad, inky lines onto the journal page. The other pen was a Sheaffer, and I spent about $50 on it in high school — a major present to self at the time. With a finer line, I wrote my first love letters. Because I had gotten the Sheaffer for myself, it stood for self-determination: not a line on a page that I was continuing forward, from someone else's pen, but one that originated with me.
The pens traveled with me every summer from California to Finland, where my family spent summers and where I did a lot of journal writing. You only take a full fountain pen on a plane once before you learn never to do that again, so my last task on the eve of travel was to flush out the pens and leave them to dry on a paper towel. One very early morning of a return trip, I forgot to pack them. Luckily, my father was traveling back later and could bring them with him. Unluckily, they were never seen again. I had wrapped them in bubble wrap; perhaps the small bundle with its light contents just looked like packing material, and was absent-mindedly thrown away after he arrived? Or perhaps they fell out of his bag en route? Or perhaps they were still in his bag?
I could certainly not express the agony of this loss to him (he already felt terrible about it). He was a fountain pen guy himself. He offered to get me new pens, even nicer pens ("You can have my Mont Blanc!") but that wasn't the point. It was a long, quiet, suppressed period of mourning. Years later, I went online and found another Waterman Junior, for $15. I took it to Fountain Pen Hospital in New York for a new ink bladder and nib. I had them engrave it, too, with "The Jarl Lindfors Memorial Pen Pen," making sure they understood there was no typo involved.
When you die, you are shown into a room where you get to see — but not recover — all the lost objects of your life. The only purpose is to have the final satisfaction of knowing what happened to them. You can scratch that nagging itch you have had your whole life. A loop closes. After that, you can then really die and disappear into being a lost object yourself.
*
ABOUT THE AUTHOR: See sidebar.
ABOUT THE ARTIST: Lisa Congdon works for clients around the world including the MoMA, Harvard University, and Chronicle Books, among many others. She is the author of seven books, including Art Inc: The Essential Guide to Building Your Career as an Artist, and illustrated books The Joy of Swimming; Fortune Favors the Brave; Whatever You Are, Be a Good One; and A Glorious Freedom: Older Women Leading Extraordinary Lives. She lives and works in Portland, Oregon.
LOST OBJECTS series: INTRODUCTION | Kate Bernheimer on MULLET WIG (ill. Amy Evans) | Dan Piepenbring on COLOGNE (ill. Josh Neufeld) | Doug Dorst on STRATOCASTER (ill. John Holbo) | Paul Lukas on VANILLA BEAN (ill. Allison Bamcat) | Mimi Lipson on DODGE DART (ill. Mister Reusch) | Luc Sante on CLUB CHAIR (ill. Kate Bingaman-Burt) | Nina Katchadourian on FOUNTAIN PENS (ill. Lisa Congdon) | Matthew Sharpe on BAUBLE (ill. Glenn Jones) | Claire Lehmann on PEANUT-BUTTER CRACKERS (ill. Karen Kurycki) | Jessamyn West on ENGINEER RING (ill. Amanda Clarke) | Mandy Keifetz on ORGONE ACCUMULATOR (ill. Emory Allen) | Molly Sauter on DESKTOP DOG (ill. Shayna Piascik) | Amy Thielen on DOG-FUR SCARF (ill. Heather Kasunick) | Stephen O'Connor on HUNTING HAT (ill. Oliver Munday) | Alice Boone on COLLEGE NEWSPAPERS (ill. Rick Pinchera) | Dante Ramos on ROAD ATLAS (ill. Joe Alterio) | Alex Balk on SHOOTING GALLERY (ill. John Lowe) | Chelsey Johnson on NOTEBOOK (ill. Rubi McGrory) | Susannah Breslin on SILICONE VAGINA (ill. Jennifer Heuer) | Seth Mnookin on .22 REVOLVER (ill. Alex Eben Meyer) | Dan Fox on CONKER (ill. Linzie Hunter) | Lisa Takeuchi Cullen on GLASS CLOCK (ill. Rose Wong) | Michael Tisserand on WALKING SHOES (ill. Jackie Roche) | Jeff Turrentine on BASEBALL MITT (ill. Andrew DeGraff) | Randy Kennedy on SNAKE RATTLES (ill. Max Temescu).
ILLICIT OBJECTS series: INTRODUCTION | Kio Stark on PEEPSHOW TOKEN | Sari Wilson on TOMBSTONE PARTS | Annalee Newitz on CAR-BOMB REMNANT | Tito Bottitta on MOONINITE DEVICE | Eric Bennett on DIRTY MAGAZINE | & 20 MORE.
TALISMANIC OBJECTS series: INTRODUCTION | Veda Hille on CROCHET SHEEP | Gary Panter on DINOSAUR BONES | Jami Attenberg on SELENITE CRYSTAL | Annie Nocenti on MINIATURE DICE | Wayne Curtis on CLOCK WINDING KEY | & 20 MORE.
POLITICAL OBJECTS series: INTRODUCTION | Luc Sante on CAMPAIGN PAMPHLETS | Lydia Millet on PVC POLAR BEAR | Ben Greenman on MATCHBOX CAR | Rob Baedeker on PRESIDENTS PLACEMAT | L.A. Kauffman on WHEATPASTE POSTER | & 20 MORE.
SIGNIFICANT OBJECTS at HILOBROW: PROJECT:OBJECT homepage | PROJECT:OBJECT newsletter | PROJECT:OBJECT objects (Threadless shop — all profits donated to the ACLU) | POLITICAL OBJECTS series (1Q2017) | TALISMANIC OBJECTS series (2Q2017) | ILLICIT OBJECTS series (3Q2017) | LOST OBJECTS vol. 1 series (4Q2017) | FLAIR series (2Q2018) | FOSSIL series (4Q2018). 12 DAYS OF SIGNIFICANCE | 12 MORE DAYS OF SIGNIFICANCE | 12 DAYS OF SIGNIFICANCE (AGAIN) | ANOTHER 12 DAYS OF SIGNIFICANCE . ALSO SEE: SIGNIFICANT OBJECTS website | SIGNIFICANT OBJECTS collection, ed. Rob Walker and Josh Glenn (Fantagraphics, 2012) | TAKING THINGS SERIOUSLY, ed. Josh Glenn (Princeton Architectural Press, 2007) | TAKING THINGS SERIOUSLY excerpts.