LOST OBJECTS (10)
By: Jessamyn West
November 1, 2017
One in a 25-part series of nonfiction stories about lost objects. We asked 25 writers to tell us about a significant object they'd lost (or thrown away, or destroyed), then assigned these stories to 25 illustrators. We're thrilled with the results. This is the fourth volume in the PROJECT:OBJECT series.
UPDATE: The Lost Objects book was published in September 2022 by Hat & Beard Press. Check it out!
*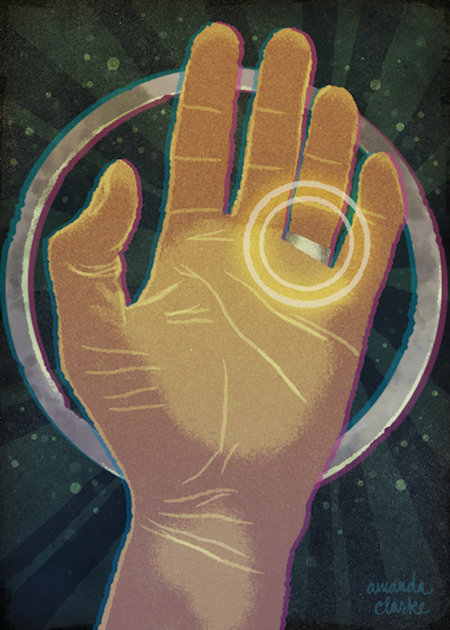 My father was an engineer. When I was little I thought he drove a train, a misconception helped along by the striped cap he wore when he'd work in the basement and the fact that he never denied it. As I got older I learned that he did things with computers and when I got still older I became someone who did things with computers too. I am not, however, an engineer. My dad got his undergraduate degree in astrophysics, whatever that meant in the early '60s. I have a Masters in Librarianship, an MLib., a degree you can't get anymore. He built mainframe computers more or less from scratch. I help people learn the systems that people like him build.
Our conversations about technology were always interesting. He wanted to know where the electrons went and I wanted to know what the interface looked like. We'd muddle through explaining to the other person why the part they cared about wasn't as important as the part we cared about.
He became briefly well-known outside of technology circles when an award-winning book was written about a computer project he led. He was invited to give speeches all over the world. He gave — I believe, my memory gets cloudy at this point — a commencement speech at an engineering school. As a token of their appreciation they gave him a stainless steel ring. He gave the ring to me. This ring was, so he told me, created from a bridge that had fallen down. Engineers wore these rings to prompt them to be mindful of the human costs of poor planning and design. I now know about the story of the Iron Ring and The Order of the Engineer and how the detail of the fallen bridge is allegorical and not literal.
​I wore that ring as my only hand adornment for years. A ring that was designed to fit on his pinky just fit on my ring finger. I enjoyed the metaphor of me, the unmarried woman in tech​, somehow wedded to the idea of engineering. I used it as a reminder to be mindful, not knowing that the metal in it was only allegorically the result of flawed design; and not knowing if my father had known either, and never being quite sure where it came from.
One day I took it off and put it in a pocket and never could find it again. My father died over five years ago. I've replaced the ring with a state quarter of Vermont, hammered out into a circle, the words FREEDOM & UNITY nestled just below my knuckle. I still talk about my old steel ring, but now it's a fully qualified tale about my father and the mostly-true-sometimes-false way he used to talk about everything. And that story is almost better when it's inspired by something that is no longer there.
*
ABOUT THE AUTHOR: See sidebar.
ABOUT THE ARTIST: Amanda Clarke is an accomplished designer and illustrator with over ten years of experience in mobile media, animation, web and print. A fan of both the cute and creepy, she likes iced coffee, rock 'n roll and French Bulldogs. See more of her work here.
LOST OBJECTS series: INTRODUCTION | Kate Bernheimer on MULLET WIG (ill. Amy Evans) | Dan Piepenbring on COLOGNE (ill. Josh Neufeld) | Doug Dorst on STRATOCASTER (ill. John Holbo) | Paul Lukas on VANILLA BEAN (ill. Allison Bamcat) | Mimi Lipson on DODGE DART (ill. Mister Reusch) | Luc Sante on CLUB CHAIR (ill. Kate Bingaman-Burt) | Nina Katchadourian on FOUNTAIN PENS (ill. Lisa Congdon) | Matthew Sharpe on BAUBLE (ill. Glenn Jones) | Claire Lehmann on PEANUT-BUTTER CRACKERS (ill. Karen Kurycki) | Jessamyn West on ENGINEER RING (ill. Amanda Clarke) | Mandy Keifetz on ORGONE ACCUMULATOR (ill. Emory Allen) | Molly Sauter on DESKTOP DOG (ill. Shayna Piascik) | Amy Thielen on DOG-FUR SCARF (ill. Heather Kasunick) | Stephen O'Connor on HUNTING HAT (ill. Oliver Munday) | Alice Boone on COLLEGE NEWSPAPERS (ill. Rick Pinchera) | Dante Ramos on ROAD ATLAS (ill. Joe Alterio) | Alex Balk on SHOOTING GALLERY (ill. John Lowe) | Chelsey Johnson on NOTEBOOK (ill. Rubi McGrory) | Susannah Breslin on SILICONE VAGINA (ill. Jennifer Heuer) | Seth Mnookin on .22 REVOLVER (ill. Alex Eben Meyer) | Dan Fox on CONKER (ill. Linzie Hunter) | Lisa Takeuchi Cullen on GLASS CLOCK (ill. Rose Wong) | Michael Tisserand on WALKING SHOES (ill. Jackie Roche) | Jeff Turrentine on BASEBALL MITT (ill. Andrew DeGraff) | Randy Kennedy on SNAKE RATTLES (ill. Max Temescu).
ILLICIT OBJECTS series: INTRODUCTION | Kio Stark on PEEPSHOW TOKEN | Sari Wilson on TOMBSTONE PARTS | Annalee Newitz on CAR-BOMB REMNANT | Tito Bottitta on MOONINITE DEVICE | Eric Bennett on DIRTY MAGAZINE | & 20 MORE.
TALISMANIC OBJECTS series: INTRODUCTION | Veda Hille on CROCHET SHEEP | Gary Panter on DINOSAUR BONES | Jami Attenberg on SELENITE CRYSTAL | Annie Nocenti on MINIATURE DICE | Wayne Curtis on CLOCK WINDING KEY | & 20 MORE.
POLITICAL OBJECTS series: INTRODUCTION | Luc Sante on CAMPAIGN PAMPHLETS | Lydia Millet on PVC POLAR BEAR | Ben Greenman on MATCHBOX CAR | Rob Baedeker on PRESIDENTS PLACEMAT | L.A. Kauffman on WHEATPASTE POSTER | & 20 MORE.
SIGNIFICANT OBJECTS at HILOBROW: PROJECT:OBJECT homepage | PROJECT:OBJECT newsletter | PROJECT:OBJECT objects (Threadless shop — all profits donated to the ACLU) | POLITICAL OBJECTS series (1Q2017) | TALISMANIC OBJECTS series (2Q2017) | ILLICIT OBJECTS series (3Q2017) | LOST OBJECTS vol. 1 series (4Q2017) | FLAIR series (2Q2018) | FOSSIL series (4Q2018). 12 DAYS OF SIGNIFICANCE | 12 MORE DAYS OF SIGNIFICANCE | 12 DAYS OF SIGNIFICANCE (AGAIN) | ANOTHER 12 DAYS OF SIGNIFICANCE . ALSO SEE: SIGNIFICANT OBJECTS website | SIGNIFICANT OBJECTS collection, ed. Rob Walker and Josh Glenn (Fantagraphics, 2012) | TAKING THINGS SERIOUSLY, ed. Josh Glenn (Princeton Architectural Press, 2007) | TAKING THINGS SERIOUSLY excerpts.