LOST OBJECTS (19)
By: Susannah Breslin
December 5, 2017
One in a 25-part series of nonfiction stories about lost objects. We asked 25 writers to tell us about a significant object they'd lost (or thrown away, or destroyed), then assigned these stories to 25 illustrators. We're thrilled with the results. This is the fourth volume in the PROJECT:OBJECT series.
UPDATE: The Lost Objects book was published in September 2022 by Hat & Beard Press. Check it out!
*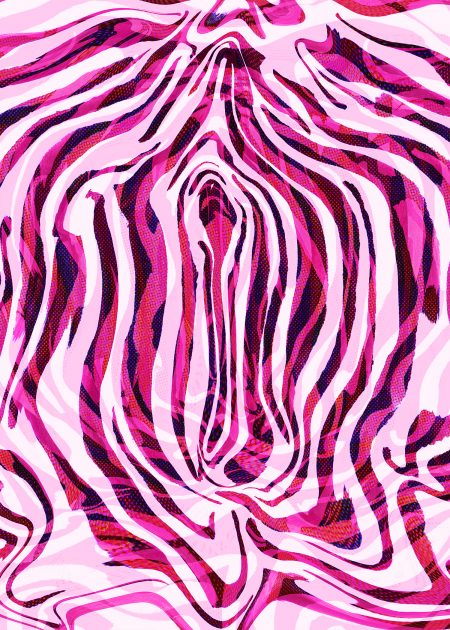 I don't quite remember exactly when I acquired it, but let's say it was 1998. That was the same year I moved to Los Angeles because I wanted to write about the porn industry. I was born and raised in Berkeley, the second daughter of two English professors, but the moment I stepped on a porn set in late 1997, I knew I was hooked. It was everything my life up to that point wasn't. Porn wasn't about ideas and books. It was about bodies and orgies on fire trucks. My father had died of a heart attack in 1996. Porn was spectacular and a spectacular distraction.
One night, I got invited to a strip club in the Valley. A famous porn star was dancing there that evening. Her name was Nikki Tyler. She was blonde and buxom and bold, and I recall sitting next to the edge of the stage upon which she was writhing, naked and shining, and she looked like something I'd never seen. She appeared to be untamable. I didn't want to get on the stage, but a part of me wanted to be her. She was everything I longed to be: powerful, and in control, and the center of everyone's attention.
At the end of her dance, Nikki handed me a box that contained a rubber mold of her vagina. In the porn business, a famous actress will get a mold of her vagina made, and the fake vagina is sold to her fans. In this way, the consumer can feel like he's close to the porn star he loves, like he can be intimate with her, even though he knows that he really isn't.
I took the rubber vagina home. For a while, I kept it on a shelf in my living room. I was writing a lot about porn, and there was porn everywhere — because it was VHS tapes back then, and the porn companies kept sending me free boxes of them — so this seemed kind of normal. But one day, the cable guy showed up, and I forgot to put away the fake vagina, and it was awkward. So I put the vagina in a cupboard in the hall. Over time, I forgot it was there. Every so often, I would open the cupboard, looking for something, and there it would be. It had been sitting in the dark, waiting for me to find it.
In 2003, I got my heart broken, and I decided to leave LA. That's when I lost the rubber vagina. I think I put it in a big black garbage bag, and I seem to recall the thud it made as it landed at the bottom of the bag on the floor, and I believe it went out with the trash. But I'm not sure. Maybe it ended up in a landfill. Or maybe someone found it and loves it. Sometimes, I miss it. I hope that one day I'll open a cabinet, and there it will be, waiting for me again.
*
ABOUT THE AUTHOR: See sidebar.
ABOUT THE ARTIST: Jen Heuer is a graphic designer and illustrator working out of the Pencil Factory in Brooklyn NY. She's a visiting professor in Pratt Institute's ComD department, where she was also a graduate. See more of her work at jenniferheuer.com.
LOST OBJECTS series: INTRODUCTION | Kate Bernheimer on MULLET WIG (ill. Amy Evans) | Dan Piepenbring on COLOGNE (ill. Josh Neufeld) | Doug Dorst on STRATOCASTER (ill. John Holbo) | Paul Lukas on VANILLA BEAN (ill. Allison Bamcat) | Mimi Lipson on DODGE DART (ill. Mister Reusch) | Luc Sante on CLUB CHAIR (ill. Kate Bingaman-Burt) | Nina Katchadourian on FOUNTAIN PENS (ill. Lisa Congdon) | Matthew Sharpe on BAUBLE (ill. Glenn Jones) | Claire Lehmann on PEANUT-BUTTER CRACKERS (ill. Karen Kurycki) | Jessamyn West on ENGINEER RING (ill. Amanda Clarke) | Mandy Keifetz on ORGONE ACCUMULATOR (ill. Emory Allen) | Molly Sauter on DESKTOP DOG (ill. Shayna Piascik) | Amy Thielen on DOG-FUR SCARF (ill. Heather Kasunick) | Stephen O'Connor on HUNTING HAT (ill. Oliver Munday) | Alice Boone on COLLEGE NEWSPAPERS (ill. Rick Pinchera) | Dante Ramos on ROAD ATLAS (ill. Joe Alterio) | Alex Balk on SHOOTING GALLERY (ill. John Lowe) | Chelsey Johnson on NOTEBOOK (ill. Rubi McGrory) | Susannah Breslin on SILICONE VAGINA (ill. Jennifer Heuer) | Seth Mnookin on .22 REVOLVER (ill. Alex Eben Meyer) | Dan Fox on CONKER (ill. Linzie Hunter) | Lisa Takeuchi Cullen on GLASS CLOCK (ill. Rose Wong) | Michael Tisserand on WALKING SHOES (ill. Jackie Roche) | Jeff Turrentine on BASEBALL MITT (ill. Andrew DeGraff) | Randy Kennedy on SNAKE RATTLES (ill. Max Temescu).
ILLICIT OBJECTS series: INTRODUCTION | Kio Stark on PEEPSHOW TOKEN | Sari Wilson on TOMBSTONE PARTS | Annalee Newitz on CAR-BOMB REMNANT | Tito Bottitta on MOONINITE DEVICE | Eric Bennett on DIRTY MAGAZINE | & 20 MORE.
TALISMANIC OBJECTS series: INTRODUCTION | Veda Hille on CROCHET SHEEP | Gary Panter on DINOSAUR BONES | Jami Attenberg on SELENITE CRYSTAL | Annie Nocenti on MINIATURE DICE | Wayne Curtis on CLOCK WINDING KEY | & 20 MORE.
POLITICAL OBJECTS series: INTRODUCTION | Luc Sante on CAMPAIGN PAMPHLETS | Lydia Millet on PVC POLAR BEAR | Ben Greenman on MATCHBOX CAR | Rob Baedeker on PRESIDENTS PLACEMAT | L.A. Kauffman on WHEATPASTE POSTER | & 20 MORE.
SIGNIFICANT OBJECTS at HILOBROW: PROJECT:OBJECT homepage | PROJECT:OBJECT newsletter | PROJECT:OBJECT objects (Threadless shop — all profits donated to the ACLU) | POLITICAL OBJECTS series (1Q2017) | TALISMANIC OBJECTS series (2Q2017) | ILLICIT OBJECTS series (3Q2017) | LOST OBJECTS vol. 1 series (4Q2017) | FLAIR series (2Q2018) | FOSSIL series (4Q2018). 12 DAYS OF SIGNIFICANCE | 12 MORE DAYS OF SIGNIFICANCE | 12 DAYS OF SIGNIFICANCE (AGAIN) | ANOTHER 12 DAYS OF SIGNIFICANCE . ALSO SEE: SIGNIFICANT OBJECTS website | SIGNIFICANT OBJECTS collection, ed. Rob Walker and Josh Glenn (Fantagraphics, 2012) | TAKING THINGS SERIOUSLY, ed. Josh Glenn (Princeton Architectural Press, 2007) | TAKING THINGS SERIOUSLY excerpts.