LOST OBJECTS (23)
By: Michael Tisserand
December 17, 2017
One in a 25-part series of nonfiction stories about lost objects. We asked 25 writers to tell us about a significant object they'd lost (or thrown away, or destroyed), then assigned these stories to 25 illustrators. We're thrilled with the results. This is the fourth volume in the PROJECT:OBJECT series.
UPDATE: The Lost Objects book was published in September 2022 by Hat & Beard Press. Check it out!
*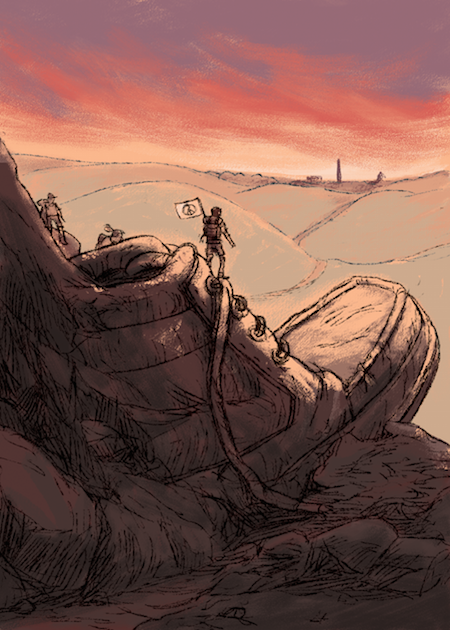 In 1986, I walked across the country. Sometime the following year, I threw away my shoes.
They were scuffed brown leather Rockports, with soles that had grown cardboard-thin. Although I'd also gone through a couple Converse high tops on that nine-month, 3,300-mile trek, it had been this single pair of shoes that carried me on the longest days out of Los Angeles through the Mojave desert, across Colorado mountains and Nebraska farm fields, and ultimately into Washington, D.C.
We were a Ronald Reagan-era anti-nuke demonstration called The Great Peace March. Don't worry if you never heard of us: We were more modest than Live Aid and Hands Across America. About eight hundred of us made it from West to East, staying on our feet and talking about arms control.
It is sometimes hard to imagine now those days before cell phones: Walking fifteen or twenty miles a day on access roads, flashing peace signs at cars, talking with friends, out in the sun and rain, step after step. Personally, if my life has ever had a crossroads, it was on that march. By then a 23-year-old dropout of two colleges, I decided somewhere along the road that I was going to start completing things, and I started to think I might want to be a writer.
When the march ended, I moved to Minneapolis and enrolled in the University of Minnesota. I was taking classes there and jobbing around the Twin Cities when, one day, I decided to clean my two-room apartment. Without much thought, I added the Rockports to the trash and took it all out to a dumpster.
I still am not sure what came over me. Perhaps I was seized with the faulty notion that making headway means the removal of ballast. I do remember that I was clearing out some space for a friend who was to stay with me until she found her own apartment. Whatever the feeling, it lasted for about two days. I soon missed just how those thin soles evoked the miles that had worn them down. I went out to retrieve the shoes from the dumpster. It was too late.
This past summer, we had a thirty-year reunion of The Great Peace March. Marchers — and more recently their kids — have become dear friends. It was like old times. We played ping pong and sang about nuclear stockpiles. We walked a few miles to a rally in Iowa City. There was no shortage of memories.
Also, the friend who moved into my apartment never moved out; we got married.
But I still miss my shoes.
*
ABOUT THE AUTHOR: See sidebar.
ABOUT THE ARTIST: Jackie Roche makes illustrations and nonfiction comics for places like Harvard Library's annual Fair Use Week, The Nib, and anthologies including Sweaty Palms and Colonial Comics: New England, 1750–1775.
LOST OBJECTS series: INTRODUCTION | Kate Bernheimer on MULLET WIG (ill. Amy Evans) | Dan Piepenbring on COLOGNE (ill. Josh Neufeld) | Doug Dorst on STRATOCASTER (ill. John Holbo) | Paul Lukas on VANILLA BEAN (ill. Allison Bamcat) | Mimi Lipson on DODGE DART (ill. Mister Reusch) | Luc Sante on CLUB CHAIR (ill. Kate Bingaman-Burt) | Nina Katchadourian on FOUNTAIN PENS (ill. Lisa Congdon) | Matthew Sharpe on BAUBLE (ill. Glenn Jones) | Claire Lehmann on PEANUT-BUTTER CRACKERS (ill. Karen Kurycki) | Jessamyn West on ENGINEER RING (ill. Amanda Clarke) | Mandy Keifetz on ORGONE ACCUMULATOR (ill. Emory Allen) | Molly Sauter on DESKTOP DOG (ill. Shayna Piascik) | Amy Thielen on DOG-FUR SCARF (ill. Heather Kasunick) | Stephen O'Connor on HUNTING HAT (ill. Oliver Munday) | Alice Boone on COLLEGE NEWSPAPERS (ill. Rick Pinchera) | Dante Ramos on ROAD ATLAS (ill. Joe Alterio) | Alex Balk on SHOOTING GALLERY (ill. John Lowe) | Chelsey Johnson on NOTEBOOK (ill. Rubi McGrory) | Susannah Breslin on SILICONE VAGINA (ill. Jennifer Heuer) | Seth Mnookin on .22 REVOLVER (ill. Alex Eben Meyer) | Dan Fox on CONKER (ill. Linzie Hunter) | Lisa Takeuchi Cullen on GLASS CLOCK (ill. Rose Wong) | Michael Tisserand on WALKING SHOES (ill. Jackie Roche) | Jeff Turrentine on BASEBALL MITT (ill. Andrew DeGraff) | Randy Kennedy on SNAKE RATTLES (ill. Max Temescu).
ILLICIT OBJECTS series: INTRODUCTION | Kio Stark on PEEPSHOW TOKEN | Sari Wilson on TOMBSTONE PARTS | Annalee Newitz on CAR-BOMB REMNANT | Tito Bottitta on MOONINITE DEVICE | Eric Bennett on DIRTY MAGAZINE | & 20 MORE.
TALISMANIC OBJECTS series: INTRODUCTION | Veda Hille on CROCHET SHEEP | Gary Panter on DINOSAUR BONES | Jami Attenberg on SELENITE CRYSTAL | Annie Nocenti on MINIATURE DICE | Wayne Curtis on CLOCK WINDING KEY | & 20 MORE.
POLITICAL OBJECTS series: INTRODUCTION | Luc Sante on CAMPAIGN PAMPHLETS | Lydia Millet on PVC POLAR BEAR | Ben Greenman on MATCHBOX CAR | Rob Baedeker on PRESIDENTS PLACEMAT | L.A. Kauffman on WHEATPASTE POSTER | & 20 MORE.
SIGNIFICANT OBJECTS at HILOBROW: PROJECT:OBJECT homepage | PROJECT:OBJECT newsletter | PROJECT:OBJECT objects (Threadless shop — all profits donated to the ACLU) | POLITICAL OBJECTS series (1Q2017) | TALISMANIC OBJECTS series (2Q2017) | ILLICIT OBJECTS series (3Q2017) | LOST OBJECTS vol. 1 series (4Q2017) | FLAIR series (2Q2018) | FOSSIL series (4Q2018). 12 DAYS OF SIGNIFICANCE | 12 MORE DAYS OF SIGNIFICANCE | 12 DAYS OF SIGNIFICANCE (AGAIN) | ANOTHER 12 DAYS OF SIGNIFICANCE . ALSO SEE: SIGNIFICANT OBJECTS website | SIGNIFICANT OBJECTS collection, ed. Rob Walker and Josh Glenn (Fantagraphics, 2012) | TAKING THINGS SERIOUSLY, ed. Josh Glenn (Princeton Architectural Press, 2007) | TAKING THINGS SERIOUSLY excerpts.