LOST OBJECTS (24)
By: Jeff Turrentine
December 19, 2017
One in a 25-part series of nonfiction stories about lost objects. We asked 25 writers to tell us about a significant object they'd lost (or thrown away, or destroyed), then assigned these stories to 25 illustrators. We're thrilled with the results. This is the fourth volume in the PROJECT:OBJECT series.
UPDATE: The Lost Objects book was published in September 2022 by Hat & Beard Press. Check it out!
*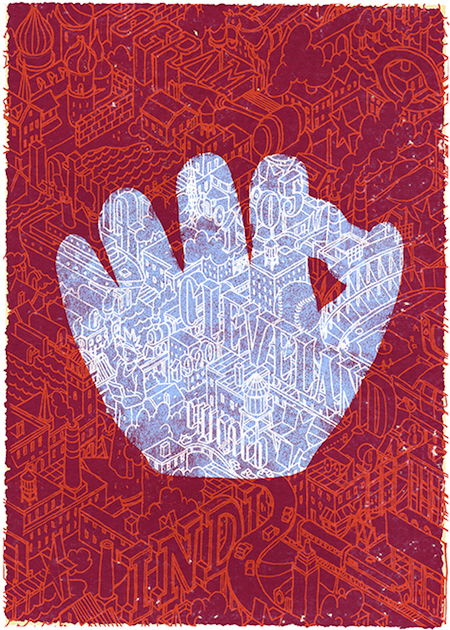 The glove had at one time belonged to Harry Handelman (1905-2000): son of Hyman and Dora Handelman, whose escape from Russian-controlled Latvia and the pogroms had taken them through Glasgow and Chicago before finally depositing them in Cleveland, Ohio, in 1913. Young Harry studied hard and worked at his father's grocery store. Any time that he had left over was spent playing baseball, the joyful discovery of which had been his personal reward for having endured a chaotically peripatetic childhood — and which he loved "more than anything in his life," according to one of his descendants. Later, as an adult, when asked to describe his worst day ever, Harry would answer that it was the day he was supposed to have played in a high-school baseball tournament but was called in to work at the very last minute by his father, who was desperately short on help.
Harry was accepted to The Ohio State University and began attending classes every other semester, working in between semesters to pay for his education. Thence to law school, and to a long and successful career as an attorney in Cleveland from 1941 to 1974 — a span of time that saw him getting married and having two daughters, and that also saw his beloved Cleveland Indians signing the great Satchel Paige, bringing home two American League pennants, and winning the 1948 World Series.
In the late 1970s, a retired and reflective Harry began to recognize in his grandson, Scott, a nascent athletic ability that surely must have reminded him of his own youthful triumphs on the diamond, and thus bequeathed to him one of his most prized possessions: his baseball glove.
Scott lived across the alley from me. One day in 1981, I asked him if I could borrow a baseball glove to take to school.
I think we had a game that afternoon. I didn't own a glove of my own. I didn't much care for baseball, to tell you the truth.
Scott brought the glove to me and said: "Take it. But don't lose it. It was my grandfather's." What he didn't say — but only because, at the age of 13, he had yet to acquire the historiographic scope required to drive home the point: "Don't lose it, because the tsar destroyed my great-grandparents' village and forced them to flee. Don't lose it, because America welcomed them when they feared they might never find a new home. Don't lose it, because this glove was, for my grandfather, the true and lasting emblem of America, as solemn as any pledge, as glorious as any flag."
I took it to school, left it in my locker for too long, and when I finally went to retrieve it, it was gone.
*
ABOUT THE AUTHOR: See sidebar.
ABOUT THE ARTIST: Andrew DeGraff is an artist and illustrator living and working in Maine.
LOST OBJECTS series: INTRODUCTION | Kate Bernheimer on MULLET WIG (ill. Amy Evans) | Dan Piepenbring on COLOGNE (ill. Josh Neufeld) | Doug Dorst on STRATOCASTER (ill. John Holbo) | Paul Lukas on VANILLA BEAN (ill. Allison Bamcat) | Mimi Lipson on DODGE DART (ill. Mister Reusch) | Luc Sante on CLUB CHAIR (ill. Kate Bingaman-Burt) | Nina Katchadourian on FOUNTAIN PENS (ill. Lisa Congdon) | Matthew Sharpe on BAUBLE (ill. Glenn Jones) | Claire Lehmann on PEANUT-BUTTER CRACKERS (ill. Karen Kurycki) | Jessamyn West on ENGINEER RING (ill. Amanda Clarke) | Mandy Keifetz on ORGONE ACCUMULATOR (ill. Emory Allen) | Molly Sauter on DESKTOP DOG (ill. Shayna Piascik) | Amy Thielen on DOG-FUR SCARF (ill. Heather Kasunick) | Stephen O'Connor on HUNTING HAT (ill. Oliver Munday) | Alice Boone on COLLEGE NEWSPAPERS (ill. Rick Pinchera) | Dante Ramos on ROAD ATLAS (ill. Joe Alterio) | Alex Balk on SHOOTING GALLERY (ill. John Lowe) | Chelsey Johnson on NOTEBOOK (ill. Rubi McGrory) | Susannah Breslin on SILICONE VAGINA (ill. Jennifer Heuer) | Seth Mnookin on .22 REVOLVER (ill. Alex Eben Meyer) | Dan Fox on CONKER (ill. Linzie Hunter) | Lisa Takeuchi Cullen on GLASS CLOCK (ill. Rose Wong) | Michael Tisserand on WALKING SHOES (ill. Jackie Roche) | Jeff Turrentine on BASEBALL MITT (ill. Andrew DeGraff) | Randy Kennedy on SNAKE RATTLES (ill. Max Temescu).
ILLICIT OBJECTS series: INTRODUCTION | Kio Stark on PEEPSHOW TOKEN | Sari Wilson on TOMBSTONE PARTS | Annalee Newitz on CAR-BOMB REMNANT | Tito Bottitta on MOONINITE DEVICE | Eric Bennett on DIRTY MAGAZINE | & 20 MORE.
TALISMANIC OBJECTS series: INTRODUCTION | Veda Hille on CROCHET SHEEP | Gary Panter on DINOSAUR BONES | Jami Attenberg on SELENITE CRYSTAL | Annie Nocenti on MINIATURE DICE | Wayne Curtis on CLOCK WINDING KEY | & 20 MORE.
POLITICAL OBJECTS series: INTRODUCTION | Luc Sante on CAMPAIGN PAMPHLETS | Lydia Millet on PVC POLAR BEAR | Ben Greenman on MATCHBOX CAR | Rob Baedeker on PRESIDENTS PLACEMAT | L.A. Kauffman on WHEATPASTE POSTER | & 20 MORE.
SIGNIFICANT OBJECTS at HILOBROW: PROJECT:OBJECT homepage | PROJECT:OBJECT newsletter | PROJECT:OBJECT objects (Threadless shop — all profits donated to the ACLU) | POLITICAL OBJECTS series (1Q2017) | TALISMANIC OBJECTS series (2Q2017) | ILLICIT OBJECTS series (3Q2017) | LOST OBJECTS vol. 1 series (4Q2017) | FLAIR series (2Q2018) | FOSSIL series (4Q2018). 12 DAYS OF SIGNIFICANCE | 12 MORE DAYS OF SIGNIFICANCE | 12 DAYS OF SIGNIFICANCE (AGAIN) | ANOTHER 12 DAYS OF SIGNIFICANCE . ALSO SEE: SIGNIFICANT OBJECTS website | SIGNIFICANT OBJECTS collection, ed. Rob Walker and Josh Glenn (Fantagraphics, 2012) | TAKING THINGS SERIOUSLY, ed. Josh Glenn (Princeton Architectural Press, 2007) | TAKING THINGS SERIOUSLY excerpts.