LOST OBJECTS (13)
By: Amy Thielen
November 11, 2017
One in a 25-part series of nonfiction stories about lost objects. We asked 25 writers to tell us about a significant object they'd lost (or thrown away, or destroyed), then assigned these stories to 25 illustrators. We're thrilled with the results. This is the fourth volume in the PROJECT:OBJECT series.
UPDATE: The Lost Objects book was published in September 2022 by Hat & Beard Press. Check it out!
*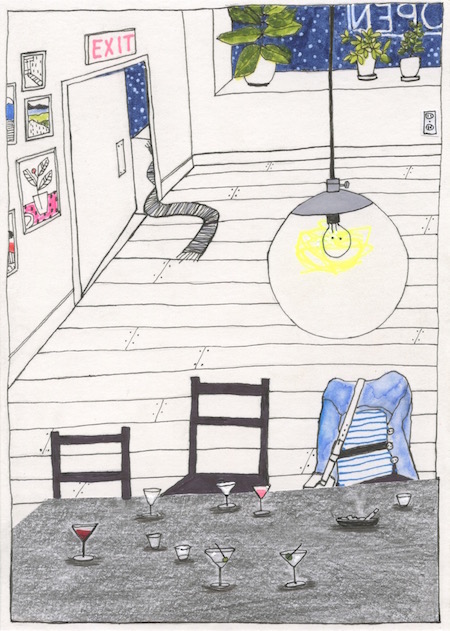 In the fall of 1999 I moved to New York City from rural Minnesota, arriving with a vague plan, no nest egg, and precious little in the way of city streetwear, the outer signifiers that distinguish the walking natives from the newbies. Back home, I'd walked around in thrift-store finds but drove around in a brown 1975 Sierra Half-Ton pickup truck with wide orange racing stripes down the sides; that was my vessel, my winter coat, my ride. Here, in the blurry pedestrian crowd, where the stamping boots moved at racing pace, I began to see that bags weren't just fashion statements, but packs that described a particular journey. Boots were transport; and cool ones were like sweet wheels. I did have one thing, though: a curious scarf made of dog hair.
Soft and sand-brown, the scarf tapered sharply at the ends into furry charcoal stripes. My husband Aaron had recently come back from a trip to rural Latvia with two gifts he'd bought from a woman at a market stall: the dog-hair scarf and a hat made of fox fur. The fur hat hugged my head like the cap on a pen and looked amazing, but I promptly lost it — probably fell out during a gas station stop — on the long drive to New York. But every day I stepped out onto the sidewalk wearing the Latvian scarf, its two tails knotted loosely at my neck in a casual, nippy dogfight. It was oddball and brave, almost kooky enough to be hip, and felt like the first piece of my new identity clicking into place.
It wasn't to be that easy though, because almost as quickly as the fur hat, it was gone. I went to a party at a bar, shoved the scarf up the sleeve of my coat, hooked my bag over a chair, and wandered off, refusing to believe the tourist myth that you have to guard your stuff in the big city. Two hours later, I returned to my bag and coat, but not the dog-tail scarf. Either someone had plucked it from my coat like a magician pulling out a silk, or it had simply awakened and slithered away.
After permitting myself a full day of mourning, I decided that the scarf's loss narrative didn't matter. Just two weeks into my New York life, I sat on the subway bench and took in everyone's outer signifiers in a glance but then began to see beyond them, to the faces.
*
ABOUT THE AUTHOR: See sidebar.
ABOUT THE ARTIST: Heather Kasunick has been teaching visual art at a public high school for over 15 years. Her studio work has been exhibited at the Brattleboro Museum and Art Center, the Fitchburg Museum of Art, and other venues. Hundreds of Heather's illustrations are featured in the UNBORED series of books for kids along with fellow Mass Art pal, Mister Reusch. She lives in Northampton, Mass., with her bike happy husband and their sweet, lazy dog. You can follow her drawing adventures on Instagram: @wondercupboard.

LOST OBJECTS series: INTRODUCTION | Kate Bernheimer on MULLET WIG (ill. Amy Evans) | Dan Piepenbring on COLOGNE (ill. Josh Neufeld) | Doug Dorst on STRATOCASTER (ill. John Holbo) | Paul Lukas on VANILLA BEAN (ill. Allison Bamcat) | Mimi Lipson on DODGE DART (ill. Mister Reusch) | Luc Sante on CLUB CHAIR (ill. Kate Bingaman-Burt) | Nina Katchadourian on FOUNTAIN PENS (ill. Lisa Congdon) | Matthew Sharpe on BAUBLE (ill. Glenn Jones) | Claire Lehmann on PEANUT-BUTTER CRACKERS (ill. Karen Kurycki) | Jessamyn West on ENGINEER RING (ill. Amanda Clarke) | Mandy Keifetz on ORGONE ACCUMULATOR (ill. Emory Allen) | Molly Sauter on DESKTOP DOG (ill. Shayna Piascik) | Amy Thielen on DOG-FUR SCARF (ill. Heather Kasunick) | Stephen O'Connor on HUNTING HAT (ill. Oliver Munday) | Alice Boone on COLLEGE NEWSPAPERS (ill. Rick Pinchera) | Dante Ramos on ROAD ATLAS (ill. Joe Alterio) | Alex Balk on SHOOTING GALLERY (ill. John Lowe) | Chelsey Johnson on NOTEBOOK (ill. Rubi McGrory) | Susannah Breslin on SILICONE VAGINA (ill. Jennifer Heuer) | Seth Mnookin on .22 REVOLVER (ill. Alex Eben Meyer) | Dan Fox on CONKER (ill. Linzie Hunter) | Lisa Takeuchi Cullen on GLASS CLOCK (ill. Rose Wong) | Michael Tisserand on WALKING SHOES (ill. Jackie Roche) | Jeff Turrentine on BASEBALL MITT (ill. Andrew DeGraff) | Randy Kennedy on SNAKE RATTLES (ill. Max Temescu).
ILLICIT OBJECTS series: INTRODUCTION | Kio Stark on PEEPSHOW TOKEN | Sari Wilson on TOMBSTONE PARTS | Annalee Newitz on CAR-BOMB REMNANT | Tito Bottitta on MOONINITE DEVICE | Eric Bennett on DIRTY MAGAZINE | & 20 MORE.
TALISMANIC OBJECTS series: INTRODUCTION | Veda Hille on CROCHET SHEEP | Gary Panter on DINOSAUR BONES | Jami Attenberg on SELENITE CRYSTAL | Annie Nocenti on MINIATURE DICE | Wayne Curtis on CLOCK WINDING KEY | & 20 MORE.
POLITICAL OBJECTS series: INTRODUCTION | Luc Sante on CAMPAIGN PAMPHLETS | Lydia Millet on PVC POLAR BEAR | Ben Greenman on MATCHBOX CAR | Rob Baedeker on PRESIDENTS PLACEMAT | L.A. Kauffman on WHEATPASTE POSTER | & 20 MORE.
SIGNIFICANT OBJECTS at HILOBROW: PROJECT:OBJECT homepage | PROJECT:OBJECT newsletter | PROJECT:OBJECT objects (Threadless shop — all profits donated to the ACLU) | POLITICAL OBJECTS series (1Q2017) | TALISMANIC OBJECTS series (2Q2017) | ILLICIT OBJECTS series (3Q2017) | LOST OBJECTS vol. 1 series (4Q2017) | FLAIR series (2Q2018) | FOSSIL series (4Q2018). 12 DAYS OF SIGNIFICANCE | 12 MORE DAYS OF SIGNIFICANCE | 12 DAYS OF SIGNIFICANCE (AGAIN) | ANOTHER 12 DAYS OF SIGNIFICANCE . ALSO SEE: SIGNIFICANT OBJECTS website | SIGNIFICANT OBJECTS collection, ed. Rob Walker and Josh Glenn (Fantagraphics, 2012) | TAKING THINGS SERIOUSLY, ed. Josh Glenn (Princeton Architectural Press, 2007) | TAKING THINGS SERIOUSLY excerpts.