LOST OBJECTS (25)
By: Randy Kennedy
December 23, 2017
One in a 25-part series of nonfiction stories about lost objects. We asked 25 writers to tell us about a significant object they'd lost (or thrown away, or destroyed), then assigned these stories to 25 illustrators. We're thrilled with the results. This is the fourth volume in the PROJECT:OBJECT series. Please subscribe to the P:O newsletter; and purchase P:O apparel and accessories — all profits will be donated to the ACLU!
*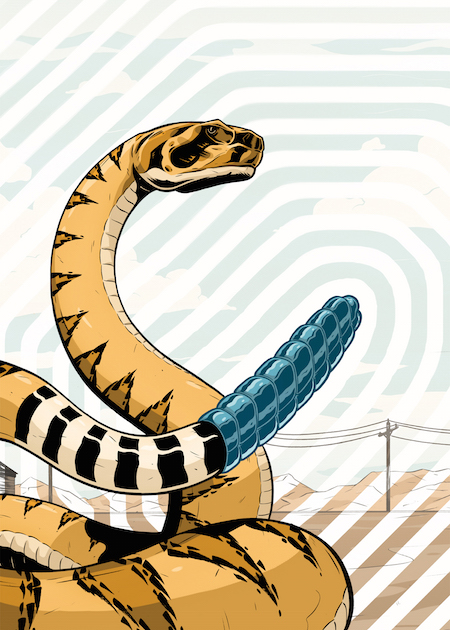 In "Wichita Lineman," Jimmy Webb's 1968 pop masterpiece, the solitary lineman works for the county, driving the main road, "searchin' in the sun for another overload."
My father was a lineman, beginning in the early '60s, for a small independent telephone company in rural West Texas. He didn't drive many main roads. His work lay mostly along the caliche farm-to-market routes that lined the panhandle. Maybe he dealt with overloads, but I think it wasn't usually anything so existential. It was the everyday stuff of a country telephone man: wind damage, buried lines severed by plows, service complaints from isolated elderly customers whose phones were their only tether to the outside world.
What my father searched for in the sun — vigilantly, warily — were rattlesnakes. Among occupational hazards, they were second only to stray electric lines as the menace he was sure would do him in one day, out there alone in his pickup, two hours from the nearest hospital. In the bed of the pickup he kept an old hoe whose wooden handle he had cut in half, refashioning it into a kind of mace that gave him sufficient distance from a coiled rattler and sufficient control to sever its head with a hard, clean blow.
Contrary to reputation, rattlesnakes want as little to do with us as we with them. But every now and then, up against a fence or a tractor shed, a chance encounter would occur between my father and a Western diamondback from which neither party could easily retreat. He would take the dead snake's rattle with his pocket knife and that evening he'd give the trophy to me or my brother, depending on whose turn it was. I could never believe how alien the rattles looked. Or that natural selection had produced them, sonic appendages designed for the sole purpose of broadcasting: Stay the fuck away. I'm a natural-born badass. They are the animal-world equivalent of an air-raid siren.
What eventually got my dad wasn't a snake, of course. It was Marlboros and a predisposition to cardiovascular ruin that ran like wildfire through his family. I was 27 when he died, living in New York, four years out of Texas. I had a few keepsakes from him and the land where I grew up – some of his pocket knives and guitar picks, a couple of the Comanche arrowheads we found in the pasture by the house. But the rattles were the prize, especially meaningful as implements of sound, given that most of the time I spent with my dad in the last years of his life was on the phone; he was a voice, a sound.
When my mother eventually left the town where we lived, I packed the things from my old room, including a little tin container with a handful of rattles, and mailed it to Brooklyn. I haven't been able to find it since. I keep looking for it in the basement, shaking boxes, listening.
*
ABOUT THE AUTHOR: See sidebar.
ABOUT THE ARTIST: Max Temescu is an illustrator from Philadelphia then St. Louis then New York who works mostly in storyboards, comics, and editorial illustration. He is a pretty fun guy too probably.
LOST OBJECTS series: INTRODUCTION | Kate Bernheimer on MULLET WIG (ill. Amy Evans) | Dan Piepenbring on COLOGNE (ill. Josh Neufeld) | Doug Dorst on STRATOCASTER (ill. John Holbo) | Paul Lukas on VANILLA BEAN (ill. Allison Bamcat) | Mimi Lipson on DODGE DART (ill. Mister Reusch) | Luc Sante on CLUB CHAIR (ill. Kate Bingaman-Burt) | Nina Katchadourian on FOUNTAIN PENS (ill. Lisa Congdon) | Matthew Sharpe on BAUBLE (ill. Glenn Jones) | Claire Lehmann on PEANUT-BUTTER CRACKERS (ill. Karen Kurycki) | Jessamyn West on ENGINEER RING (ill. Amanda Clarke) | Mandy Keifetz on ORGONE ACCUMULATOR (ill. Emory Allen) | Molly Sauter on DESKTOP DOG (ill. Shayna Piascik) | Amy Thielen on DOG-FUR SCARF (ill. Heather Kasunick) | Stephen O'Connor on HUNTING HAT (ill. Oliver Munday) | Alice Boone on COLLEGE NEWSPAPERS (ill. Rick Pinchera) | Dante Ramos on ROAD ATLAS (ill. Joe Alterio) | Alex Balk on SHOOTING GALLERY (ill. John Lowe) | Chelsey Johnson on NOTEBOOK (ill. Rubi McGrory) | Susannah Breslin on SILICONE VAGINA (ill. Jennifer Heuer) | Seth Mnookin on .22 REVOLVER (ill. Alex Eben Meyer) | Dan Fox on CONKER (ill. Linzie Hunter) | Lisa Takeuchi Cullen on GLASS CLOCK (ill. Rose Wong) | Michael Tisserand on WALKING SHOES (ill. Jackie Roche) | Jeff Turrentine on BASEBALL MITT (ill. Andrew DeGraff) | Randy Kennedy on SNAKE RATTLES (ill. Max Temescu).
ILLICIT OBJECTS series: INTRODUCTION | Kio Stark on PEEPSHOW TOKEN | Sari Wilson on TOMBSTONE PARTS | Annalee Newitz on CAR-BOMB REMNANT | Tito Bottitta on MOONINITE DEVICE | Eric Bennett on DIRTY MAGAZINE | & 20 MORE.
TALISMANIC OBJECTS series: INTRODUCTION | Veda Hille on CROCHET SHEEP | Gary Panter on DINOSAUR BONES | Jami Attenberg on SELENITE CRYSTAL | Annie Nocenti on MINIATURE DICE | Wayne Curtis on CLOCK WINDING KEY | & 20 MORE.
POLITICAL OBJECTS series: INTRODUCTION | Luc Sante on CAMPAIGN PAMPHLETS | Lydia Millet on PVC POLAR BEAR | Ben Greenman on MATCHBOX CAR | Rob Baedeker on PRESIDENTS PLACEMAT | L.A. Kauffman on WHEATPASTE POSTER | & 20 MORE.
SIGNIFICANT OBJECTS at HILOBROW: PROJECT:OBJECT homepage | PROJECT:OBJECT newsletter | PROJECT:OBJECT objects (Threadless shop — all profits donated to the ACLU) | POLITICAL OBJECTS series (1Q2017) | TALISMANIC OBJECTS series (2Q2017) | ILLICIT OBJECTS series (3Q2017) | LOST OBJECTS vol. 1 series (4Q2017) | FLAIR series (2Q2018) | FOSSIL series (4Q2018). 12 DAYS OF SIGNIFICANCE | 12 MORE DAYS OF SIGNIFICANCE | 12 DAYS OF SIGNIFICANCE (AGAIN) | ANOTHER 12 DAYS OF SIGNIFICANCE . ALSO SEE: SIGNIFICANT OBJECTS website | SIGNIFICANT OBJECTS collection, ed. Rob Walker and Josh Glenn (Fantagraphics, 2012) | TAKING THINGS SERIOUSLY, ed. Josh Glenn (Princeton Architectural Press, 2007) | TAKING THINGS SERIOUSLY excerpts.