LOST OBJECTS (12)
By: M.R. Sauter
November 8, 2017
One in a 25-part series of nonfiction stories about lost objects. We asked 25 writers to tell us about a significant object they'd lost (or thrown away, or destroyed), then assigned these stories to 25 illustrators. We're thrilled with the results. This is the fourth volume in the PROJECT:OBJECT series.
UPDATE: The Lost Objects book was published in September 2022 by Hat & Beard Press. Check it out!
*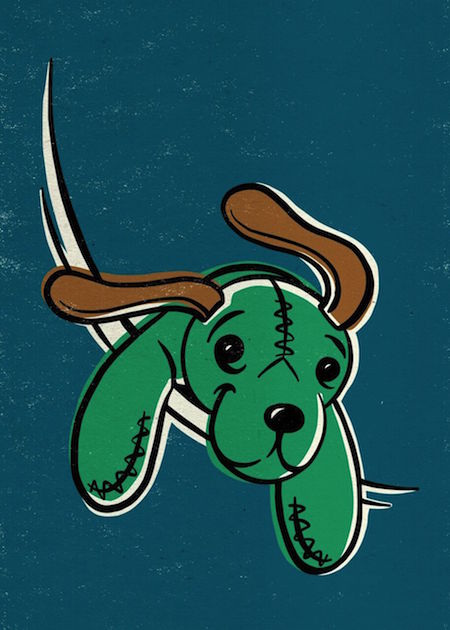 My mother once gave me a soft sculpture to add to my menagerie of desk gods. A green suede dog, filled with sand. At first he sat on my desk with the other lucky, superstitious-ish figures — Hindu gods from one of those batik-and-bead shops, a cast-iron turtle, a stuffed dragon, a wooden lion painted red that looked like it had been chipped off a furniture finial, two small cast-resin Buddhas — holding down papers. The dog was simple, unstructured, floppy. His only characteristics, aside from being green, were his brown ears and shiny black eyes. He felt so nice in my hand: a soft, warm weight. He wasn't calming, he was just calm. He was a little, heavy, sure thing; a pliable undeniability. Without really noticing it, I started picking him up and carrying him around with me, petting him in my coat pocket or dancing his feet on my fingers in the car. I called him Green Dog, because I'm atrocious with names and always have been. My childhood teddy bear was and still is "Big Grey Bear," a stuffed rabbit with red eyes and a carrot in a pouch around his neck was "Angry Bunny".
For being made of leather and stitching and sand, he was a charismatic fellow. He was content with being Green Dog; he gave a sense that being content with being still was a thing that was possible, which had been barely conceivable to a 20-something kid whose achievements till then were mostly dropping out of things and hopping between states and schools like grease spitting in a hot pan.
And of course you know where this is going. One day, when I was between colleges, working three part time retail-food-service-coffee-slinging jobs in my hometown, just a mess in general, carrying Green Dog in my pocket everywhere just to feel his secure weightiness in my palm, somewhere between my mom's car and the house and the rest of my life, he went astray. Maybe I put him down on a store counter and walked away, or maybe he slipped out of my coat pocket with a flurry of crumpled receipts and gum wrappers. I'm not sure how much time went by between whenever he went wherever he was and when I noticed him missing, but I remember it being apparent to me that he was Gone Now. He wasn't going to be found. There was no getting back that dense weighty certainty in my hand.
I made a half-hearted attempt to replace him, but I hardly tried. The artist didn't make the little suede dogs anymore, and even if I could find another green dog, it wouldn't be Green Dog. I gave up before I even noticed I had. Even though I could still (and still can) feel him in my hand without concentrating too hard.
*
ABOUT THE AUTHOR: See sidebar.
ABOUT THE ARTIST: Shayna Piascik is an independent illustrator living in central MA. She draws on inspiration from political satire to quirky and cute animals. Shayna also manages the MFA in Illustration program at the Hartford Art School.
LOST OBJECTS series: INTRODUCTION | Kate Bernheimer on MULLET WIG (ill. Amy Evans) | Dan Piepenbring on COLOGNE (ill. Josh Neufeld) | Doug Dorst on STRATOCASTER (ill. John Holbo) | Paul Lukas on VANILLA BEAN (ill. Allison Bamcat) | Mimi Lipson on DODGE DART (ill. Mister Reusch) | Luc Sante on CLUB CHAIR (ill. Kate Bingaman-Burt) | Nina Katchadourian on FOUNTAIN PENS (ill. Lisa Congdon) | Matthew Sharpe on BAUBLE (ill. Glenn Jones) | Claire Lehmann on PEANUT-BUTTER CRACKERS (ill. Karen Kurycki) | Jessamyn West on ENGINEER RING (ill. Amanda Clarke) | Mandy Keifetz on ORGONE ACCUMULATOR (ill. Emory Allen) | Molly Sauter on DESKTOP DOG (ill. Shayna Piascik) | Amy Thielen on DOG-FUR SCARF (ill. Heather Kasunick) | Stephen O'Connor on HUNTING HAT (ill. Oliver Munday) | Alice Boone on COLLEGE NEWSPAPERS (ill. Rick Pinchera) | Dante Ramos on ROAD ATLAS (ill. Joe Alterio) | Alex Balk on SHOOTING GALLERY (ill. John Lowe) | Chelsey Johnson on NOTEBOOK (ill. Rubi McGrory) | Susannah Breslin on SILICONE VAGINA (ill. Jennifer Heuer) | Seth Mnookin on .22 REVOLVER (ill. Alex Eben Meyer) | Dan Fox on CONKER (ill. Linzie Hunter) | Lisa Takeuchi Cullen on GLASS CLOCK (ill. Rose Wong) | Michael Tisserand on WALKING SHOES (ill. Jackie Roche) | Jeff Turrentine on BASEBALL MITT (ill. Andrew DeGraff) | Randy Kennedy on SNAKE RATTLES (ill. Max Temescu).
ILLICIT OBJECTS series: INTRODUCTION | Kio Stark on PEEPSHOW TOKEN | Sari Wilson on TOMBSTONE PARTS | Annalee Newitz on CAR-BOMB REMNANT | Tito Bottitta on MOONINITE DEVICE | Eric Bennett on DIRTY MAGAZINE | & 20 MORE.
TALISMANIC OBJECTS series: INTRODUCTION | Veda Hille on CROCHET SHEEP | Gary Panter on DINOSAUR BONES | Jami Attenberg on SELENITE CRYSTAL | Annie Nocenti on MINIATURE DICE | Wayne Curtis on CLOCK WINDING KEY | & 20 MORE.
POLITICAL OBJECTS series: INTRODUCTION | Luc Sante on CAMPAIGN PAMPHLETS | Lydia Millet on PVC POLAR BEAR | Ben Greenman on MATCHBOX CAR | Rob Baedeker on PRESIDENTS PLACEMAT | L.A. Kauffman on WHEATPASTE POSTER | & 20 MORE.
SIGNIFICANT OBJECTS at HILOBROW: PROJECT:OBJECT homepage | PROJECT:OBJECT newsletter | PROJECT:OBJECT objects (Threadless shop — all profits donated to the ACLU) | POLITICAL OBJECTS series (1Q2017) | TALISMANIC OBJECTS series (2Q2017) | ILLICIT OBJECTS series (3Q2017) | LOST OBJECTS vol. 1 series (4Q2017) | FLAIR series (2Q2018) | FOSSIL series (4Q2018). 12 DAYS OF SIGNIFICANCE | 12 MORE DAYS OF SIGNIFICANCE | 12 DAYS OF SIGNIFICANCE (AGAIN) | ANOTHER 12 DAYS OF SIGNIFICANCE . ALSO SEE: SIGNIFICANT OBJECTS website | SIGNIFICANT OBJECTS collection, ed. Rob Walker and Josh Glenn (Fantagraphics, 2012) | TAKING THINGS SERIOUSLY, ed. Josh Glenn (Princeton Architectural Press, 2007) | TAKING THINGS SERIOUSLY excerpts.