LOST OBJECTS (17)
By: Alex Balk
November 28, 2017
One in a 25-part series of nonfiction stories about lost objects. We asked 25 writers to tell us about a significant object they'd lost (or thrown away, or destroyed), then assigned these stories to 25 illustrators. We're thrilled with the results. This is the fourth volume in the PROJECT:OBJECT series.
UPDATE: The Lost Objects book was published in September 2022 by Hat & Beard Press. Check it out!
*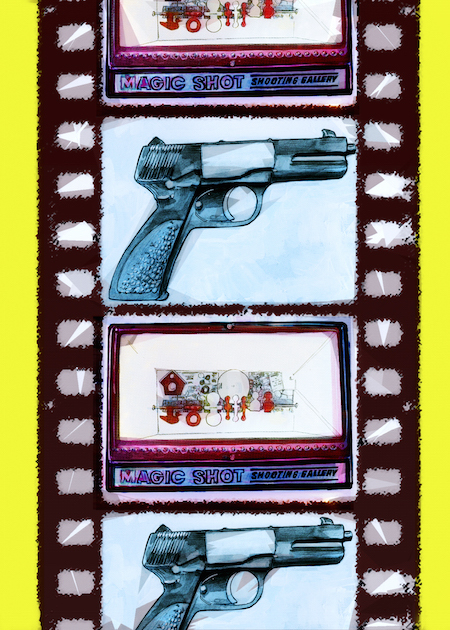 When I was five years old I got a toy shooting gallery for Christmas. It was a boxy contraption with a line of metal balls and a bright blue gun with a magnet in it; you'd lift up the balls and fire them at different targets. I played with it obsessively for a night and then the next day I did something "bad" — I've asked around, and no one remembers quite what, because it was so long ago — and my parents took it away as a punishment for my transgression. They kept it on the top of the fridge for about a week or so, where it taunted me with its inaccessibility ("Look at me! Up here! Don't you wish you could play with me RIGHT NOW?") and then it was gone, never to return, its final destination as much of a mystery as the original offense that was the cause of its removal from my possession. To this day I have never received a gift that has brought me as much glee as that crappy piece of plastic did for those few brief hours when it was mine. As the years went by it stayed at the front of my memory as the great secret key to happiness, the last pure moment of bliss before life's complications made any pleasure a fleeting and ultimately shameful episode.
A few years ago, possibly hoping it would put an end to my constant retelling of this story, a friend found an old, used unit on eBay and bought it for me for my birthday. I opened the box not knowing what was in it and suddenly I was face-to-face with the vanished delight that had haunted me for so many years. It was bigger than I remembered, but the blue gun felt the same way in my hand as it did three decades before. I propped it on the table and, a full-grown man, spent five minutes shooting metal pellets at plastic bells and wheels. It was amazing, and then it was entertaining, and then it was nothing. It was less than nothing, because it sucked away all the retrospective magic I had wrapped around it over time. This should not have come as a surprise, but it hadn't been the toy I was missing all these years. It was being the kid who could enjoy the toy.
Things that are lost should stay lost. They might be the best things you can keep, in that way.
*
ABOUT THE AUTHOR: See sidebar.
ABOUT THE ARTIST: John Paul Lowe began teaching at the Savannah College of Art and Design in 2002. He has served as the school's chair of the Sequential Art Department and as dean of the School of Communication Arts. In 2013, he happily returned to the classroom and his art studio. His career in comics began in 1991 with DC Comics. Lowe has also worked for Marvel Comics, Image Comics, Archie Comics, and Dark Horse Comics. Lowe is the creator of the award-winning annual Sequential Art Anthology, and the author of Working Methods: Creators Detail their Storytelling and Artistic Processes (TwoMorrows Publishing) and Foundations in Comic Book Art (Watson-Guptill).
LOST OBJECTS series: INTRODUCTION | Kate Bernheimer on MULLET WIG (ill. Amy Evans) | Dan Piepenbring on COLOGNE (ill. Josh Neufeld) | Doug Dorst on STRATOCASTER (ill. John Holbo) | Paul Lukas on VANILLA BEAN (ill. Allison Bamcat) | Mimi Lipson on DODGE DART (ill. Mister Reusch) | Luc Sante on CLUB CHAIR (ill. Kate Bingaman-Burt) | Nina Katchadourian on FOUNTAIN PENS (ill. Lisa Congdon) | Matthew Sharpe on BAUBLE (ill. Glenn Jones) | Claire Lehmann on PEANUT-BUTTER CRACKERS (ill. Karen Kurycki) | Jessamyn West on ENGINEER RING (ill. Amanda Clarke) | Mandy Keifetz on ORGONE ACCUMULATOR (ill. Emory Allen) | Molly Sauter on DESKTOP DOG (ill. Shayna Piascik) | Amy Thielen on DOG-FUR SCARF (ill. Heather Kasunick) | Stephen O'Connor on HUNTING HAT (ill. Oliver Munday) | Alice Boone on COLLEGE NEWSPAPERS (ill. Rick Pinchera) | Dante Ramos on ROAD ATLAS (ill. Joe Alterio) | Alex Balk on SHOOTING GALLERY (ill. John Lowe) | Chelsey Johnson on NOTEBOOK (ill. Rubi McGrory) | Susannah Breslin on SILICONE VAGINA (ill. Jennifer Heuer) | Seth Mnookin on .22 REVOLVER (ill. Alex Eben Meyer) | Dan Fox on CONKER (ill. Linzie Hunter) | Lisa Takeuchi Cullen on GLASS CLOCK (ill. Rose Wong) | Michael Tisserand on WALKING SHOES (ill. Jackie Roche) | Jeff Turrentine on BASEBALL MITT (ill. Andrew DeGraff) | Randy Kennedy on SNAKE RATTLES (ill. Max Temescu).
ILLICIT OBJECTS series: INTRODUCTION | Kio Stark on PEEPSHOW TOKEN | Sari Wilson on TOMBSTONE PARTS | Annalee Newitz on CAR-BOMB REMNANT | Tito Bottitta on MOONINITE DEVICE | Eric Bennett on DIRTY MAGAZINE | & 20 MORE.
TALISMANIC OBJECTS series: INTRODUCTION | Veda Hille on CROCHET SHEEP | Gary Panter on DINOSAUR BONES | Jami Attenberg on SELENITE CRYSTAL | Annie Nocenti on MINIATURE DICE | Wayne Curtis on CLOCK WINDING KEY | & 20 MORE.
POLITICAL OBJECTS series: INTRODUCTION | Luc Sante on CAMPAIGN PAMPHLETS | Lydia Millet on PVC POLAR BEAR | Ben Greenman on MATCHBOX CAR | Rob Baedeker on PRESIDENTS PLACEMAT | L.A. Kauffman on WHEATPASTE POSTER | & 20 MORE.
SIGNIFICANT OBJECTS at HILOBROW: PROJECT:OBJECT homepage | PROJECT:OBJECT newsletter | PROJECT:OBJECT objects (Threadless shop — all profits donated to the ACLU) | POLITICAL OBJECTS series (1Q2017) | TALISMANIC OBJECTS series (2Q2017) | ILLICIT OBJECTS series (3Q2017) | LOST OBJECTS vol. 1 series (4Q2017) | FLAIR series (2Q2018) | FOSSIL series (4Q2018). 12 DAYS OF SIGNIFICANCE | 12 MORE DAYS OF SIGNIFICANCE | 12 DAYS OF SIGNIFICANCE (AGAIN) | ANOTHER 12 DAYS OF SIGNIFICANCE . ALSO SEE: SIGNIFICANT OBJECTS website | SIGNIFICANT OBJECTS collection, ed. Rob Walker and Josh Glenn (Fantagraphics, 2012) | TAKING THINGS SERIOUSLY, ed. Josh Glenn (Princeton Architectural Press, 2007) | TAKING THINGS SERIOUSLY excerpts.