LOST OBJECTS (20)
By: Seth Mnookin
December 9, 2017
One in a 25-part series of nonfiction stories about lost objects. We asked 25 writers to tell us about a significant object they'd lost (or thrown away, or destroyed), then assigned these stories to 25 illustrators. We're thrilled with the results. This is the fourth volume in the PROJECT:OBJECT series.
UPDATE: The Lost Objects book was published in September 2022 by Hat & Beard Press. Check it out!
*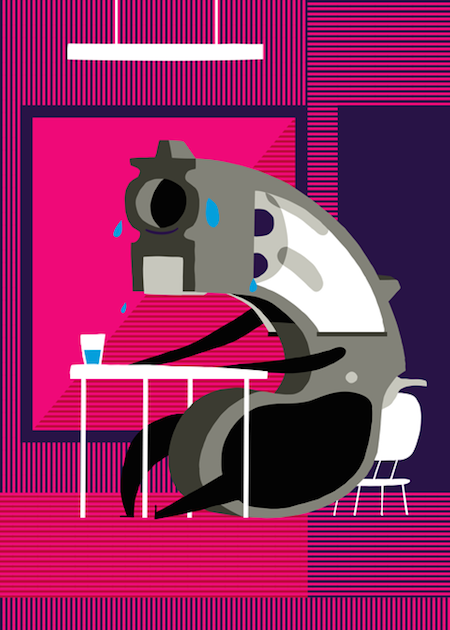 I hadn't had any ambitions to own a gun when my best friend asked me to confiscate his stainless steel J-frame revolver. He'd picked it up while doing a drug deal in Dallas and hadn't done much more than fire it into the earthen wall in his basement. Then, one night, while tripping on two hits of orange microdot acid, he couldn't stop thinking about what it would feel like to shoot himself in the stomach. I agreed to take it from him but on the condition that he not give me any ammo.
Even at the time, as an 18-year-old kid living in the suburbs, I knew it was not an impressive piece of weaponry. The barrel couldn't have been longer than an inch and the whole thing was small enough to fit in the palm of my hand. Instead of a proper grip, there were two ribbons of metal that formed a U in between the hammer and trigger; presumably, it was possible to buy something more substantial that would snap into place.
I kept it with me for the next five years and packed it away with the rest of my possessions when I moved to Manhattan in the fall of 1994. Within a few months, I'd become addicted to heroin. The following year, after I'd overdosed a few times, my father came to bring me back to Boston. Not long before we left my apartment for the airport, I realized that I wasn't going to be able to board a plane with an unlicensed .22. I asked a friend of mine to get rid of it. I assumed he'd throw it into the East River or drop it off in a police station during one of the city's gun amnesty days.
About six months later, I got a phone call from a detective in the NYPD's 9th Precinct. My friend had turned the gun into the police — but he'd done it by walking into a stationhouse on a random afternoon and announcing he had a weapon he wanted to get rid of.
"Your friend said he got this from you," the detective told me. I said that was true. "Did you know it's been traced to an armed robbery that was committed in Texas six years ago?" he asked.
I did not know that. I'd never been to Texas, I said. And then I proceeded to explain how I'd gotten the gun and how my friend and I were no longer in touch because I'd become addicted to heroin and I was trying to get clean and thought he might be a bad influence on me and besides the last I'd heard he was living in Spain and possibly working as a house-painter.
I was dripping sweat by the time I finished talking. The detective didn't say anything for what felt like an unbearably long time. "That's your story?" he finally asked. That was the truth, I said — and then I said that I wasn't claiming I'd never broken the law and yes, it was true, I'd been arrested, twice, actually, although one of those was when I'd been a minor and it was wiped off my record, but I'd never been involved in armed robbery, and the thought of violence made me queasy.
By that point I had started to wonder what it would be like to need to detox in jail. "OK," he said. "I'll let you know if I need anything else." And then he hung up.
It took me two more years to get sober. I never heard from the detective again.
*
ABOUT THE AUTHOR: See sidebar.
ABOUT THE ARTIST: Alex Eben Meyer is a Brooklyn-based illustrator. He can also be found playing street hockey and discussing the socio-political implications behind the consumption of the cake donut. He lives with his lovely wife Anna, daughter Pip, and creative director cat Frankie.
LOST OBJECTS series: INTRODUCTION | Kate Bernheimer on MULLET WIG (ill. Amy Evans) | Dan Piepenbring on COLOGNE (ill. Josh Neufeld) | Doug Dorst on STRATOCASTER (ill. John Holbo) | Paul Lukas on VANILLA BEAN (ill. Allison Bamcat) | Mimi Lipson on DODGE DART (ill. Mister Reusch) | Luc Sante on CLUB CHAIR (ill. Kate Bingaman-Burt) | Nina Katchadourian on FOUNTAIN PENS (ill. Lisa Congdon) | Matthew Sharpe on BAUBLE (ill. Glenn Jones) | Claire Lehmann on PEANUT-BUTTER CRACKERS (ill. Karen Kurycki) | Jessamyn West on ENGINEER RING (ill. Amanda Clarke) | Mandy Keifetz on ORGONE ACCUMULATOR (ill. Emory Allen) | Molly Sauter on DESKTOP DOG (ill. Shayna Piascik) | Amy Thielen on DOG-FUR SCARF (ill. Heather Kasunick) | Stephen O'Connor on HUNTING HAT (ill. Oliver Munday) | Alice Boone on COLLEGE NEWSPAPERS (ill. Rick Pinchera) | Dante Ramos on ROAD ATLAS (ill. Joe Alterio) | Alex Balk on SHOOTING GALLERY (ill. John Lowe) | Chelsey Johnson on NOTEBOOK (ill. Rubi McGrory) | Susannah Breslin on SILICONE VAGINA (ill. Jennifer Heuer) | Seth Mnookin on .22 REVOLVER (ill. Alex Eben Meyer) | Dan Fox on CONKER (ill. Linzie Hunter) | Lisa Takeuchi Cullen on GLASS CLOCK (ill. Rose Wong) | Michael Tisserand on WALKING SHOES (ill. Jackie Roche) | Jeff Turrentine on BASEBALL MITT (ill. Andrew DeGraff) | Randy Kennedy on SNAKE RATTLES (ill. Max Temescu).
ILLICIT OBJECTS series: INTRODUCTION | Kio Stark on PEEPSHOW TOKEN | Sari Wilson on TOMBSTONE PARTS | Annalee Newitz on CAR-BOMB REMNANT | Tito Bottitta on MOONINITE DEVICE | Eric Bennett on DIRTY MAGAZINE | & 20 MORE.
TALISMANIC OBJECTS series: INTRODUCTION | Veda Hille on CROCHET SHEEP | Gary Panter on DINOSAUR BONES | Jami Attenberg on SELENITE CRYSTAL | Annie Nocenti on MINIATURE DICE | Wayne Curtis on CLOCK WINDING KEY | & 20 MORE.
POLITICAL OBJECTS series: INTRODUCTION | Luc Sante on CAMPAIGN PAMPHLETS | Lydia Millet on PVC POLAR BEAR | Ben Greenman on MATCHBOX CAR | Rob Baedeker on PRESIDENTS PLACEMAT | L.A. Kauffman on WHEATPASTE POSTER | & 20 MORE.
SIGNIFICANT OBJECTS at HILOBROW: PROJECT:OBJECT homepage | PROJECT:OBJECT newsletter | PROJECT:OBJECT objects (Threadless shop — all profits donated to the ACLU) | POLITICAL OBJECTS series (1Q2017) | TALISMANIC OBJECTS series (2Q2017) | ILLICIT OBJECTS series (3Q2017) | LOST OBJECTS vol. 1 series (4Q2017) | FLAIR series (2Q2018) | FOSSIL series (4Q2018). 12 DAYS OF SIGNIFICANCE | 12 MORE DAYS OF SIGNIFICANCE | 12 DAYS OF SIGNIFICANCE (AGAIN) | ANOTHER 12 DAYS OF SIGNIFICANCE . ALSO SEE: SIGNIFICANT OBJECTS website | SIGNIFICANT OBJECTS collection, ed. Rob Walker and Josh Glenn (Fantagraphics, 2012) | TAKING THINGS SERIOUSLY, ed. Josh Glenn (Princeton Architectural Press, 2007) | TAKING THINGS SERIOUSLY excerpts.