LOST OBJECTS (15)
By: Alice Boone
November 20, 2017
One in a 25-part series of nonfiction stories about lost objects. We asked 25 writers to tell us about a significant object they'd lost (or thrown away, or destroyed), then assigned these stories to 25 illustrators. We're thrilled with the results. This is the fourth volume in the PROJECT:OBJECT series.
UPDATE: The Lost Objects book was published in September 2022 by Hat & Beard Press. Check it out!
*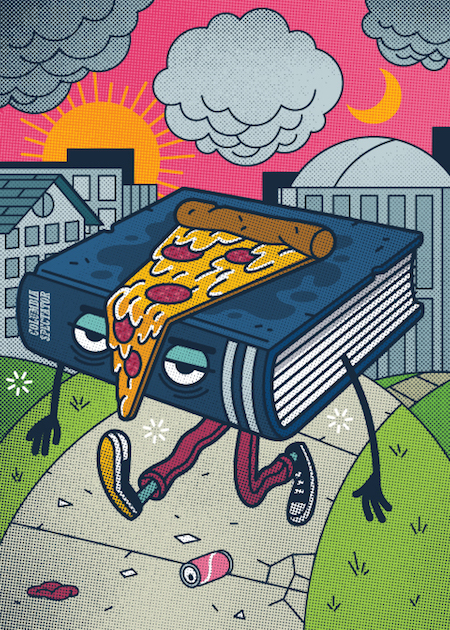 In my first weeks working at the Columbia Daily Spectator, I had two jobs: laying out the next day's news section on the desktop publishing system, and assembling the "In Our Pages" filler text with snippets from the paper's archives. For the first task, I sometimes felt like I was trying to cram as many words as possible into limited column space. But it was the second, arguably unimportant task of filling up extra space with archival material that really thrilled me. I'd pore over the hardcover-bound volumes from previous years that stretched all the way back to 1877, finding stories that reminded me how some things never change on college campuses. Some of those older volumes were worse for the wear, casualties to brittleness, split bindings, forgotten spills, or pizza grease. Everything in that office was covered in crumbs of old newsprint and pizza — there are no best archival practices for anything college students touch at four in the morning. Each editor received their own personal set of bound volumes, embossed with his or her name. When it came time to pick up them up from the office, I left mine behind.
Why did I deliberately lose the books I loved so much? I loved the bound volumes for their poignant materiality. There's a popular genre from the eighteenth and nineteenth centuries called novels of circulation, or it-narratives: stories told by coins, shoes, coats, wigs, teacups, family bibles about their travels among owners. The object-narrators are not personifications, exactly, for they have no inner thoughts or revelations. They can record only their own material changes as they get scarred, torn, broken, transformed into something new.
The bound volumes were, fittingly, Spectators: observers of the daily miracle of publication over the years, despite all of the things that could go wrong between 6 p.m. and 6 a.m. They were witnesses to changes in their own production and circulation. We were at the end of an era of newsprint, surrounded by decaying archives and even more quickly obsolescing devices for newspaper production. They stopped printing paper copies of the Spectator a few years ago because of print production costs and changes in reading habits. The digital archives are supposed to be more accessible to our digital search habits than they were as paper volumes.
I returned to the office years after graduation and saw a slice of pizza sitting on one of my bound archives of those days and nights. In its greasy dishevelment, the volume had transformed into a college student. I let it stay lost. It was right where it needed to be.
*
ABOUT THE AUTHOR: See sidebar.
ABOUT THE ARTIST: Rick Pinchera is an illustrator and digital designer living in Boston. He specializes in comic art, kids' games and animation. He is a regular contributor to HILOBROW.
LOST OBJECTS series: INTRODUCTION | Kate Bernheimer on MULLET WIG (ill. Amy Evans) | Dan Piepenbring on COLOGNE (ill. Josh Neufeld) | Doug Dorst on STRATOCASTER (ill. John Holbo) | Paul Lukas on VANILLA BEAN (ill. Allison Bamcat) | Mimi Lipson on DODGE DART (ill. Mister Reusch) | Luc Sante on CLUB CHAIR (ill. Kate Bingaman-Burt) | Nina Katchadourian on FOUNTAIN PENS (ill. Lisa Congdon) | Matthew Sharpe on BAUBLE (ill. Glenn Jones) | Claire Lehmann on PEANUT-BUTTER CRACKERS (ill. Karen Kurycki) | Jessamyn West on ENGINEER RING (ill. Amanda Clarke) | Mandy Keifetz on ORGONE ACCUMULATOR (ill. Emory Allen) | Molly Sauter on DESKTOP DOG (ill. Shayna Piascik) | Amy Thielen on DOG-FUR SCARF (ill. Heather Kasunick) | Stephen O'Connor on HUNTING HAT (ill. Oliver Munday) | Alice Boone on COLLEGE NEWSPAPERS (ill. Rick Pinchera) | Dante Ramos on ROAD ATLAS (ill. Joe Alterio) | Alex Balk on SHOOTING GALLERY (ill. John Lowe) | Chelsey Johnson on NOTEBOOK (ill. Rubi McGrory) | Susannah Breslin on SILICONE VAGINA (ill. Jennifer Heuer) | Seth Mnookin on .22 REVOLVER (ill. Alex Eben Meyer) | Dan Fox on CONKER (ill. Linzie Hunter) | Lisa Takeuchi Cullen on GLASS CLOCK (ill. Rose Wong) | Michael Tisserand on WALKING SHOES (ill. Jackie Roche) | Jeff Turrentine on BASEBALL MITT (ill. Andrew DeGraff) | Randy Kennedy on SNAKE RATTLES (ill. Max Temescu).
ILLICIT OBJECTS series: INTRODUCTION | Kio Stark on PEEPSHOW TOKEN | Sari Wilson on TOMBSTONE PARTS | Annalee Newitz on CAR-BOMB REMNANT | Tito Bottitta on MOONINITE DEVICE | Eric Bennett on DIRTY MAGAZINE | & 20 MORE.
TALISMANIC OBJECTS series: INTRODUCTION | Veda Hille on CROCHET SHEEP | Gary Panter on DINOSAUR BONES | Jami Attenberg on SELENITE CRYSTAL | Annie Nocenti on MINIATURE DICE | Wayne Curtis on CLOCK WINDING KEY | & 20 MORE.
POLITICAL OBJECTS series: INTRODUCTION | Luc Sante on CAMPAIGN PAMPHLETS | Lydia Millet on PVC POLAR BEAR | Ben Greenman on MATCHBOX CAR | Rob Baedeker on PRESIDENTS PLACEMAT | L.A. Kauffman on WHEATPASTE POSTER | & 20 MORE.
SIGNIFICANT OBJECTS at HILOBROW: PROJECT:OBJECT homepage | PROJECT:OBJECT newsletter | PROJECT:OBJECT objects (Threadless shop — all profits donated to the ACLU) | POLITICAL OBJECTS series (1Q2017) | TALISMANIC OBJECTS series (2Q2017) | ILLICIT OBJECTS series (3Q2017) | LOST OBJECTS vol. 1 series (4Q2017) | FLAIR series (2Q2018) | FOSSIL series (4Q2018). 12 DAYS OF SIGNIFICANCE | 12 MORE DAYS OF SIGNIFICANCE | 12 DAYS OF SIGNIFICANCE (AGAIN) | ANOTHER 12 DAYS OF SIGNIFICANCE . ALSO SEE: SIGNIFICANT OBJECTS website | SIGNIFICANT OBJECTS collection, ed. Rob Walker and Josh Glenn (Fantagraphics, 2012) | TAKING THINGS SERIOUSLY, ed. Josh Glenn (Princeton Architectural Press, 2007) | TAKING THINGS SERIOUSLY excerpts.