Walter M. Miller, Jr.
By: Mark Kingwell
January 23, 2013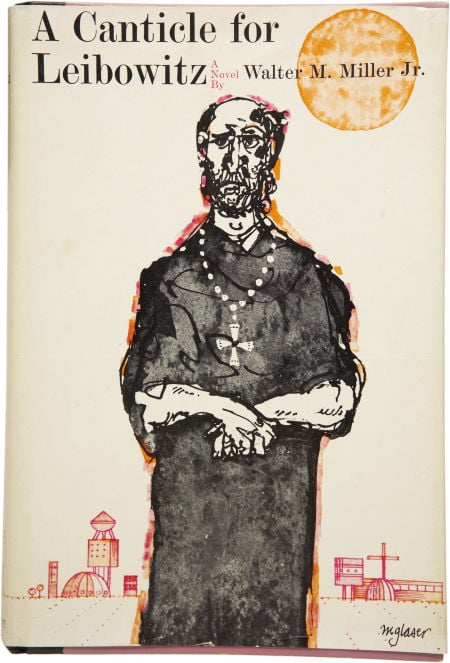 American science fiction writer WALTER M. MILLER JR. (1923-1996) was a one-hit wonder, but it was quite a hit. The only novel he published during his suicide-shortened lifetime, A Canticle for Leibowitz (1960), is an essential text in the post-apocalyptic sub-genre of SF which thrived in the paranoid, nuclear-clock-watching period of the Cold War. John Wyndham's The Chrysalids (1955), Nevil Shute's On the Beach (1957), Edgar Pangborn's Davy (1964), Roger Zelazny's Damnation Alley (1969), and Russell Hoban's alt-linguistic masterpiece Riddley Walker (1980) all decorate the same category — as do, circumstantially, H. G. Wells's The World Set Free (1914), Ray Bradbury's The Martian Chronicles (1950), and Bernard Malamud's religio-philosophical fable God's Grace (1982). If Miller's Canticle is not the best of these, as often claimed — that honour belongs to Riddley Walker, which executes the endgame of nuclear-holocaust literary possibilities — it nevertheless serves with distinction. In three sections, each based on earlier published stories, Miller depicts the cycles of history from the vantage of a Roman Catholic monastery in the American southwest. A convert to the faith, he peppers the text with Catholic arcana, Latin quotations, and plausible church politics; the secular forces of power and violence are everywhere resisted, if sometimes feebly, by the scholarship and succor of religion. The book won the best-novel Hugo in 1961; mainstream reviews were mixed even as sales were, and remain, steady. Miller himself fared less well. The novel is haunted by his memories of serving in Allied bomber crews that destroyed parts of Italy during the Second World War, including the Benedictine monastery at Monte Cassino. Unable to exorcise these demons, and unable to write, an increasingly reclusive Miller declined into depression. On January 9th 1996, languishing in Daytona Beach not long after his wife's death, he died of a self-inflicted gunshot wound.
GOLDEN-AGE SCI-FI at HILOBROW: Golden Age Sci-Fi: 75 Best Novels of 1934–1963 | Robert Heinlein | Karel Capek | William Burroughs | E.E. "Doc" Smith | Clifford D. Simak | H.P. Lovecraft | Olaf Stapledon | Philip K. Dick | Jack Williamson | George Orwell | Boris Vian | Bernard Wolfe | J.G. Ballard | Jorge Luis Borges |Poul Anderson | Walter M. Miller, Jr. | Murray Leinster | Kurt Vonnegut | Stanislaw Lem | Alfred Bester | Isaac Asimov | Ray Bradbury | Madeleine L'Engle | Arthur C. Clarke | PLUS: Jack Kirby's Golden Age and New Wave science fiction comics.
***
On his or her birthday, HiLobrow irregularly pays tribute to one of our high-, low-, no-, or hilobrow heroes. Also born this date: Sergei Eisenstein and Django Reinhardt.
READ MORE about men and women born on the cusp between the New God (1914-23) and Postmodernist (1924-33) Generations.