Bernard Wolfe
By: Anthony Miller
August 28, 2014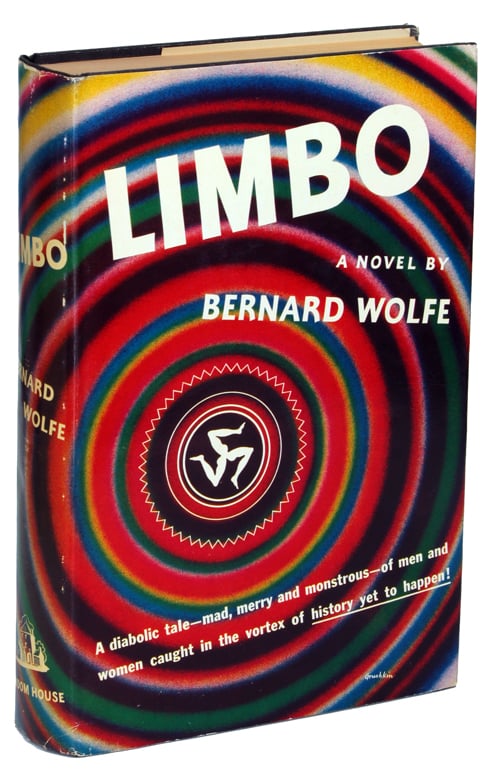 Bohemians, pornographers, revolutionaries, outsiders: Welcome to the world of BERNARD WOLFE (1915–85). Born in New Haven, he was a townie who took a degree in psychology at Yale despite his inherent skepticism about institutional culture. Not long after, he was in Coyoacán, Mexico working as a secretary and bodyguard for Leon Trotsky. (Although absent at the time of Trotsky's assassination, Wolfe later fictionalized it in The Great Prince Died.) His collaboration with Mezz Mezzrow on the clarinetist and saxophonist's autobiography Really the Blues became a Beat Generation talisman and his essay in Les Temps Modernes on Brer Rabbit and race in America influenced Frantz Fanon. His debut novel Limbo (1952), the best science-fiction dystopia you've probably never read, fused the Swiftian with the cybernetic to elucidate the many meanings of "disarmament." The novel's sociological incisiveness and black humor looks forward to J.G. Ballard, who called it "one of the books that encouraged me to write SF," and to Will Self. The Late Risers: Their Masquerade, his Times Square novel, borrowed not only its subtitle and epigraph but also its exploration of the "American dizziness" about authenticity and identity from Melville's The Confidence-Man. In his captivating Memoirs of a Not Altogether Shy Pornographer, he credited his time spent crafting erotic fictions for an Oklahoma oil man with transforming him into a professional writer. Wolfe concluded his eclectic career teaching writing at UCLA and he appears briefly as a character in his former student Steve Erickson's novel These Dreams of You. Wolfe wrote an unforgettable if not classic book in practically every genre to which he turned his hand. Taken together, Wolfe's shelf of books would comprise a provocative alternative syllabus for studying the neuroses and drives of twentieth-century America.
GOLDEN-AGE SCI-FI at HILOBROW: Golden Age Sci-Fi: 75 Best Novels of 1934–1963 | Robert Heinlein | Karel Capek | William Burroughs | E.E. "Doc" Smith | Clifford D. Simak | H.P. Lovecraft | Olaf Stapledon | Philip K. Dick | Jack Williamson | George Orwell | Boris Vian | Bernard Wolfe | J.G. Ballard | Jorge Luis Borges |Poul Anderson | Walter M. Miller, Jr. | Murray Leinster | Kurt Vonnegut | Stanislaw Lem | Alfred Bester | Isaac Asimov | Ray Bradbury | Madeleine L'Engle | Arthur C. Clarke | PLUS: Jack Kirby's Golden Age and New Wave science fiction comics.
***
On his or her birthday, HiLobrow irregularly pays tribute to one of our high-, low-, no-, or hilobrow heroes. Also born this date: Edward Burne-Jones, Morris Graves, Jack Kirby, George W.S. Trow, Donald Evans, C. Wright Mills.
READ MORE about members of the New Gods Generation (1914-23).