Clifford D. Simak
By: Joshua Glenn
August 3, 2010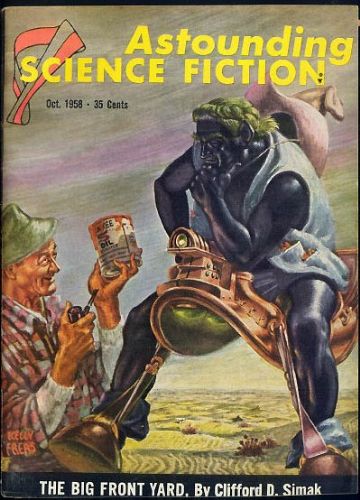 Science fiction writer CLIFFORD D. SIMAK (1904-88) was born between the final wave of Radium Age SF writers (e.g., Huxley, Leinster, Wylie) and the pioneering writers of SF's so-called Golden Age (e.g., Heinlein, Van Vogt, Campbell).Though he published his first story in '31, he was turned off by the space-opera tropes — e.g., large-scale alien invasions, empire sagas, space wars — popular in SF pulps during that period, and quit writing until SF's early Golden Age was set into motion. Through the Forties and Fifties, he produced a body of science fiction work notable for being pastoral and nostalgic — though not illiberal. In Simak's stories, many of which are set in rural Wisconsin (where he grew up), regular folk find themselves confronted with aliens, who are often portrayed in a more flattering light than are the author's human characters. (Simak also had a fondness for existentialist robots and hyper-evolved dogs.) He kept writing for years, but his last great novel, Way Station, was serialized in Galaxy in '63. In it, we discover that Enoch Wallace, an inherently anti-xenophobic Civil War vet living quietly in rural Wisconsin, is the caretaker of an intergalactic spatial portal — and, as such, he's Earth's aw-shucks diplomat to the rest of the universe. Forget Men in Black; Simak placed his faith in America's Men in Plaid.
GOLDEN-AGE SCI-FI at HILOBROW: Golden Age Sci-Fi: 75 Best Novels of 1934–1963 | Robert Heinlein | Karel Capek | William Burroughs | E.E. "Doc" Smith | Clifford D. Simak | H.P. Lovecraft | Olaf Stapledon | Philip K. Dick | Jack Williamson | George Orwell | Boris Vian | Bernard Wolfe | J.G. Ballard | Jorge Luis Borges |Poul Anderson | Walter M. Miller, Jr. | Murray Leinster | Kurt Vonnegut | Stanislaw Lem | Alfred Bester | Isaac Asimov | Ray Bradbury | Madeleine L'Engle | Arthur C. Clarke | PLUS: Jack Kirby's Golden Age and New Wave science fiction comics.
***
Each day, HILOBROW pays tribute to one of our favorite high-, low-, no-, or hilobrow heroes on that person's birthday.
READ MORE about men and women born on the cusp between the Hardboiled Generation (1894-1903) and the Partisan Generation (1904-13).