E.E. "Doc" Smith
By: Joshua Glenn
May 2, 2010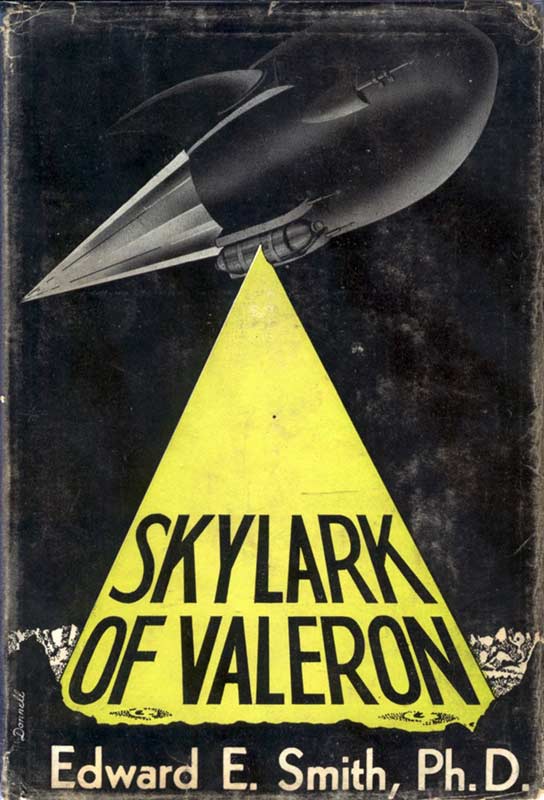 Though he wasn't nearly as talented a stylist, nor as deep a thinker as, say, his exact contemporaries Olaf Stapledon, Thea von Harbou, and Karel Čapek, E.E. "DOC" SMITH (1890-1965) was something wonderful that these Radium Age sf authors were not: a pulp writer. He earned a living not as a litterateur, but as a food engineer; some claim that he developed the first process for making powdered sugar adhere to doughnuts. Pulp writers whose prose is particularly rococo can be forgiven any shortcomings — and Smith's imagination was beyond far-out. Though not quite the first "space opera" writer, he almost single-handedly popularized that subgenre — not to be confused with "planetary romance" — via his epic Skylark (serialized 1928-65) and Lensman (1937-50) series. In these eleven books, innumerable stories, and his novel Spacehounds of IPC (serialized in '31), Smith dreamed up: a future in which space travel was common; whiz-bang technology that would inspire stealth fighters, C3-based warfare, and the Strategic Defense Initiative; and the Galactic Patrol, an interstellar law-enforcement agency and military force without which we mightn't have, e.g., Iain M. Banks' "Culture" novels, or Orson Scott Card's Ender's Game. Also: no Smith, no Star Wars.
***
Each day, HILOBROW pays tribute to one of our favorite high-, low-, no-, or hilobrow heroes on that person's birthday.
READ MORE about members of the Modernist Generation (1884-93).
***
In 2012–2013, HiLoBooks serialized and republished (in gorgeous paperback editions, with new Introductions) 10 forgotten Radium Age science fiction classics! For more info: HiLoBooks.
MORE RADIUM AGE SCI FI ON HILOBROW: HiLoBooks homepage! | What is Radium Age science fiction? |Radium Age 100: 100 Best Science Fiction Novels from 1904–33 | Radium Age Supermen | Radium Age Robots | Radium Age Apocalypses | Radium Age Telepaths | Radium Age Eco-Catastrophes | Radium Age Cover Art (1) | SF's Best Year Ever: 1912 | Radium Age Science Fiction Poetry | Enter Highbrowism | Bathybius! Primordial ooze in Radium Age sf | War and Peace Games (H.G. Wells's training manuals for supermen) | Radium Age: Context series | J.D. Beresford | Algernon Blackwood | Edgar Rice Burroughs | Karel Čapek | Buster Crabbe | August Derleth | Arthur Conan Doyle | Hugo Gernsback | Charlotte Perkins Gilman | Cicely Hamilton | Hermann Hesse | William Hope Hodgson | Aldous Huxley | Inez Haynes Irwin | Alfred Jarry | Jack Kirby (Radium Age sf's influence on) | Murray Leinster | Gustave Le Rouge | Gaston Leroux | David Lindsay | Jack London | H.P. Lovecraft | A. Merritt | Maureen O'Sullivan | Sax Rohmer | Paul Scheerbart | Upton Sinclair | Clark Ashton Smith | E.E. "Doc" Smith | Olaf Stapledon | John Taine | H.G. Wells | Jack Williamson | Stanisław Ignacy Witkiewicz | S. Fowler Wright | Philip Gordon Wylie | Yevgeny Zamyatin