Joanna Russ
By: Suzanne Fischer
February 22, 2014
JOANNA RUSS (1937–2011) loved science fiction — but the genre also inspired her to an incisive, productive anger. As a writer, critic, and academic, she wrenched the genre apart and put it back together again with unexpected spaces for new kinds of stories. For Russ, sf was a serious field that demanded serious engagement and revision, especially the utopian and liberatory interventions of feminist and queer thought. Her Alyx stories, published in the late 1960s and early 1970s, are sword-and-sorcery pastiches that show a deep familiarity with Golden Age tales… but feature, instead of marauding mercenaries, a small female thief who relies on reason as much as she does on her dagger. Later, in Russ's devastating We Who Are About To… (1977), an ill-assorted and unskilled party of space travelers are shipwrecked but immediately plan long-term colonization of their new planet — all except the protagonist, who rejects the logic of forced reproduction and the frantic denial of impending death. In a diary format, the narrator details the death spiral of the travelers' faux-civilized society, and the way her own political and religious history inflects her self-defense. It's a novel about death (and thus, life) that stubbornly slips genres and rewards multiple readings. Russ wrote much less after the 1980s due to health issues and remains best known for her novel The Female Man (1975) and her criticism. But that's another story.
NEW WAVE SCI-FI at HILOBROW: 75 Best New Wave (1964–1983) Sci-Fi Novels | Back to Utopia: Fredric Jameson's theorizing about New Wave sci-fi | Douglas Adams | Poul Anderson | J.G. Ballard | John Brunner | William Burroughs | Octavia E. Butler | Samuel R. Delany | Philip K. Dick | Frank Herbert | Ursula K. Le Guin | Barry N. Malzberg | Moebius (Jean Giraud) | Michael Moorcock | Alan Moore | Gary Panter | Walker Percy | Thomas Pynchon | Joanna Russ | James Tiptree Jr. (Alice Sheldon) | Kurt Vonnegut | PLUS: Jack Kirby's Golden Age and New Wave science fiction comics.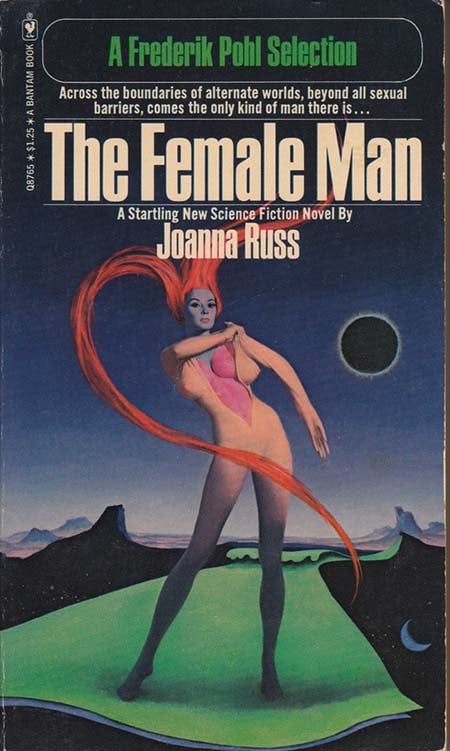 ***
On his or her birthday, HiLobrow irregularly pays tribute to one of our high-, low-, no-, or hilobrow heroes. Also born this date: Ishmael Reed, Hugo Ball, Luis Buñuel, Terry Eagleton.
READ MORE about members of the Anti-Anti-Utopian Generation (1934-43).