Calamity Jane
By: Catherynne M. Valente
May 1, 2012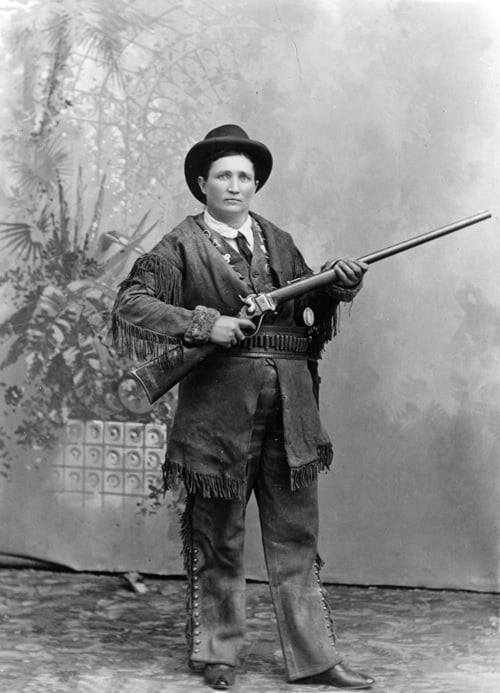 CALAMITY JANE (Martha Jane Canary Burke, 1852-1903) often stands in for the whole notion of women on the American frontier. Calamity Jane is the whore to the virgin image of Annie Oakley — a great shot, just as good as the boys, but also a drunk, depressive, unwashed and masculine, self-aggrandizing, obsessive in her admiration of Bill Hickok. In the Wild West show of contemporary imagination, she is a strange and compelling caricature of both femininity and the iconic cowboy. Even the story behind her famous name cannot be entirely confirmed. She claimed to have been dubbed "Calamity Jane, heroine of the plains" by a Captain Egan, whom she saved in battle and carried to safety on her horse, but the story was often disputed; another theory holds that it came from her constant warning to men that to give her insult was to court calamity.
Yet after the death of Hickok in Deadwood, South Dakota, Jane would go on to nurse the victims of a smallpox plague, marry in Montana, bear a daughter, join Buffalo Bill's Wild West Show as a storyteller. She died, most likely of drink, at the age of 51. She did not do as ladies did, not at first and not at last. I think of her in that bizarre Wild West Show, that pre-postmodern simulacrum of an entire era, telling her stories, creating her legend, lying her ass off and slugging back bitterness with every drink. Like most things to do with our Martha Jane, it's not a pretty picture, but it's her own.
***
ADVENTURERS as HILO HEROES: Katia Krafft | Freya Stark | Louise Arner Boyd | Mary Kingsley | Bruce Chatwin | Hester Lucy Stanhope | Annie Smith Peck | Richard Francis Burton | Isabella Lucy Bird | Calamity Jane | Ernest Shackleton | Osa Helen Johnson | Redmond O'Hanlon | Gertrude Bell | George Mallory | Neta Snook | Jane Digby | Patty Wagstaff | Wilfred Thesiger | Joe Carstairs | Florence "Pancho" Barnes | Erskine Childers | Jacques-Yves Cousteau | Michael Collins | Thor Heyerdahl | Jean-Paul Clébert | Tristan Jones | Neil Armstrong
On his or her birthday, HiLobrow irregularly pays tribute to one of our high-, low-, no-, or hilobrow heroes. Also born this date: Joanna Lumley and Pierre Teilhard de Chardin.
READ MORE about members of the New Prometheans Generation (1844-53).