Katia Krafft
By: Elina Shatkin
April 17, 2013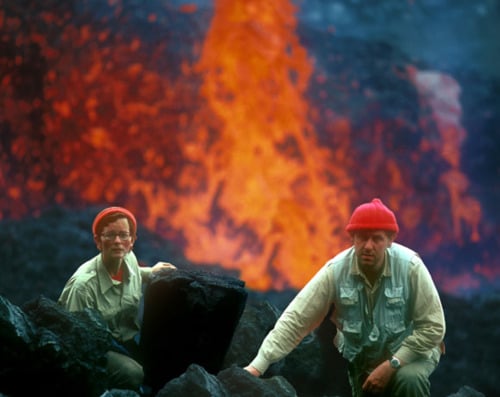 On June 3, 1991, KATIA KRAFFT (née Catherine Joséphine Conrad, 1942–91) was beside the two things she loved most: her husband and an exploding volcano. Having fallen in love with volcanoes at age 14, she later fell in love with Maurice at the University of Strasbourg while studying geochemistry. For more than 20 years the inseparable pair documented mountains in the midst of violent change, becoming the premier volcanologists of the twentieth century. Here is a couple who lived in silver asbestos suits and dodged spewing chunks of rock as they walked alongside churning rivers of magma. From Hawaii to Iceland to Zaire the two "volcano devils" probably visited more eruption sites than any other individuals in history. They would happily climb inside an active crater to pitch a tent beside a lake of molten lava. As the photographer of the duo, Katia shot somewhere in the neighborhood of 250,000 photos. "I would always like to be near craters, drunk with fire, gas, my face burned by the heat," she once said. "It's not that I flirt with my death, but at this point I don't care about it, because there is the pleasure of approaching the beast and not knowing if he is going to catch you." After warning the Philippine government about the imminent explosion of Mt. Pinatubo (and saving countless lives), the first couple of volcanology headed to Japan where Mt. Unzen was rumbling. Along with 41 others, they set up their equipment on a low plateau about two miles from the summit. Shortly after, a superheated cloud of gas, rock, and ash shot down the mountain. They would have had enough time to recognize the pyroclastic flow but not enough to escape it. Of all the bodies recovered, Katia and Maurice's remains were found closest to the crater's rim.
***
ADVENTURERS as HILO HEROES: Katia Krafft | Freya Stark | Louise Arner Boyd | Mary Kingsley | Bruce Chatwin | Hester Lucy Stanhope | Annie Smith Peck | Richard Francis Burton | Isabella Lucy Bird | Calamity Jane | Ernest Shackleton | Osa Helen Johnson | Redmond O'Hanlon | Gertrude Bell | George Mallory | Neta Snook | Jane Digby | Patty Wagstaff | Wilfred Thesiger | Joe Carstairs | Florence "Pancho" Barnes | Erskine Childers | Jacques-Yves Cousteau | Michael Collins | Thor Heyerdahl | Jean-Paul Clébert | Tristan Jones | Neil Armstrong
BEST ADVENTURE LIT: Best 19th Century Adventure (1805–1903) | Best Nineteen-Oughts Adventure (1904–1913) | Best Nineteen-Teens Adventure (1914–1923) | Best Twenties Adventure (1924–1933) | Best Thirties Adventure (1934–1943) | Best Forties Adventure (1944–1953) | Best Fifties Adventure (1954–1963) | Best Sixties Adventure (1964–1973) | Best Seventies Adventure (1974–1983). I've only recently started making notes towards a list of Best Adventures of the Eighties, Nineties, and Twenty-Oughts.
On his or her birthday, HiLobrow irregularly pays tribute to one of our high-, low-, no-, or hilobrow heroes. Also born this date: Afrika Bambaataa, Posh Spice, Artur Schnabel, Don Kirshner.
READ MORE about members of the Anti-Anti-Utopian Generation (1934-43).