Patty Wagstaff
By: Alix Lambert
September 11, 2014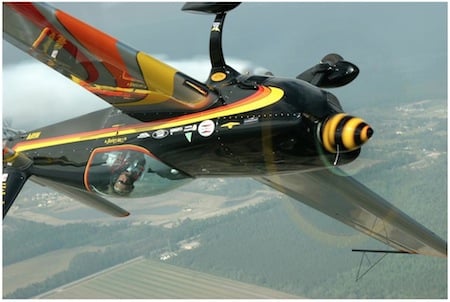 A century after the Wright Brothers took to the skies, our passion for flight has waned. But aerobatic pilot PATTY WAGSTAFF (born 1951), a six-time member of the US Aerobatic Team, reminds us of the excitement we once felt… and of the beauty inherent in the art and skill of aviation. I had the privilege of meeting Wagstaff not long after 9/11. When I asked her what she thought would happen to the public's perception of aviation in the wake of those attacks, she was contemplative on the subject:
I know that even for me, when I was in Washington DC, the other day, and I saw the Pentagon and I saw the big hole in it and then I'd see a plane take off — it was so traumatic. It's important, I think, that we keep bringing aviation to the public, and showing that aviation's really beautiful. I want people to look up at an airplane and say 'What's that?!' 'What kind of plane is that?!' rather than 'Get that airplane away from my house!' I want them to see the beauty in it, not the fear."
In 1994, Wagstaff's Goodrich-sponsored Extra 260 airplane was put on display next to Amelia Earhart's Lockheed Vega at the Smithsonian National Air and Space Museum. Though retired from competitive stunt flying — she was top US medal winner for years, on the international circuit; and the first woman to win a US National Aerobatic Championship (she won three times) — Wagstaff has continued working as an airshow pilot, stunt pilot for films, consultant, and flight instructor. "It's something inside us, I think, to get above it all and look down," she has said. "That's one of the things I think I really like about [flying]. It gets me away from the mundane into another dimension."
ADVENTURERS as HILO HEROES: Katia Krafft | Freya Stark | Louise Arner Boyd | Mary Kingsley | Bruce Chatwin | Hester Lucy Stanhope | Annie Smith Peck | Richard Francis Burton | Isabella Lucy Bird | Calamity Jane | Ernest Shackleton | Osa Helen Johnson | Redmond O'Hanlon | Gertrude Bell | George Mallory | Neta Snook | Jane Digby | Patty Wagstaff | Wilfred Thesiger | Joe Carstairs | Florence "Pancho" Barnes | Erskine Childers | Jacques-Yves Cousteau | Michael Collins | Thor Heyerdahl | Jean-Paul Clébert | Tristan Jones | Neil Armstrong
***
On his or her birthday, HiLobrow irregularly pays tribute to one of our high-, low-, no-, or hilobrow heroes. Also born this date: T.W. Adorno, Arvo Part.
READ MORE about members of the Blank Generation (1944-53).