Richard Francis Burton
By: Anthony Miller
March 19, 2013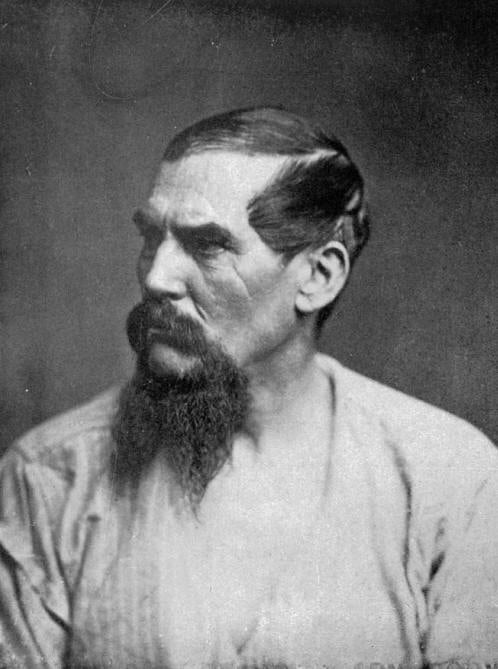 RICHARD FRANCIS BURTON (1821–90) was the embodiment of the Victorian explorer and a walking object lesson in "going native." He infiltrated Mecca disguised as a Muslim, sought the source of the Nile (only to earn a spear through his face), and immersed himself in myriad ecstatic and erotic rituals (for scholarly investigation, of course). The adventurer, translator, ethnologist, sexologist, and storyteller possessed a lust for languages, an insatiable curiosity, and a voracious appetite for terra incognita. Burton's devotees are everywhere but to each he is the incarnation of a different idol. To Borges he was the legendary translator of The Arabian Nights and in "The Aleph" Borges included a Burton manuscript about a column in a Cairo mosque that contains the entire universe. Walton Ford, that postmodern Audubon, based his series of Dirty Dick Burton paintings on Burton's account of surrounding himself with monkeys so he could acquire their language. Actor Rupert Everett christened the man who brought the Kama Sutra and The Perfumed Garden to the West "the godfather to the Sexual Revolution — and mine." His steadfast literary defender Ouida described him as "a man who looked like Othello and lived like the Three Mousquetaires blended into one." Burton combined the metamorphic prowess of Lon Chaney, the philological fervor of Anthony Burgess, and the uncanny mastery of disciplines and dark implacable will of Blood Meridian's Judge Holden. He has been the catalyst for journeys by writers, hedonists, and nomads, among them the intriguing John Locke on Lost. For a brief moment in one episode, we glimpse a picture of Burton in the locker of a teenage Locke — a symbol for a wanderer open to the mysterious and the miraculous, a resolute seeker of forbidden knowledge.
***
ADVENTURERS as HILO HEROES: Katia Krafft | Freya Stark | Louise Arner Boyd | Mary Kingsley | Bruce Chatwin | Hester Lucy Stanhope | Annie Smith Peck | Richard Francis Burton | Isabella Lucy Bird | Calamity Jane | Ernest Shackleton | Osa Helen Johnson | Redmond O'Hanlon | Gertrude Bell | George Mallory | Neta Snook | Jane Digby | Patty Wagstaff | Wilfred Thesiger | Joe Carstairs | Florence "Pancho" Barnes | Erskine Childers | Jacques-Yves Cousteau | Michael Collins | Thor Heyerdahl | Jean-Paul Clébert | Tristan Jones | Neil Armstrong
On his or her birthday, HiLobrow irregularly pays tribute to one of our high-, low-, no-, or hilobrow heroes. Also born this date: Josef Albers, Patrick McGoohan, Tommy Cooper, Yoko Kanno.
READ MORE about members of the Retrogressivist Generation (1815–24).